Join the Navy: Yeoman (F) Ruth (Woodworth) Creveling
07.20.2018
Blog
By Lynn Heidelbaugh, Curator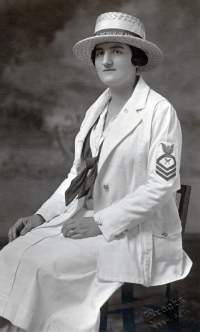 Eighteen-year-old Ruth Estelle Woodworth joined the US Navy on March 30, 1917, the same month the military opened enlistment to women for the first time. It was all possible because of an unintentional loophole in the Naval Reserve Act of 1916. The act authorized the enlistment of qualified "persons," but did not specify any gender requirement for volunteers. By spring of 1917, the war raging in Europe had begun to profoundly affect the interests and principles of the United States, making the American stance of neutrality increasingly unsustainable. Secretary of the Navy Josephus Daniels and other officials decided that recruiting women would help increase personnel numbers needed for the navy's preparedness efforts before the country's entry into the war. On March 19, 1917, the navy announced that women could be recruited for the reserves. Collectively, these women were known as Yeomen (F), with the "F" denoting female.
After enlisting as a naval reservist, Ruth Woodworth was called to active duty without delay. She took on the clerical tasks typical of the Yeoman classification, assigned to typing and stenography at the Bureau of Operations, Navy Department, Washington, DC. Like all Yeomen (F), she received the same pay as her male counterparts. The majority of the over 11,000 US Navy Yeomen (F) and about 300 female US Marine Corps Reservists served as office clerks during World War I.
The volunteers' response was so overwhelming in Washington, DC, that officials temporarily suspended recruitment after the first couple of weeks. Ruth Woodworth had joined just before the temporary cut-off date. Her documents in the Women's Memorial Foundation Collection do not give clues as to her motivation for signing up. However, her father worked at the Navy Yard in DC, and the family may have been well informed about the new allowance for women's enlistment.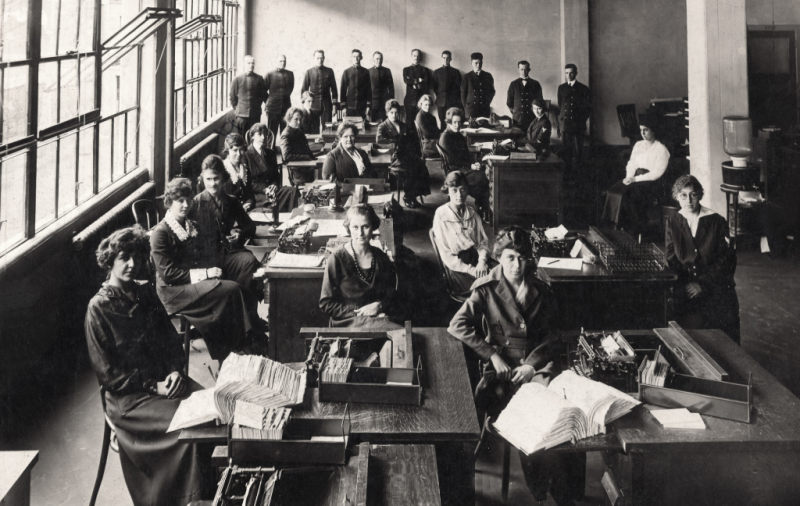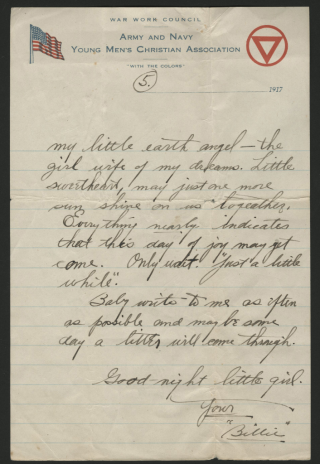 She continued her military service after marrying US Army Lieutenant William "Billie" Creveling in July 1917. (There was not a policy on marriage for Yeomen (F), and in its absence, the US Navy tolerated recruitment of married women and marriages of its enlisted women.) Her husband deployed to France in December. Like many members of the American Expeditionary Forces, he found the slow and unpredictable mail service often hindered communication and tested relationships. In a letter written January 29, 1918, Lt. Creveling lamented to Ruth, "I have had no mail from you since I left America."
Ruth (Woodworth) Creveling remained stationed in her hometown throughout the war. Her supervisors recognized the quality of her work and in March 1918 worked to speed her promotion by requesting that she be exempt from one of the required exams. She soon achieved the promotion to Chief Yeoman. This was a remarkable accomplishment; according to Susan Godson's Serving Proudly: A History of Women in the US Navy, "only about a dozen" of more than 11,000 women achieved the rating of Chief Yeoman (Godson 2001, 62).
After the Armistice in November 1918, the navy gradually began to draw down the numbers of Yeomen (F). Nevertheless, job demand was on the rise in in the federal government and clerical staff were needed in the months following the war. Ruth (Woodworth) Creveling continued working as a Chief Yeoman until receiving an honorable discharge on March 29, 1920. In 1922, she returned to work as a civilian employee at the Naval Air Station in San Diego, California. Shortly thereafter, she began to look for a higher paying position. Ruth and her husband had separated by this time, making her the primary breadwinner as she raised their infant daughter. Writing to California's State Civil Service Commission, she appealed for assistance in securing a job where she could earn a "living wage."
This postwar letter demonstrates her talent for composing workplace correspondence, a skill that would have been essential for a Yeoman. She continued for many years to excel in her career, working for other organizations, and drawing upon the knowledge and skills that she honed during her wartime service.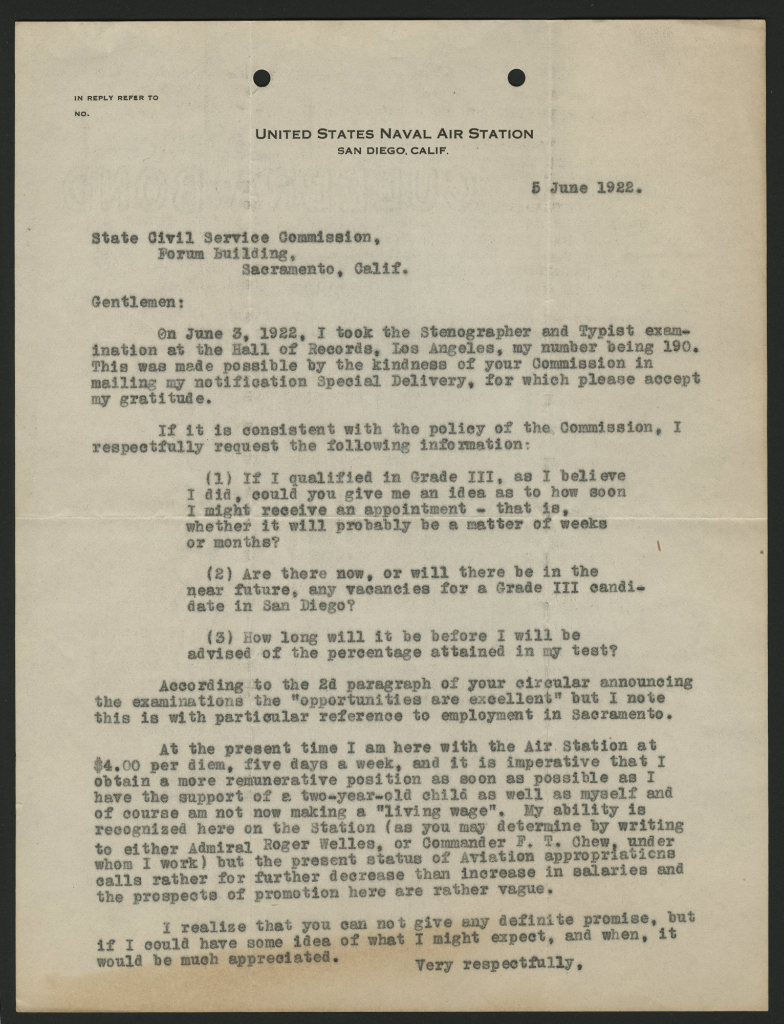 The letters, objects, and experiences of Ruth (Woodworth) Creveling and three other women who served in and alongside the American military are featured in the special exhibition, In Her Words: Women's Duty and Service in World War I. The exhibition is on view at the National Postal Museum from February 2 – August 5, 2018, and online at: https://postalmuseum.si.edu/In-Her-Words. In Her Words: Women's Duty and Service in World War I was developed jointly by the Smithsonian's National Postal Museum and the Women In Military Service For America Memorial Foundation.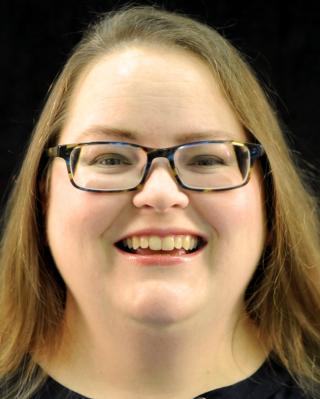 About the Author
Lynn Heidelbaugh is a curator specializing in the history of the U.S. Postal Service, military mail, and the material culture of letter writing. Ms. Heidelbaugh has served as lead curator for several National Postal Museum exhibitions including, Mail Call (2011), Behind the Badge: The U.S. Postal Inspection Service (2014) and My Fellow Soldiers: Letters from World War I (2017), for which she received a Smithsonian Secretary's Research Award.