Air Mail Service Began:
July 1, 1925
Air Mail Service Ended:
September 3, 1927
Total Hours Flown:
1503.51
Total Miles Flown:
149,040
Assignments:
Bellefonte, Pennsylvania
July 1, 1925 – Maywood, Illinois
August 16, 1925 – Cleveland
July 8, 1927 – Hadley Field, New Jersey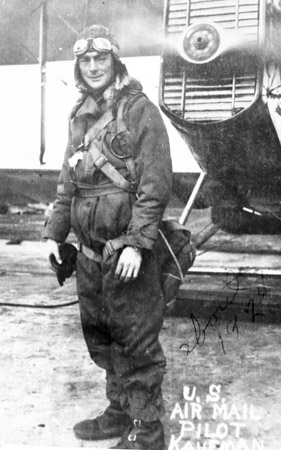 At 3:45 p.m. on March 3, 1927, Stephen Kaufman crashed a Douglas M-1 airmail airplane while attempting a take off from Bellefonte, Pennsylvania's airmail field. The airplane could not leave the ground due to the extra weight it was carrying of snow and ice on its wings, and Kaufman was forced to fly through a fence at the end of the field. On March 28, he complained about the type of propeller used on the Douglas M-1 airplane, saying that it helped contribute to the problem. "I would also say that the Pittsburgh Steel Propeller was very inefficient in regards to taking a ship off of a small or muddy field."
Earlier that year, on January 24, 1927, Kaufman was flying another Douglas M-1 aircraft from Cleveland, Ohio, bound for Chicago, Illinois. Fog had reduced the ceiling to 800 feet. He was flying at 8,000 feet to get above the clouds. After an hour and forty minutes of flying, his motor began to choke. As he came down, the ceiling had been reduced to only 500 feet. Fortunately, the ground was low and he was able to land on rough but flat land.
In 1929, Kaufman joined with other pilots, including fellow ex-airmail pilot Ernest M. Allison, to fly for Harry Smith's newly formed China National Airways Corporation.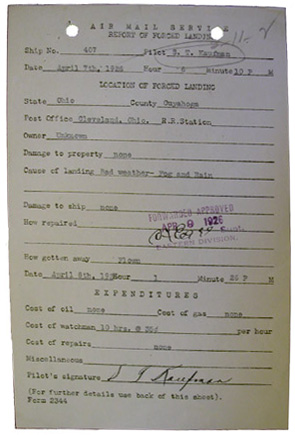 In this forced landing report of April 7, 1926, Kaufman notes that bad weather, specifically fog and rain, forced him down and kept him grounded over night. Although he makes no mention of it on this report, his first duty once on the ground was to determine the quickest way to keep the mail moving.
The pilots were told to hire someone to watch the airplane at any time they were not able to do so themselves while it was grounded. Kaufman hired a watchman for 10 hours at 35 cents per hour. The aircraft had to be watched at all times, or souvenir hunters and curiosity seekers would damage the airplane.
- Courtesy of the National Archives and Records Administration