Lovers and Fighters: February at the National Postal Museum
03.30.2017
Blog
By Matthew White, Director of Education
The National Postal Museum's (NPM) Department of Education & Visitor Services is always a creative, bustling, and productive place. Team members can be found planning and hosting public events, training volunteers, preparing curricula and craft supplies, or leading school children around the museum. It's not only what we do, it's what we love to do! February is particularly busy for the department due to Valentine's Day and Black History Month, which we celebrate and honor each year with topical programming. This February was remarkable not only because our programs achieved record-breaking attendance numbers for the museum, but also due to major departmental changes in the past year. I came on board as the Director of Education in September of 2016 and I cannot begin to tell you how proud of and impressed I am by this talented and devoted group.
Before we dive into February, let's meet our Education Staff! Public Programming is handled by Motoko Hioki and Debbie Bartels. Motoko has worked at NPM for ten years in various capacities. She earned her Master's Degree in Museum Studies from The George Washington University and was made Manager of Public Programs last spring. Debbie has been at NPM in a number of roles for nine years, first as a volunteer and currently as a Programming Assistant. Volunteers, visitor services, and interns are overseen by Maggie Sigle, a graduate of the University of Virginia. Maggie joined the museum in 2013 as an intern and was promoted last spring to her current position, Volunteer and Intern Coordinator. School Programs Coordinator Jessie Aucoin is the department's newest member. Jessie, a graduate of Illinois State University, is a veteran of museum and library education departments in the Chicago area but comes to us most directly from Journey Through Hallowed Ground, a consortium of historic houses, battlefields, and other heritage sites in the Mid-Atlantic area. As I mentioned earlier, I am the new Director of Education and Visitor Services at the National Postal Museum. I am a museum educator with over 25 years' experience at institutions such as the Baltimore Museum of Industry and the National Museum of American History. I recently earned my PhD in History from the University of Florida.
The first week of February started normally with NPM's usual slate of programming. The highlight of any day at the National Postal Museum are the Highlights tours, which are conducted by our talented team of volunteer docents recruited, trained, and supervised by Maggie. The strength of the Highlights tours aren't just that they provide visitors with important and interesting information about the museum, but they also allow our docents, many of whom are retired Postal Service employees and lifelong philatelists, the opportunity to share their knowledge and passion. In addition to the Highlights tours, the department frequently offers a series of Gallery Experiences. These presentations and hands-on interactives enhance the museum's exhibitions. During any given week, visitors can watch a demonstration of the museum's spider press, sort mail as part of the Dead Letter Office challenge, or start a stamp collection in the William H. Gross Gallery. Though February is a short month, and traditionally a slow month for museums, NPM hosted almost 900 people for the Gallery Experiences and 800 people for the Highlights tours. We are also planning a number of new Experiences related to NPM's Mail Call and Trailblazing exhibitions.
Mondays at the museum are a special time for our youngest visitors. The new Byrne Education Loft provides a fun space for several activities, but none more fun than Story Time. Story Time is a program aimed at toddler and pre-school children and their adults, and invites them to build important developmental and social skills through books, activities, songs, and self-guided gallery exploration in a relaxed setting. The program is offered twice each Monday and mostly appeals to the residential neighborhoods immediately surrounding the National Postal Museum. The museum hosted about 100 visitors for Story Time in February.
The second week added special programs to the regular offering; naturally, a lot of those programs revolved around creating, writing, and sending cards for Valentine's Day. On the evening of February 9th, the museum was joined by 27 visitors for our monthly Wine & Design happy hour Wine & Design is aimed at young professionals who want to sip wine, and beer, while creating a topical, DIY craft project to take home. February's Wine & Design was devoted to Valentine's Day cards, of course. Two days later, on February 11th, a record 900 people packed the galleries for our annual Valentine's Day Card Workshop. The museum was packed with families making Valentine's and mailing them from the museum's post office with a unique Postal Museum cancel.
Before the crowds arrived that day, 97 people from 28 families were able to enjoy the museum galleries and the card workshop as part of the Smithsonian's Morning at the Museum series. Morning at the Museum was developed in collaboration with the Smithsonian Institution's Accessibility Program and allows children with cognitive and sensory processing disabilities and their families to enjoy a quiet, calm, and controlled visit to Smithsonian Museums outside of regular museum hours.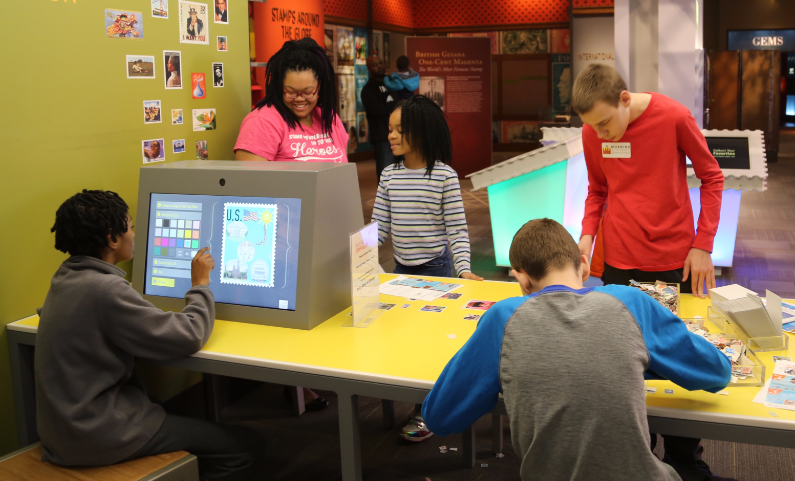 Between Wine & Design event on the 9th and the Valentine's Day Card Workshop on the 11th, Debbie and Motoko switched gears and welcomed 72 Girl Scouts and their leaders from throughout the region for a Girl Scout Detective Badge badge Workshop on February 10th. Girl Scouts completed activities related to the museum's Behind the Badge: The U.S. Postal Inspection Service exhibition in order to earn their Detective Badge. The Girl Scouts did a great job learning finger printing techniques, Morse code, and other skills related to serving in the Postal Inspection Service.
February, of course, is also Black History Month. The National Postal Museum joined the Smithsonian Institution in celebrating this important heritage month with special events and programs. For our monthly Lunchtime Lecture series, the Postal Museum hosted concert pianist Dana Kristina-Joi Morgan and bass-baritone Jarrod Lee, both of the Washington National Opera. Morgan and Lee riveted the audience with their performance of In the Smoke of the Sting, which shares the stories of three Champion boxers – Joe Louis, Emile Griffith and Muhammad Ali – through music, poetry, and the boxers' own words. In the Smoke of the Sting explores how each man overcame racism and discrimination in his own way. Calvin Mitchell, the museum's Assistant Curator of Philately, provided an intriguing introduction on the appearance of these icons on American postage stamps. The Lunchtime Lecture was enjoyed by 89 people in person; 2,263 people were also able to view online via Facebook Live. We again extend our gratitude to the incredible Dana Kristina-Joi Morgan and Jarrod Lee, pictured below.
In addition to our operatic Lunchtime Lecture, the museum developed a number of other special programs in honor of Black History Month. Listen, Look, & Do is a school program that invites pre-K and kindergarten students to listen to a story, explore the museum, and engage in an activity, all of which revolve around a central theme. For Black History Month, students heard a story about DC's own Duke Ellington, found examples of African Americans honored on stamps and in our museum, and then took up their own instruments to accompany an Ellington recording in a brief jam session. Over 125 students participated in this program during February.
Additionally, the National Postal Museum joined USPS, Washington, DC, Howard University, and others honoring local civil rights leader and women's rights activist Dorothy Height. The post office adjacent to NPM has long been named the Dorothy I. Height Post Office in honor of her accomplishments. But on February 1st, a commemorative stamp featuring Height was issued by USPS as part of their Black Heritage series. After the unveiling of the new stamp at Howard University, NPM hosted 77 members of the National Council of Negro Women for a special tour and presentation featuring Black History and Women's History as interpreted through stamps. Our distinguished guests were also presented with their own stamps by volunteer and philatelist Tim Smith from his personal collection, because it is always the right time to take up stamp collecting!
With all the events related to Valentine's Day, Black History Month, and Girl Scouts, we pretty much reached our maximum capacity at the museum! That's what outreach programs are for – to engage and educate offsite. We adapted the basic concept of creating and sending Valentine's Day cards into a collaborative and scholastic activity and took it on the road to local schools. Jessie, barely three months into her new job here at the Postal Museum, visited HB Woodlawn School in Arlington, Virginia; Stuart-Hobson Middle School just blocks away from NPM on Capitol Hill; and the National Institute of Health's Children's Inn in Bethesda, Maryland. Jessie and her coworkers reached over 250 children with the Valentine-themed outreach program. These outreach programs were in addition to the regular school tour programs offered by the museum and which reached over 300 students in February.
The Department of Education and Visitor Services saw a good deal of change in 2016. I congratulate the team on a successful February and acknowledge their tireless efforts to make it all possible. If this past month is any indication, we can look forward to more great things throughout the year!
All the programs mentioned here are part of the National Postal Museum's schedule of special and daily programs. To keep abreast of upcoming programs, visit NPM's Calendar of Events or sign up for Postmark, the museum's e-newsletter. Information for teachers and other educators can be found on our Field Trips and Professional Development web pages.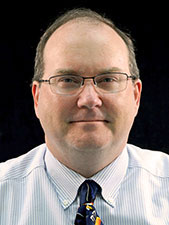 About the Author
Matthew White: "I am a museum professional with over 30 years' experience in museums of history, science, and technology. I have worked mostly as a museum educator working at institutions as the Baltimore Museum of Industry, the Mount Washington Observatory, and the Smithsonian's National Museum of American History where I was the Director of their Hands On Science Center. I have Masters Degrees in History and Teaching and I recently earned my PhD in History from the University of Florida."