Mail Order
10.01.2009
Blog
Written by Cassie Messner
Have you started your holiday shopping yet? It's getting to be that time of year when mailboxes get stuffed full with circulars and catalogs advertising the newest, hottest, and most fashionable items that you just have to buy for your loved ones this season. Although in recent years competition with online sites and warehouses has characterized the industry, mail-order catalogs remain a popular way to advertise wares to a large and widely dispersed population.
In the 1840s and 1850s, circulars were a commonly used way to attract business from the local community. One to three sheets, briefly listing what was carried in stock, would be folded together (fasteners increased postage rates) and sent through the mail. Some businesses began advertising that goods could be ordered by mail by writing a request letter back to the company.
However, there were problems in this fledgling industry. The Post Office Department had not yet established door-to-door delivery of packages. Before 1863, packages were sent through private shipping companies and dropped off at the nearest depot where customers then had to go out and pick them up. The United States Postal Act passed on February 27, 1861 allowed packages weighing less than four pounds to be sent by mail directly to the consumer. It was followed by the Postal Act passed on March 3, 1863, which set up a system of classification and standard rates for mailed items. Packages fell into the "all other mailable matter" third class category. In 1879, the classification laws were repealed and replaced by a more rigidly defined system, including a new fourth class dedicated to merchandise. The establishment of the Postal Money Order system in 1864 addressed the problem of theft and security that had been plaguing mail order from the beginning.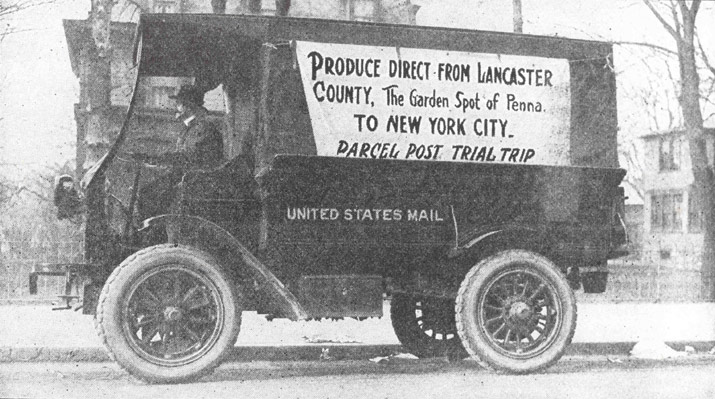 By the mid-1870s, change was in the air. Not only were the basic price list circulars expanding, the audience they reached was expanding as well. Circulars started to include pictures and descriptions of products and even articles written by the manufacturers. Infrastructure improvements such as the transcontinental railroad were responsible for improving distribution. In 1896 Rural Free Delivery (RFD) service began as an experiment, vastly increasing the use of mail order beyond urban centers. In the 1890s, RFD provided mail service to hundreds of thousands of farm and country residences, and the service kept on growing. 
By this time, the growth of mail order was beginning to have a visible impact on both urban and rural commerce. It was the era that saw the birth of such giants as Montgomery Ward, Marshall Field's, and Sears, Roebuck, and Co. Large urban department stores were embracing mail order as a means of reaching distant populations. Because of the diversity of the populations they were serving, department stores embraced the strategy of marketing different products to urban and non-urban consumers in vast national advertising campaigns. On January 1st, 1913, domestic Parcel Post Service was finally adopted. The choke-hold of private express companies was broken and Americans could send and receive packages as part of their everyday mail service. The consumer-business connection was on its way.
For further reading