Marilyn Travels to New Orleans: The Stamp art of Michael Deas
09.17.2012
Blog
By Patricia Raynor, Loan Coordinator, National Postal Museum
Marilyn Monroe standing over a subway grate in the 1955 movie "The Seven Year Itch" is one of the iconic poses of American cinematic history. It was also the subject of an illustration that artist Michael J. Deas proposed for the Marilyn Monroe stamp souvenir sheet selvage(1) that was to become part of the 1995 Legends of Hollywood series.
While it wasn't chosen for the actual Monroe stamp or for the souvenir sheet, that illustration is one of six works of stamp art being loaned by the National Postal Museum to the Ogden Museum of Southern Art at the University of New Orleans (www.ogdenmuseum.org) for an exhibit celebrating the art of Deas, a New Orleans-based illustrator and stamp artist. The exhibit runs from October 6, 2012 to January 7, 2013.
The other five artworks loaned are the approved stamp art of James Dean, Tennessee Williams, Katherine Anne Porter, William Clark and Meriwether Lewis.
The artist told me that this is his first one man show. It's also the Ogden Museum of Southern Art's first loan from a Smithsonian Museum since it became an affiliate in 2001. So exciting firsts all around!
The stamp art's journey to the Ogden Museum is unusual. The illustrations are part of the Postmaster General's Collection, on long-term loan to the National Postal Museum from the U.S. Postal Service. As the custodian of the collection, NPM has the mandate to make it available to the public. With this loan to the Ogden Museum, we are expanding the audience of this significant collection.
More information about the Postmaster General Collection »
(1) The border of paper around a sheet or pane of stamps. It used to be that it was 'the unprinted marginal paper on a sheet or pane of stamps', but these days, there is often wording or design included in the selvage.
Note: All stamp art images are courtesy of the United States Postal Service, Postmaster General's Collection.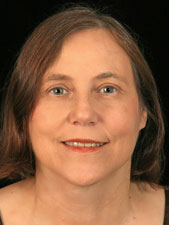 About the Author
Patricia Raynor: "I have worked at the Smithsonian Institution since 1990 and served as the collections coordinator for the National Postal Museum's inaugural exhibitions. I am now the museum's loan coordinator and liaison for the Smithsonian Affiliation's Program. My activities include memberships in the Smithsonian's American Indian Employee Network and Loans Forum, as well as the Mid-Atlantic Association of Museums in which I served on its Registrars and Program Committees."