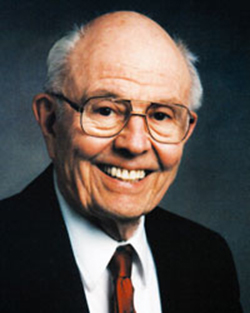 F. Maynard Sundman (1915-2007) transformed his boyhood love of stamp collecting and his goodwill faith in customers into creation of two of the world's largest stamp and coin companies. He started his first postage stamps for collectors business in Bristol, Connecticut, in 1935, working from his parent's home with a staff of six. He and his wife Fannie founded Littleton Stamp Company and its successor Littleton Coin Company. They were married for fifty-two years, until Fannie's death in 1993. Maynard and Fannie Sundman raised three sons, David M. Sundman, Frederick W. Sundman, and Donald J. Sundman. On October 15, 1994, Maynard married Dorothy Joslin of Littleton, and they enjoyed thirteen years of marriage. He lived to the age of 92.
Maynard was first introduced to collecting postage stamps as a young man. One rainy day, his friend Billy Potter invited him to see the colorful stamp collection that his grandfather had given him. These bits of paper from all over the world amazed Maynard. He resolved to collect one stamp of every country, knowing his father see that as a reasonable goal. Maynard soon began answering magazine advertisements offering stamp collections to collectors. When the stamps arrived in the mail, he took them to school to share his excitement. He soon dropped his collecting goal and began selling stamps to his grade school classmates. By high school, his dream was to become a full-time stamp dealer.
He used the proceeds from early stock market investments to found his first stamp business in the spring of 1935. Following the Japanese attack on Pearl Harbor, Maynard joined the army. He served in North Africa and Italy in the Fifth Arm under General Mark Clark, receiving the Bronze Star.
While he was overseas, Fannie searched New England for a good location to re-start the business once the war ended. She chose Littleton, and in December 1945 they founded Littleton Stamp Company and hired their first employee. Littleton Stamp Company began in a one-room office on Littleton's Main Street. The Sundmans lived in a small apartment near Littleton's post office. Once customer orders began to arrive, Maynard would pick up the daily mail at the post office, carrying it in a shoebox to the office. The mail-order stamp company soon attracted a loyal and fast-growing clientele. Unlike his competitors who advertised in stamp collecting publications, Maynard's business soon branched-out into a wider market, creating collectors through innovative advertising campaigns in consumer newspapers and magazines. The company offered customers the merchandise "on approval," giving them a chance to inspect the stamps at home before purchasing them. The Sundman firm later diversified from serving stamp collectors into marketing coins to coin collectors. In 1974, Sundman purchased Mystic Stamp Company of Camden, New York, and all stamp operations were transferred there.
"His motto could have been 'In Customers We Trust' because, over the years, he sent hundreds of millions of dollars worth of stamps and coins to clients on approval," his son Donald says. Donald Sundman is president of Mystic Stamp Company, now one of the world's largest stamp collecting firms with 175 employees in Camden, New York. Donald added, "Over his nearly seventy-year career, this mail-order pioneer introduced millions of Americans to the joys of collecting stamps and coins, history you can hold in your hand." Littleton Coin Company, the firm Maynard founded, today employs a staff of 350. The two Sundman firms together handle more than three million orders each year from stamp and coin collectors around the worldTo celebrate the Littleton firm's fiftieth anniversary in 1995, a book was published about the success of the Maynard Sundman enterprise, A Decent Boldness: The Life Achievement of Maynard Sundman at Littleton Stamp & Coin Company.
Maynard was a Life Member of the American Philatelic Society and the American Numismatic Society, and received a fifty-year membership award from the Executive Director of each organization in a special joint ceremony held in Littleton on September 30, 2004.
In 2002 The Smithsonian National Postal Museum established the Maynard Sundman Lecture Series, made possible by a donation by his sons David and Donald. The philatelic Sundman lectures feature talks by authors of recent books on stamps and stamp collecting.