My Life With a Bus
08.06.2015
Blog
By Sarah Raffurty, Curatorial Intern
For the past nine weeks, I have had the pleasure of being an intern at the National Postal Museum, in the Curation Department. This internship has been an opportunity of a lifetime! The more internships I do in this field, the more I find a passion for my work. Internships like the National Postal Museum make me very excited for future opportunities, and working with the curator, Nancy Pope, has led to an incredible summer. My focus this summer has been researching and writing about the Highway Post Offices (HPO). My main goal was to tell the story of the HPO bus #1, which is in NPM storage. The article will be put on the website and is the first piece of mine that will be for public viewing. All my past education has led me to this moment, and I hope to make my supervisors proud of the work that I have done.
The summer began back in April when I received news that I would be working with the Smithsonian and working with curation. When I got my appointment, I began to spring into action and learn about the post office. It was amazing to learn about a part of the government that gets ignored but has a very rich history in the American story. In that history, the Highway Post Offices have been overlooked. One of my favorite parts of history is finding little details that are forgotten, and the HPO is one of these pieces.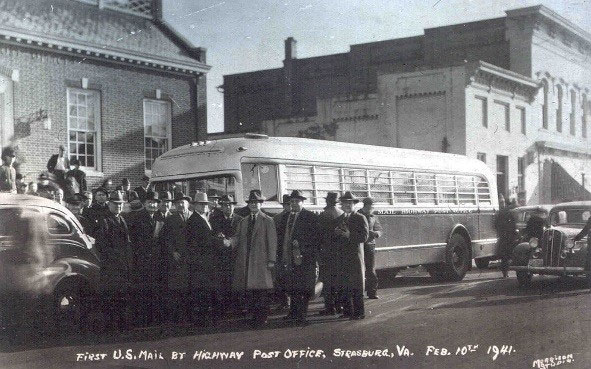 When I got to D.C., I began the search for the story of the HPO. I began in the National Postal Museum's library with the help of Baasil Wilder, who has been a great help! I started searching through folders and books to create a rough story about the buses. After getting a sense of the story, I looked forward to researching in the National Archives and being close to great pieces of American History. It was humbling to be researching in the same building that house our nation's most important documents. My first day at the Archives was interesting. After getting my researcher's card, I went to the finding aid room and began the search for documents. The strange thing about working in the archives is when you request materials you may get one box with one folder that doesn't contain much information. If not that, you can get twenty boxes that take weeks to sift through. I was nervous that I would get only a few sources. When the archivist rolled in a cart of twenty boxes then proceeded to tell me that there were thirteen more in the basement when I was ready, those fears of having too few sources went away. Researching is much like treasure hunting, you go through a lot of papers that are worthless to find the one gem, but that is what makes it fun! There were a lot of sources in the NPM library, like interdepartmental memos and vehicle records. These records and documents made it very easy to fill in the holes that our collection records had about the history of the bus. For instance, we found out that the bus was in an accident in the 1950's. After a month of gathering, copying, studying and filling my brain with HPO history, I was ready for the next phase… writing.
Now, writing has never been my strongest attribute. This internship has been a great opportunity to keep working on making my writing stronger. The last three weeks of my internship, have been working on writing my article. I was able to form a story that weaved the story of the Smithsonian bus within the history of the Highway Post Office. It has been a great experience to hone my writing abilities and create a story for scholars. After finalizing the article, I began working with the web designer, Bill Lommel, to generate the digital platform.
My internship was not just work. One of my favorite moments was going out to our storage area and seeing the White Bus. By the time I went to see it, I knew all of its past from its production days to it restoration days. When I first laid my eyes on it, it was like meeting a pen pal. I was so honored to see it. The great internship coordinator, Kim Harrell, planned some great field trips. We toured the Capitol. We also got to get a private tour of the Smithsonian's Natural History's storage facilities. We tasted and experienced the culture of Peru at the staff picnic. As a personal explorer of Washington D.C., I was able to have a great living experience. I went to the International Spy Museum and saw James Bond's Aston Martin. It was fun to see some gems of the Smithsonian such as Old Glory, Enola Gay, and The Peacock Room. I got to play tour guide with my family and see all the monuments, Library of Congress, Teddy Roosevelt Island, and Mount Vernon. Since I am such as baseball fan, I made sure to see games at the Nationals' and Baltimore Orioles' stadiums.
This internship has been an amazing experience, and it has fueled my desires to finish my degree and start my career. I appreciate all the National Postal Museum staff for welcoming me and being very helpful! I enjoyed working and learning from Nancy Pope. It was an honor to work with her and learn. I am excited for what the future holds!