National Postal Museum Participates in MonacoPhil
01.11.2010
Blog
By Daniel Piazza, Assistant Curator of Philately
From December 4-6, 2009, the Smithsonian National Postal Museum participated in MonacoPhil, the elite international philatelic exhibition held every 2-3 years in Monte-Carlo. As a founding institutional member of the Club de Monte-Carlo, the Smithsonian has been honored to present a selection from America's National Philatelic Collection at every MonacoPhil since the show's inception in 1997.
It was particularly gratifying that the museum could be present at the opening reception, during which the 2009 ASCAT Grand Prix award was presented to William H. Gross (commorative stamp at left), whose generous gift of $8 million dollars for a new philatelic gallery at the Smithsonian National Postal Museum is a major investment in the future of the hobby.
Participation in the MonacoPhil event reinforces the Smithsonian's position as a leader in international philately. Ten international institutions were invited to participate in this year's rarities exhibition. Our contribution to the show – the largest known block of the first issue of Peru – was displayed alongside equally impressive specimens from the collections of Her Majesty Queen Elizabeth II, His Serene Highness Prince Albert II of Monaco, the Archive for Philately (Bonn) and the Philatelic and Numismatic Museum of Vatican City. In addition, the best material from private collections all over the world was on view.
Great international events like MonacoPhil are a testament to the strength and vitality of philately at home and abroad.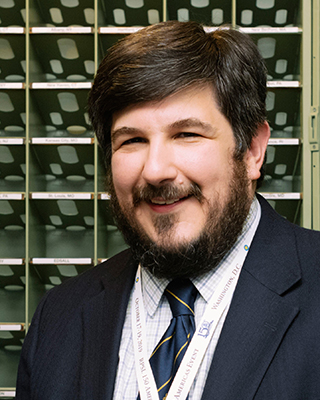 About the Author
Daniel A. Piazza became the Smithsonian National Postal Museum's Chief Curator of Philately in 2014. He is responsible for exhibitions, research, and acquisitions related to the museum's six million postage stamps and postal artifacts. Piazza lectures widely and has been interviewed by numerous media outlets including The Washington Post, The New York Times, Los Angeles Times, National Public Radio, The Today Show, and C-SPAN. He is a member of national and international philatelic societies and a frequent contributor to collector journals. He was elected a Fellow of the Royal Philatelic Society London in 2017 and named one of Linn's Stamp News's "Most Influential Philatelists" in 2022.