New Exhibition "Trailblazing: 100 Years of Our National Parks" Opening Soon!
05.24.2016
Blog
Special Family Day to Correspond with Exhibition
By Ren Cooper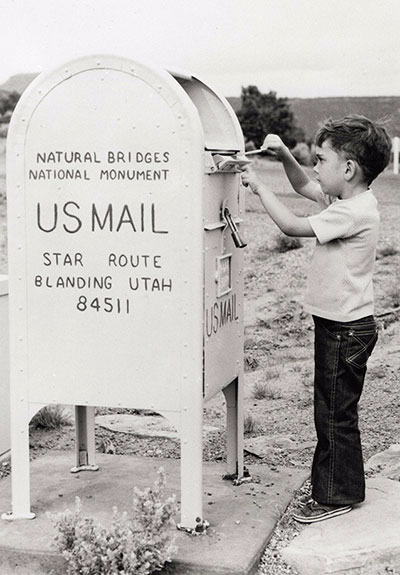 On June 9th, 2016, the National Postal Museum is proud to open Trailblazing: 100 Years of Our National Parks. This exhibition commemorates the centennial of America's National Park Service, a federal agency created by Congress on August 25, 1916. Featuring objects from the museum's philatelic collection, as well as original postage stamp art from the U.S. Postal Service and artifacts loaned by the National Park Service and private lenders, "Trailblazing" explores the myriad ways that mail moves to, through and from the national parks. The National Postal Museum will also host a National Parks Family Fun Day on Saturday, June 11th from 10 a.m. – 4 p.m. to celebrate this brand new exhibition.
In addition to traditional national parks, the National Park Service maintains many other historic locations, including monuments, battlefields, military parks, historical parks, historic sites, lakeshores, seashores, recreation areas, scenic rivers and trails, and the White House. The "Trailblazing" exhibition will contain artifacts representing these diverse facets of the National Park System, which currently consists of 411 areas covering more than 84 million acres in all 50 states, the District of Columbia, American Samoa, Guam, Puerto Rico, and the Virgin Islands.
Park rangers, seasonal employees and backpackers live deep inside many national parks and rely on a range of postal facilities for books, food, medicines, hardware and other articles. This reliance on post assisted in the development of dependable infrastructure throughout national parks. Of course, the very uniqueness and splendor of certain parks can pose as a bit of a challenge, causing the Postal Service to find creative solutions. For example, the only mule mail routes operating in the U.S. today serve the Grand Canyon.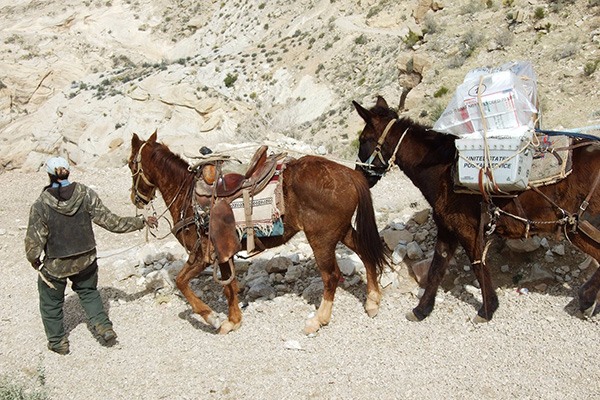 Naturally, the "Trailblazing" exhibition will contain several novel examples of tourism, including mini moccasins sent by a visitor from Grand Canyon National Park in 1965 and a scorched 1913 postcard from Hawaii Volcanoes National Park. The sender of the Hawaiian postcard actually walked out onto the hard crust of an active lava flow from the Kīlauea volcano, and thrust the postcard into a fissure, burning the edges for a particularly unique keepsake. Another aspect of the exhibition is "Letters of Conscience." Although it is prohibited to remove or possess natural or cultural resources (such as wildflowers, antlers, rocks, and arrowheads), visitors steal various objects from the national parks each year. Some, overcome with guilt, mail these objects back to their place of origin with a note expressing their remorse.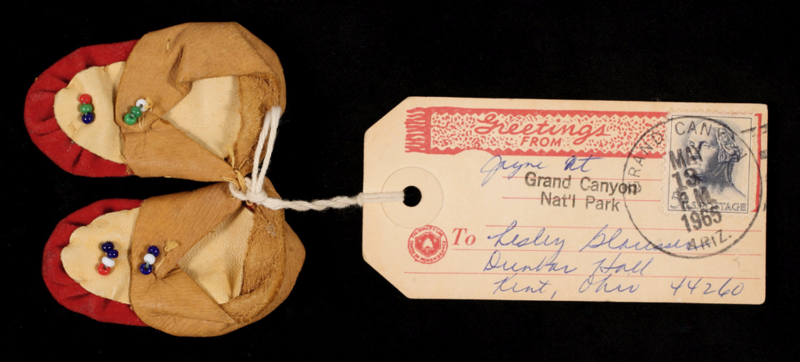 Visitors to the exhibition will be immersed in an environment inspired by the national parks—setting the stage for contemplation, conversation and appreciation. "We've managed to bring a little bit of the national park experience indoors through artifacts and photographs loaned by Grand Canyon, Sequoia, Petrified Forest and other national parks," said Daniel Piazza, chief curator of philately. One of the museum's goals is to motivate visitors to visit and explore the actual parks. The exhibition is designed as a springboard for more questions and deeper curiosity about America's national parks. This trailblazing spirit is at the heart of the history, objects and stories featured in the exhibit.
In addition to the exhibition, visitors of all ages are invited to "National Parks Family Day," where they will learn about the long history between the National Park Service and the United States Postal Service by engaging in fun activities for the whole family. Each family will receive an activity booklet to guide them through the stations to achieve Junior Ranger status. Join us on Saturday, June 11th between 10 a.m. and 4 p.m. at the National Postal Museum!