Newberry College Graphic Design Students Tackle Postage Stamps
12.10.2009
Blog
By Alexander Haimann, Collections Specialist
This is the first in a series of NPM Blog Posts highlighting the postage stamp designs of Newberry College graphic design students. Click Here To Learn More: NPM & Postal History Objects Come To Newberry College In South Carolina
"Since Sesame Street is having its 40th anniversary this year, I decided to design a postage stamp celebrating this famous children's television series. I chose Cookie Monster as the central character because--Who doesn't love Cookie Monster? In the stamp, Cookie Monster is devouring a cookie with the background also being a giant cookie. I included a Sesame Street style green color in the background as well. I chose the 40¢ denomination since the stamp is commemorating the show's 40th anniversary.
I was initially inspired by the 1999 33¢ Sesame Street stamp, where an important character from the show is centrally featured in the stamp's design."
---
This is the first in a series of NPM Blog Posts highlighting the postage stamp designs of Newberry College graphic design students. Click Here To Learn More: NPM & Postal History Objects Come To Newberry College In South Carolina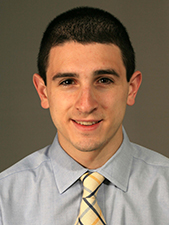 About the Author
Alexander T. Haimann, Collections Specialist & Web Projects Developer at the Smithsonian National Postal Museum, collects and writes primarily about the stamps and postal history of the U.S. during the first one hundred years of stamp production (1847-1947). Additionally, he develops internet based education projects and exhibits for the National Postal Museum. He is a member of the Board of Directors of the American Stamp Dealers Association, the Chair of the American Philatelic Society's Young Philatelic Leaders Fellowship and the publicist for the United State Philatelic Classics Society. His national and international society memberships include the American Philatelic Society, United States Stamp Society, Collectors Club of New York and the Royal Philatelic Society London.