Newberry College Graphic Design Students Tackle Postage Stamps-Part 2
12.17.2009
Blog
By Alexander Haimann, Collections Specialist
This is the second in a series of NPM Blog Posts highlighting the postage stamp designs of Newberry College graphic design students. Click here to learn more: NPM & Postal History Objects Come to Newberry College in South Carolina
My stamp commemorates the United States victory over Japan in 1945. It represents both our initial defeat and eventual victory in WWII. Our victory is embodied by Alfred Eisenstaedt's famous photo of a US sailor kissing a nurse in Time Square on VJ-day. This was a random kiss as the sailor was walking down the street kissing several women, but I wanted to create a love story behind the kiss. I placed a war love letter in the background of the photo to create the mood of a couple reuniting after the war. I took this concept from the folded letters of US Navy Surgeon David Shelton Edwards in the National Postal Museum's collection.
I placed a Hibiscus in the lower right corner of my stamp to represent our defeat resulting from the Japanese attack at Pearl Harbor on December 7, 1941. The Hibiscus is the Hawaiian state flower. I took the flower from a stamp in the Greetings From America Issue. The flower pops as it is placed over a sepia toned background. I placed a yellow banner that is screened back over the photo in order to tie in the hibiscus to the rest of the stamp. I placed the text "VJ•Day" with the year 1945 on the banner.
---
This is the second in a series of NPM Blog Posts highlighting the postage stamp designs of Newberry College graphic design students. Click here to learn more: NPM & Postal History Objects Come to Newberry College in South Carolina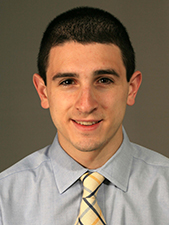 About the Author
Alexander T. Haimann, Collections Specialist & Web Projects Developer at the Smithsonian National Postal Museum, collects and writes primarily about the stamps and postal history of the U.S. during the first one hundred years of stamp production (1847-1947). Additionally, he develops internet based education projects and exhibits for the National Postal Museum. He is a member of the Board of Directors of the American Stamp Dealers Association, the Chair of the American Philatelic Society's Young Philatelic Leaders Fellowship and the publicist for the United State Philatelic Classics Society. His national and international society memberships include the American Philatelic Society, United States Stamp Society, Collectors Club of New York and the Royal Philatelic Society London.