Guest Post: Christmas 1843: The Births of the First Christmas Card and A Christmas Carol
12.20.2010
Blog
By Catherine Golden, Professor of English at Skidmore College and author of Posting It: The Victorian Revolution in Letter Writing.
During the current recession, many of us are thinking of cutting back on Christmas cards to save on postage. Ironically, the coming of the Penny Post in England in 1840 had the opposite effect: the affordable, uniform penny rate catapulted the sending of Christmas cards designed to raise charity for the poor. In 1843, the Christmas spirit undoubtedly visited postal reformer and father of the Christmas greeting card Henry Cole, nicknamed Old King Cole, as well as Charles Dickens, whose A Christmas Carol is his only work of fiction to gain more fame for its philanthropic message than its literary merit. Much good arose during the 1840s, despite—or perhaps because of—England's economic "hard times." In the spirit of holiday cheer and philately, I propose that we return to 1843 to witness the births of the Christmas greeting card and A Christmas Carol, the subject of a 1993 UK commemorative stamp pack designed by illustrator Quentin Blake.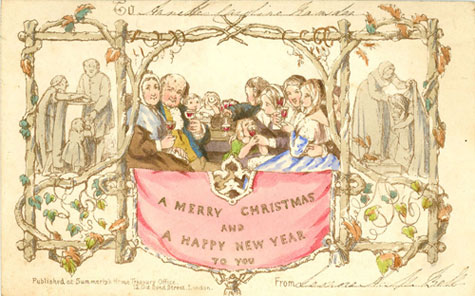 The World's First Christmas Card (1843)
Copyright 2010: The British Postal Museum & Archive
The humanitarian underpinnings of A Christmas Carol are far better known than the philanthropic impulse that gave rise to the Christmas greeting card. Henry Cole was a lifelong civil servant who worked with Rowland Hill, originator of the Penny Post, to usher in universal postage. Cole believed Christmas greeting cards that he could post for only a penny could raise consciousness about the London poor during a period commonly known as the Hungry Forties. Poverty grew worse following the 1834 Poor Law, which required the poor to go to workhouses for assistance and made the workhouse conditions harsh to discourage the poor's dependence upon them. This period in Victorian Britain witnessed brewing discontent among greedy factory owners and impoverished employees as well as strikes and high unemployment rates, leaving families homeless and destitute. It would appear that the Ghost of Christmas Present pointed Cole towards impoverished East-end London streets where starving people hoped for any form of work to keep them out of the workhouse. Perhaps Cole even personally witnessed the same two ragged child figures, "Want" and "Ignorance," that terrified and ultimately reformed Ebeneezer Scrooge.
Visitations or not, in 1843 Cole set out to handwrite individually painted Christmas cards to encourage his many friends to join his charitable cause to help the poor. His task was tedious and laborious, prompting an inventive solution: the commercial Christmas card. Cole commissioned artist John Calcott Horsley to design an original Christmas greeting card featuring jovial good-hearted Victorians feeding and clothing the poor as part of their celebration. The text on the lithographically reproduced, hand-colored card reads: "A Merry Christmas and a Happy New Year to You." A printer reproduced 1,000 copies, Cole signed and posted his greeting cards to friends and acquaintances, and a new holiday tradition was born. Cole sold those cards he did not use for 6 d each; the Athenaeum advertised the greeting card as follows: "A Christmas Congratulation Card: or picture emblematical of Old English Festivity to Perpetuate kind recollections between Dear Friends."
Akin to Cole's Christmas card, A Christmas Carol was "a national benefit," to recall the words of William Makepeace Thackeray. It immediately stimulated Yuletide giving. A champion of the child, Dickens claimed his impulse to write A Christmas Carol grew out of a visit he paid earlier in 1843 to a "ragged school" for children of the poor where he witnessed neglected, unloved, abused children. Writing in outrage towards the hypocritical Victorian institutions that exploited orphans, outcasts, the poor, and the afflicted, Dickens redeems his miser, who refuses to give any charity, proclaiming: "Are there no prisons? . . . And the Union workhouses? . . . Are they still in operation?'" (Stave One). Visited by three spirits—the Ghosts of Christmas Past, Present, and Future—Scrooge transforms into a good Samaritan, a generous employer to Bob Cratchit, and a second father to Tiny Tim. The five stamps commemorating the 150th year anniversary of A Christmas Carol not surprisingly feature goodness, charity, and redemption; Quentin Blake—best known for his illustrations for Roald Dahl's fiction—draws Bob Cratchit carrying his beloved Tiny Tim; Mr. and Mrs. Fezziwig making merry in preparation for their charitable ball; Scrooge looking miserly; the prize turkey a reformed Scrooge buys for the Cratchit family; and Mr. Scrooge's goodhearted nephew, who knows how to keep Christmas.
But Dickens also wrote the story for a practical purpose. In 1843, Dickens—having overspent on his 1842 American tour and needing funds to support his large family—was desperate for cash. Thinking creatively, he wrote himself out of his dilemma. Within one week, Dickens sold out the entire 6,000-copy print run of this still beloved Victorian tale.
Even if economics motivated Dickens to write A Christmas Carol, his story stimulated charity just like Cole's first commercial Christmas greeting card, which led to a booming industry in England and the United States. Louis Prang, commonly known as the "father of the American Christmas card," designed cards for the ever growing consumer market in England. In 1874, Prang expanded his line of greeting cards for sale in America and promoted the exchanging of greeting cards. Even postal carriers joined the greeting card movement, delivering holiday postcards to their patrons (although they were subject to sanction if they did not place a stamp on the cards they hand delivered). In 1915, one rural delivery carrier named John S. Mac Ilroy even designed specialty postcards of a rural letter carrier with a poem printed on the back of the card.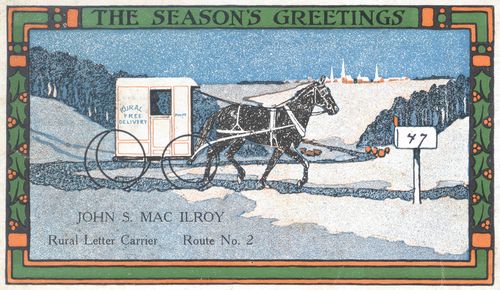 Christmas postcard from Pittstown, New Jersey Rural Free Delivery letter carrier John S. MacIlroy to William Taylor dated December 21, 1915. The back of the postcard has a printed five stanza poem titled "If" that includes the verse, "when packages due don't come on time / And those who are sending don't raise their sign / it sure would save anxiety / if I knew you and you knew me."
Today, greeting cards, an enduring holiday tradition, have become an industry that feeds the commercialization of Christmas. Likewise, Dickens's A Christmas Carol has sparked a Carol industry, marked by postage stamps, theatrical adaptations, and films. Even the Muppets got into the act with The Muppet Christmas Carol (1992), nearly 150 years following the story's first publication. 
This holiday season, as we cut back on spending, let's recall what the Christmas card and Dickens's enduring yuletide story have in common: a commitment to humanitarianism, reminding us, in the words of Tiny Tim: "God Bless Us, Every One!"