Exploring U.S. Geography & World History Through Cancelled Stamps
05.08.2011
Blog
By Dr. Mick Zais, State Superintendent of Education for South Carolina.
There are many similarities between stamp collecting (Philately) and coin collecting (Numismatics). Both involve collecting items produced by national governments, represent denominations of money and favor depicting important past leaders. This post highlights a unique element of stamp collecting – knowledge about where a specific stamp has traveled in its lifetime. The only information about where a coin has traveled is where it started its journey (the location of the mint). The beauty of used stamps is that the cancellation marking can illustrate a dynamic story adding in some cases multiple layers of depth to an individual stamp's narrative already composed of the who, what, why and where of its design and production.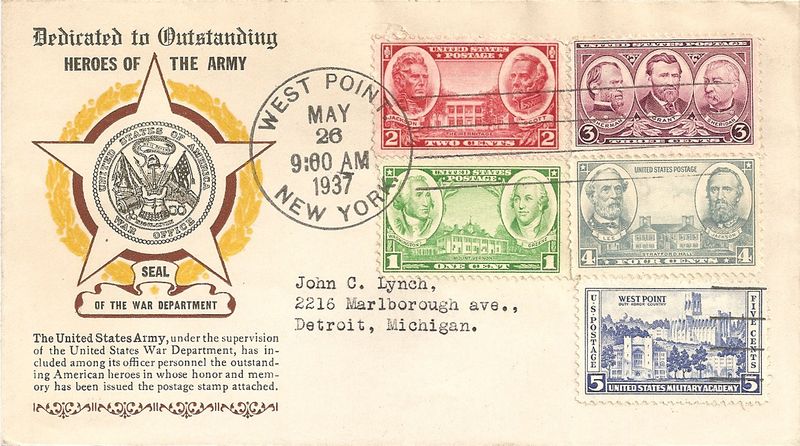 All 5 stamps of the 1936-37 Army Series on first day cover of the 5-cent stamp with Eugene Laird cachet.
The beauty of specializing in one stamp or a series of stamps is that your collection can encompass all aspects of philately – domestic and overseas postal history usages, EFOs, first day covers, production information and related material, precancels, perfins, plate blocks, event and advertising covers, and more. Since 1998, I have collected all material related to every stamp and postal history area of the 1936-37 U.S. Army Issue.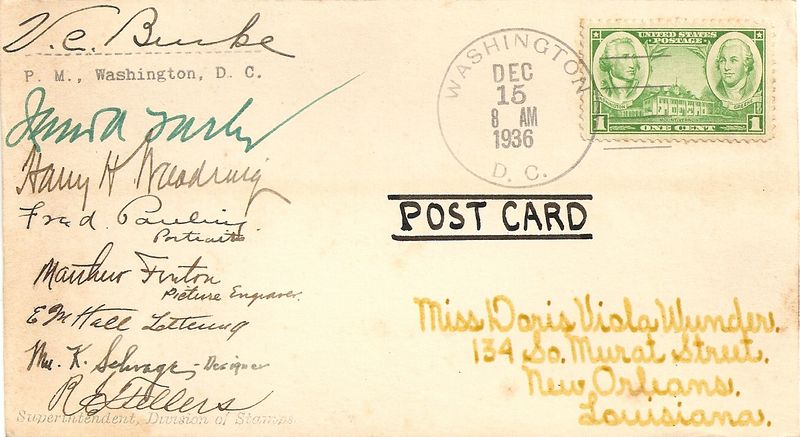 Homemade postcard sent on the first day of issuance of the 1-cent Army Series stamp bearing the signatures of (from top to bottom) Vincent C. Burke - Washington, D.C. Postmaster, James A. Farley - Postmaster General, Harry H. Woodring - Secretary of War, Fred Pauling - 1c Army Stamp's Portrait Engraver, Matthew Fenton - 1c Army Stamp's Mount Vernon Picture Engraver, E. M. Hall - 1c Army Stamp's Lettering & Numerals Engraver, W. K. Schrange - 1c Army Stamp's Designer, R. E. Fellers - Superintendent, Division of Stamps.
For this post, I have chosen the lowest denomination of this five stamp issue, the 1-cent Washington & Greene to demonstrate the dynamic nature of cancels in illustrating far more about an individual stamp's story than the typical facts about its production (which would be the most information available on any given coin).
The stamp features George Washington's Mount Vernon home flanked by engravings of Washington and Nathaniel Greene based on paintings by the famous American portrait artists John Trumball. The building between the two portraits is Mount Vernon, George Washington famous home. The stamp's design was approved for production on November 19, 1936. The next day the Bureau of Engraving and Printing received an order from the Post Office Department to produce 75 million of this 1-cent stamp. Less than a month later on December 15, 1936, the 1-cent Washington & Greene stamp was released to the public. This denomination was the only one of the five Army Issue stamps to be issued in 1936 with the remaining four stamps issued during 1937.


December 21, 1936 marks the earliest date that one of these stamps featured in this blog post was sent through the mails, starting its journey in Washington, DC. The Burlington Station post office in Omaha, Nebraska marks the latest departure point for one of the stamps depicted here, sent on April 2, 1940.


Halfway around the world on the same day (April 26, 1937) that one of these 1-cent Army Issue stamps departed from Crockett, California, air forces aligned with the Spanish Nationalists during the Spanish Civil War including German and Italian aircraft bombed the Basque city of Guernica. The event inspired artist Pablo Picasso's painting entitled "Guernica," considered by many to be Picasso's most famous artistic work as well as the most important painting of the 20th Century. For anyone interested in British Commonwealth Philately, the 1-cent Army Issue stamp sent from Wichita, Kansas on April 1, 1937 coincides with the Middle East port city of Aden's establishment as a Crown Colony.


Connections to the history of British Royalty (and the recent award winning film, The King's Speech) are intertwined with the 1-cent Army Issue stamp featured here sent from Detroit, Michigan on June 3, 1937. On this same day in 1937, King George VI's brother, the former King Edward VIII marries Wallis Simpson in France. Academy Award winner Warren Beatty was born on the same day (March 30, 1937) that the 1-cent Army Issue stamp shown here was sent from Philadelphia, Pennsylvania.


The 1-cent Army Issue stamps sent from Richmond, Indiana and Iowa City, Iowa on March 6, 1937 coincide with the birth date of the first woman to go into space, Valentina Vladimirovna Tereshkova.
Each of these date specific connections illustrate only a tiny fraction of the potential date and location links that these used 1-cent Army Issue stamps have to people, places and events in history. Imagine the number of connections that all existing used 1-cent Army Issue stamps would have cumulatively! So next time you look at a used stamp with a legible postmark cancellation on the Postal Museum's Arago website, in your collection, or at a stamp show, imagine the links that stamp has to a specific day in history and a specific location in the world. If you're lucky, that stamp may have a great story that still has to be told.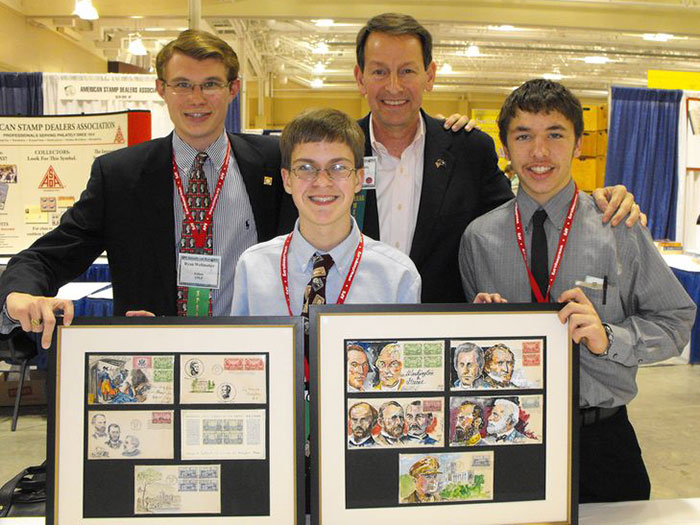 The author at the American Philatelic Society's AmeriStamp Show in Charleston, South Carolina with the three members of the Young Philatelic Leaders Fellowship class of 2011 displaying special U.S. Army Series first day covers. From left to right: Senior Fellow Ryan Wellmaker, U.S. Philatelic Classics Society Fellow John Phillips, Mick Zais and YPLF Fellow Andrew Shaw.