Countdown to Owney (#1)
03.15.2011
Blog
By Historian and Curator Nancy Pope
As you may have heard, on July 27, 2011, Owney will be honored with his very own postage stamp. To celebrate this great occasion, I will be doing a series of blogs celebrating some of Owney's tags. Owney spent most of his time riding on mail trains. Clerks and others added medals and tags to the dog's collar. These trinkets showed the many different places and people he visited. Some tags were made just for him, even if sometimes they spelled his name wrong.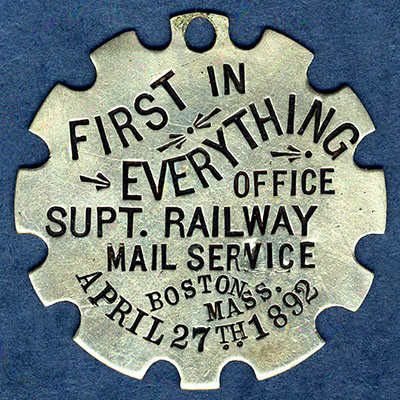 Each time Owney returned to Albany, postal employees removed new tags and set them aside to make room for more. No one knows how many tags he received in total. After Owney's death Albany's postmaster gave many tags to the Post Office Department in Washington, D.C. They are now on display in the National Postal Museum.
As Owney was first and foremost the mascot of the Railway Mail Service, it is fitting to start the Owney countdown with a tag celebrating that relationship.
Owney received this tag, dated April 27, 1892, when he visited Boston, Massachusetts. Owney was almost always the guest of the postmaster of any town he visited. In Boston, however, Owney also usually visited the offices of the Boston Daily Globe. During this trip, the dog was the guest of the area Superintendent of the Railway Mail Service.
The New York Times recorded Owney's travels during that week (using an early alternate spelling of the dog's name, "Ownie"). The newspaper noted that "Ownie is on a return trip from the South, and his new badges were presented at New-Orleans, Memphis, Nashville, Atlanta, and Washington, with a bright, large brass one which he received from the New-York office yesterday. Together the badges weigh for our five pounds. Ownie's last trip has extended over five months . . . He left yesterday afternoon for Boston, and from there goes to Albany to spend the month of May with his friends at the Post Office there." (1)
(1) New York Times, April 27, 1892, p. 9