Challenges of a Hong Kong Collection Box
08.20.2012
Blog
By Rebecca Johnson, Preservation Technician and Offsite Coordinator
Getting the street pillar collection box from the former British Colony of Hong Kong ready for exhibit in 2013 has been an interesting venture. Measuring six feet tall and weighing over 400 pounds, maneuvering this collection box for conservation treatment has been a challenge. The object was laying down inside a crate in storage. In order to have access to its entire circumference, the collection box needed to be repositioned upright. When we opened the storage crate the entire bottom half of the collection box was filled with cement, creating an unexpected obstacle. Before the collection box could be moved, the cement had to be removed. It was important to remove the cement both for the long-term care of the object, as well as making it easier to maneuver for exhibition. Using a chisel and a mallet for almost 6 hours, the cement was successfully removed. Fortunately it was less cement than we originally expected, only weighing about 50 pounds.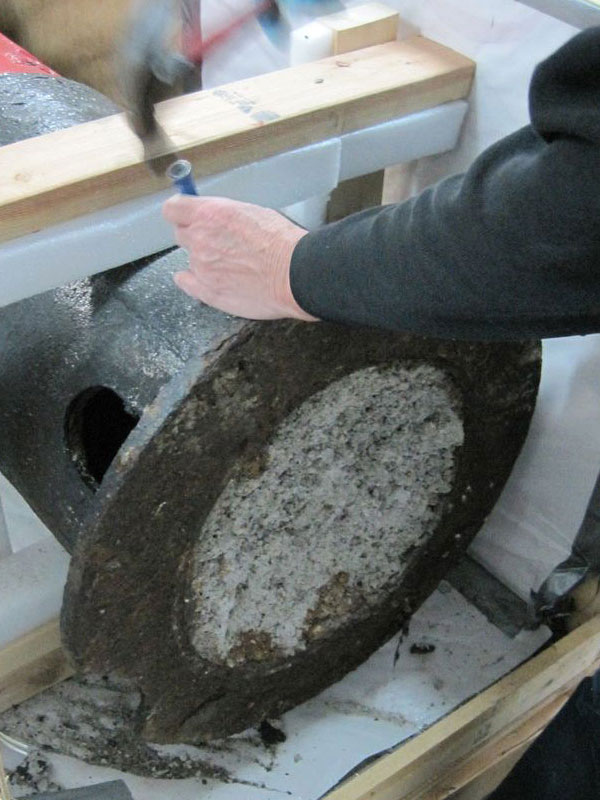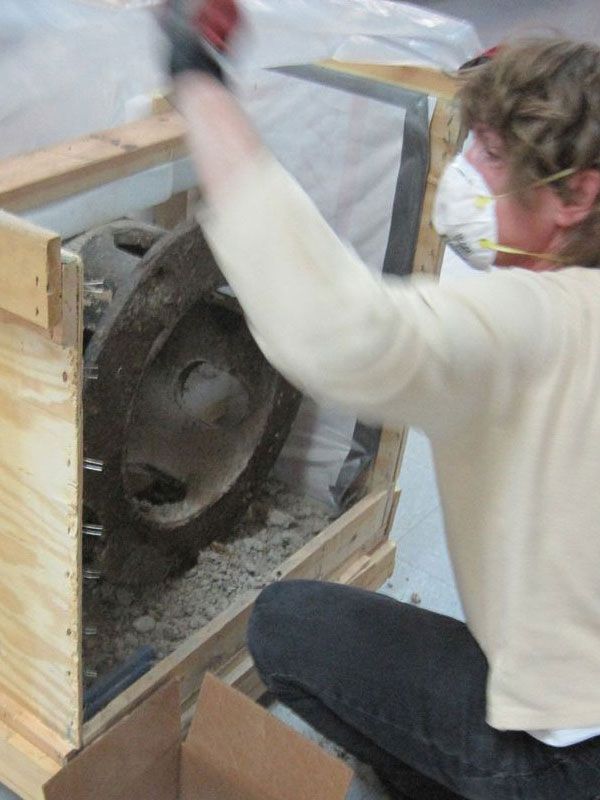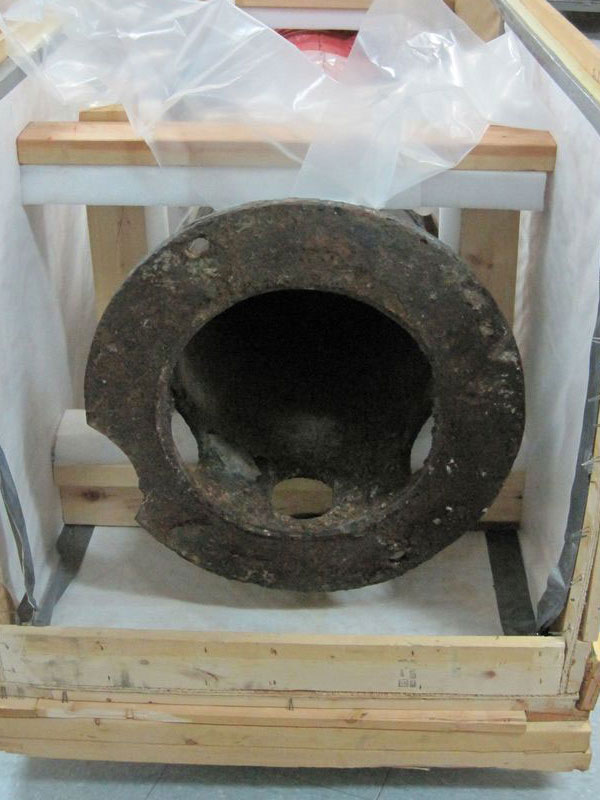 With the cement removed, plans were put into place to have the collection box brought back into the vertical position. Because of its weight, the only option was use a forklift and heavy strapping; the mailbox was slowly removed from the old crate and placed upon a new platform. The new platform has a honeycomb-shaped insert that went inside the collection box where the cement used to be. There was some concern that the object would now be top-heavy and unstable, so the honeycombed-shaped insert was constructed.
The final challenge was to relocate the collection box to the processing room for conservation treatment. While this might sound easy enough, moving the collection box was the most worrisome process. From the warehouse floor to the processing room the object had to be transported safely through barriers, a freight elevator to the second floor and maneuver it through long hallways with very low doorways. Before moving the object, the staff walked the route twice and double checked all measurements of doorways and hallways to make sure it would fit. It was going to be close, but it was possible. Twice the collection box had to be taken off the pallet jack and pushed through the doorway with only an inch to spare. But the object made it to the processing room safely and is currently undergoing conservation treatments.