Bon Voyage Owney
08.19.2012
Blog
By Nancy Pope, Historian and Curator
Owney, the postal dog already famous for his travels across the United States set out on August 19, 1895 for a trip around the world. Owney left from the Tacoma, Washington port, sailing for China and Japan and through the Suez Canal before sailing back to New York City. He left New York by train and returned to Tacoma on December 29.* Unfortunately, any tags that may have been given to Owney on the international legs of that journey have not survived. The museum does have several tags that show the dog's connection with the Tacoma area (including several from Seattle, but since Tacoma's boosters sent Owney on his trip to draw attention to their town, not their larger neighbor; I'll focus on the Tacoma area tags here).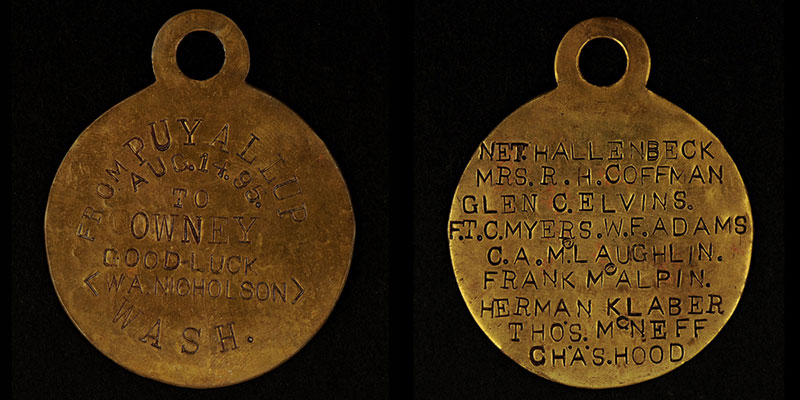 In preparation for his around the world trip, some citizens from Pullyup, Washington (just to the south-east of Tacoma, and on the railway line Owney traveled), gave him this tag with their names on it. Those wishing Owney good luck with this tag were Mrs. R. H. Coffman, Glen C. Elvins, F.T.C. Myers, W.F. Adams, C.A. McLaughlin, Frank McAlpin, Herman Klaber, Thomas McNeff, and Charles Hood of nearby Puyallup, Washington. The tag is dated August 14, 1895.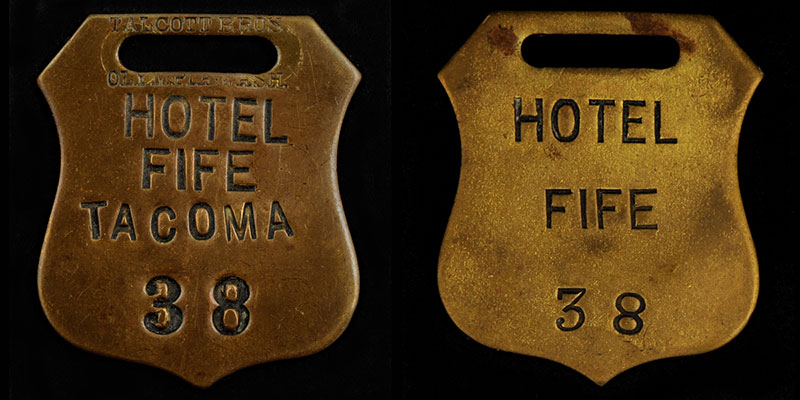 Tacoma's hotels made Owney feel at home from time to time. These tags come from Tacoma's Hotel Fife a five-story hotel, built in 1888, and located on the northwest corner of 9th and Pacific. William H. Fife, the hotel's owner, was born in Ontario, Canada. He was an important figure in the early days of Tacoma, building the first general store and acting as the city's first postmaster (1874-1882) and became one of the city's most prosperous citizens. The Fife was torn down in 1925.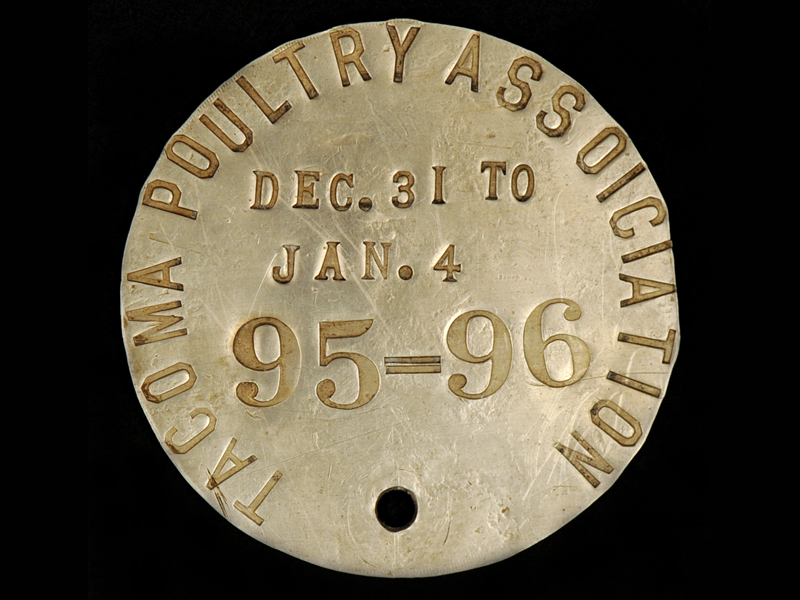 After Owney returned to Tacoma from his world-wide journey, the city's Poultry Association gave him a tag celebrating their upcoming meeting. Given Owney's demonstrated fondness for chasing chickens, it is hard to imagine he would have behaved himself at a poultry show. Just two years earlier Owney had rewarded a California clerk's hospitality by chasing the family's chickens. By the time the clerk responded to the wild cackling and squawking in his yard, Owney was found with the "finest and largest fowl of the yard" in his mouth.