DeAutremont Brothers Train Robbery
10.11.2012
Blog
By Nancy Pope, Historian and Curator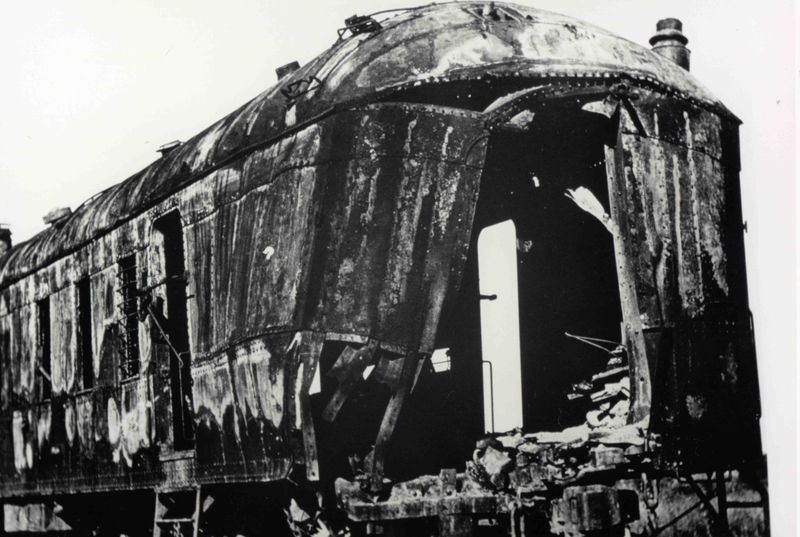 The mail train car, following the explosion and subsequent fire.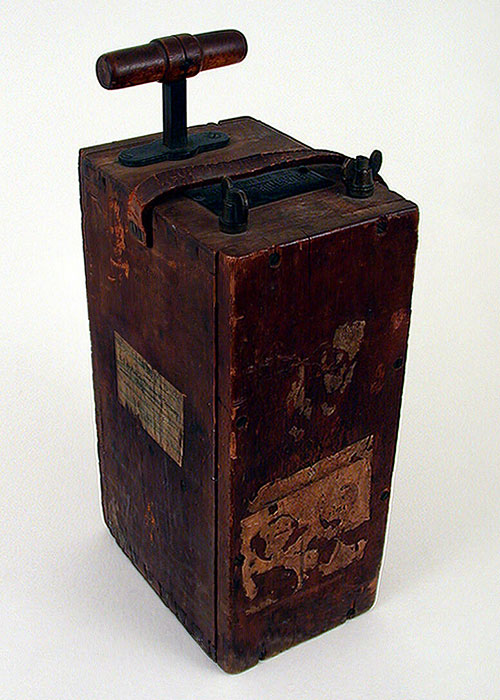 The detonator used by the brothers is now in the National Postal Museum.
Most people think of train robberies as a 19th century event, complete with Butch and Sundance blowing up a train car, or Jesse James and his gang taking on the evil railroad companies. But a violent and tragic train robbery attempt was made in 1923. On October 11 of that year, three men, twins Roy and Ray DeAutremont and their young brother Hugh ambushed Southern Pacific train #13 in southern Oregon, just as the train was emerging from a tunnel.
The trio's goal was $40,000 in gold they believed was being carried in the mail car. The car's railway mail clerk, Elvyn Dougherty was in the secured mail car when the boys approached. Unable to force their way inside, they decided to blow the door open using dynamite and a detonator (left) they had stolen from a construction company.
The boys had no idea what they were doing and used far too much dynamite. The blast destroyed the car (above), killing clerk Dougherty and obliterating most of the mail. During their robbery the boys also shot and killed the train's conductor, engineer, and fireman, not wanting to leave any witnesses. There was no gold and the three fled the scene with nothing. They managed to elude authorities for three years.
The brothers were eventually brought to justice after an extensive manhunt was rewarded in February 1927 with the arrest of Hugh DeAutremont. He had joined the army under the name James Price and was serving in the Philippines, where he was recognized by a barracks buddy. Hugh claimed he did not know where his brothers were, but his arrest revived media interest in the story and Ray and Roy were recognized and apprehended in Steubenville, Ohio, a few months later. They were living under the name of Goodwin. All three were convicted and sentenced to life imprisonment.
Hugh DeAutremont received a parole in 1959 and died roughly two months later in San Francisco. Roy was given a frontal lobotomy while in prison and was paroled in March, 1983. He died three months later in a nursing home. Ray was paroled in 1961 and died on December 22, 1984 in Eugene after working for years as a custodian at the University of Oregon.

Wanted posters announced the $15,900 bounty on the brothers. Posters were distributed across the U.S.