Using Barcodes for the Sidney N. Shure Rapid Capture
10.02.2015
Blog
By Caitlin Badowski, Collections Department
The Sidney N. Shure Collection is approximately 100 albums of stamps and postal history material from Israel and Palestine. It is an extensive collection of which we will be imaging 1,000 pages this week. I have already written about what a Rapid Capture project is, and how we were able to catalogue this important collection this past summer. This blog post is about the 3,600 barcodes we chose to associate with these objects.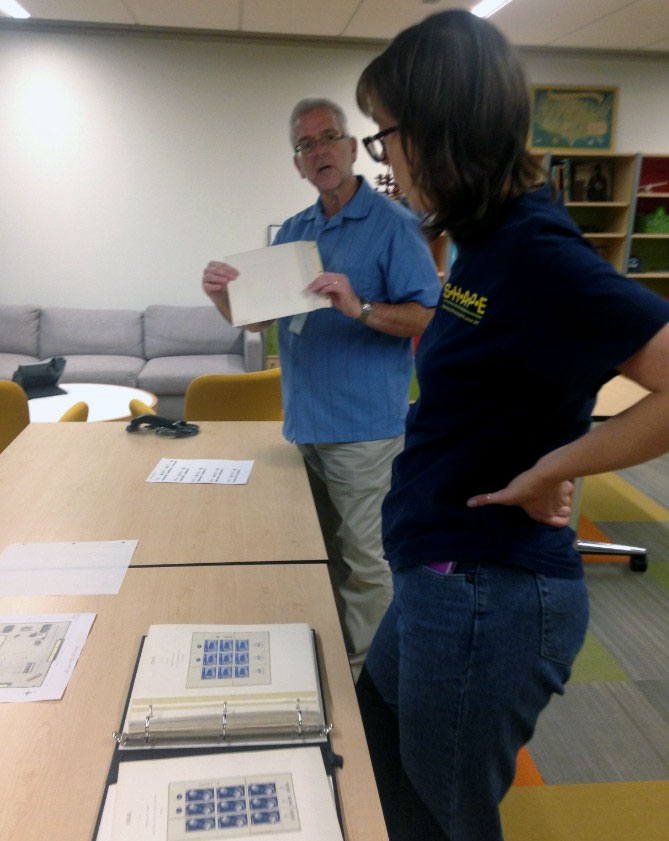 Integrating barcodes during a test run for the RCPP
Why do we want barcodes? You have seen barcodes before on everything from your favorite cereal in the grocery store to a birthday card from your Aunt Edna in the mail. They are small in size, yet contain a wealth of information. In our case, the barcodes contain each object's accession number – the unique identifier we use to keep all our 3,600 album pages in order in storage and in our database.
The National Postal Museum has not worked with barcodes before, so we used our Rapid Capture Pilot Project as a foray into the capabilities of barcoding. We are using the barcodes to tell the cameras what filename to assign each of our beautiful new images.
By "booping" the appropriate barcode, we will eliminate the potential human error of misreading or mistyping an accession number into a filename. The computers will be able to read the barcode lines, translate those lines into numbers, and connect all the right dots so the image we take links to the correct database information on the other end. All in the power of one little "boop!"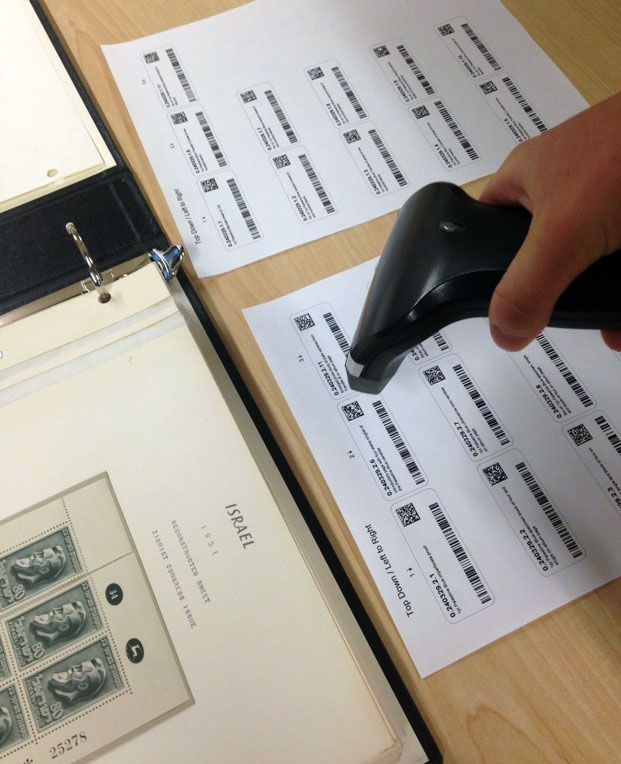 Scanning a barcode to create an image filename
Our barcodes are fairly simple for now. We are including two types of barcodes, a traditional line format as well as the newer 2d barcode, so we are not as limited in barcode readers in the future. We are also including the object's accession number and name, so we can quickly verify we are scanning the correct barcode for each image! We chose to print these barcodes in groups of fifteen on acid-free paper, in part to save on space since this vast collection is really quite small in size. Rather than affixing the barcodes to each album page, we have placed the barcode sheets at the front of the appropriate album. We will be able to keep track of our barcodes, without worrying about harming the objects.
In the future, we may be able to use barcodes for similar imaging and cataloguing projects. Additionally, barcodes can be of assistance in updating object locations, like when objects go on exhibit. I hope to increase our barcoding at the museum going forward.
An album page from the Sidney N. Shure Collection along with a sheet of barcodes.