The Thanksgiving Day Parade: A Celebration with Stamps
11.23.2015
Blog
By Calvin Mitchell, Assistant Curator of Philately
The Macy's Thanksgiving Day Parade® is one of the most iconic annual parades in American cultural lore. This New York City parade -- complete with a myriad of giant balloons, dancers, floats, cheerleaders, marching bands, clowns and celebrity performers and, of course, Santa Claus ushers in America's holiday spending season. The first Macy's parade took place on Christmas Day in 1924 and served as a means to attract customers to the Macy's store in New York City. For this inaugural parade Macy's employees (of whom many were immigrants) dressed as clowns, cowboys and assorted fun characters, and the parade included animals borrowed from the Central Park Zoo. Approximately 250,000 people attended this parade. In 1927, Macy's parade organizers began using giant balloons, starting with the introduction of Felix the Cat, instead of live animals. Now the 89th Annual Macy's Thanksgiving Day Parade® will attract 3.5 million spectators and will entertain more than 50 million television viewers. The three-hour Thanksgiving Day TV show has received at least twelve Emmy Awards for Outstanding Achievement since 1979.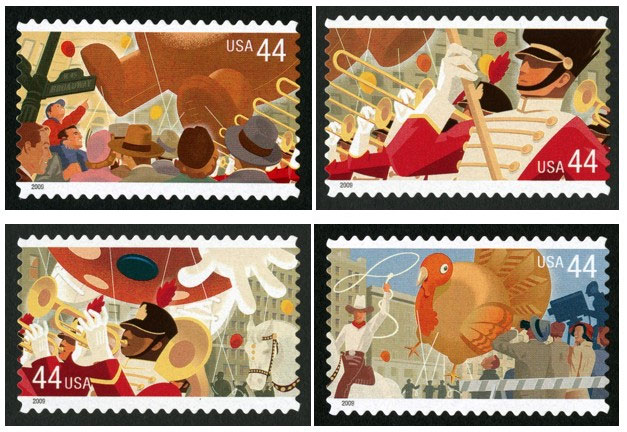 Each stamp in the set contains separate characters; viewing from left to right, the first stamp depicts crowds, a giant balloon depicting a bear, and a street sign marking the intersection of 45th and Broadway where Macy's floats and parade participants pass. The second stamp shows a drum major and band musicians. The third stamp shows additional musicians, a giant balloon and a horse. The fourth and final stamp depicts a cowboy, turkey balloon, parade watchers and a television cameraman. Credit: United States Postal Service
To commemorate this memorable parade, the United States Postal Service (USPS) on September 9, 2009 issued a horizontal strip of four se-tenant stamps (a philatelic term describing an attached pair, strip or block of stamps that differ in design, color or denomination) reminiscent of a typical Thanksgiving Day Parade. Because of USPS policy restricting the promotion of commercial businesses when stamps are issued, these stamps did not identify Macy's as a corporate sponsor of the parade nor acknowledge the commercial origins of the parade, Also the very term -- Macy's Thanksgiving Day Parade ® -- is a registered trademark owned by Macy's. Ironically, Macy's actually proposed and campaigned for the stamp and provided posters and other developmental artwork to consider during the stamp's design phase. Macy's even took the highly unusual step of paying for a full page ad in the New York Times announcing the stamps' issuance, and hosting the first day of issue ceremony at its Herald Square store.
Howard Paine, the USPS art director, selected Paul Rogers to design the stamps. He selected Rogers for this project because of Rogers' artistic style and use of bold and eye-catching colors. Collaborating with Paine, he designed four stamps that could be independent of each other yet together would provide a panoramic and colorful view of a Thanksgiving Day Parade. Rogers first did pencil sketches of the four-stamp set, then filled in the color. Some scenes were airbrushed on paper, scanned for final design, assembled, and edited using Adobe Illustrator software. Rogers' final artwork for the stamp set did not disappoint. His design captured a lively and colorful look of a memorable scene from a typical Thanksgiving Day Parade in New York City.
The beautiful final proof used to produce the stamp will be on display in the upcoming National Postal Museum exhibition titled "New York City: A Portrait Through Stamp Art" scheduled for December 10, 2015 - March 13, 2017.;


This image represents the final artwork used to produce the stamp. Paul Rogers based his computer-generated design on American advertising and poster art from the mid-20th Century. The se-tenant set of four stamps was issued in a group of five strips on a pane of 20 stamps. The US printer contractor, Avery Dennison, printed 40,000,000 stamps. Credit: Image from the United States Postal Service, Postmaster General's Collection.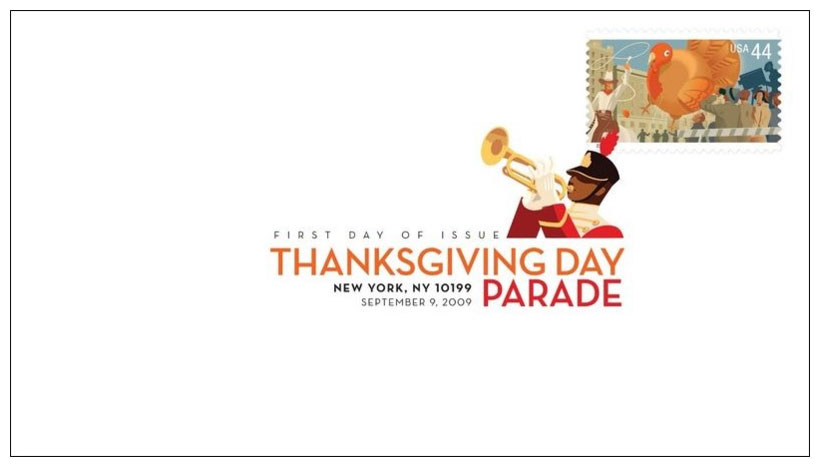 The USPS issued a digital design for one of the postmark cancellations. The postmark included bold colors and an image consistent with the stamp design. Credit: United States Postal Service.
Narrative Credit: Linn's U.S. Stamp Yearbook 2009.