From Postal Pilots to Private Businesses
04.17.2017
Blog
By Nancy Pope, Historian and Curator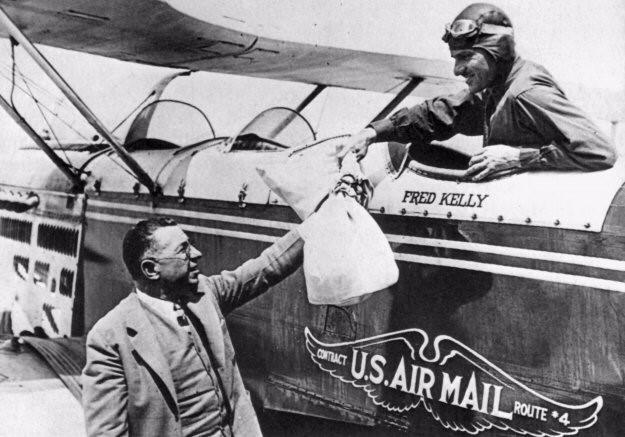 "Pop" Hanshue passing a mailbag to Fred Kelly, one of Western Air's first pilots. The two seats in front of Kelly could hold passengers in addition to mail. But it was the mail contracts that financed the company's growth.
The Post Office Department operated the national airmail service from 1918 to 1926. That year they began turning control over to private operators. The transformation of government run airmail service to privately operated lines signaled the beginning days of America's commercial aviation industry.
Routes flown within the United States were designated as CAM (Contract Air Mail) Routes and covered areas across the country. Among these were routes between New York City and Boston, Chicago and St. Louis, Elko, NV and Pasco, WA, Detroit and Cleveland. Each route was assigned a number.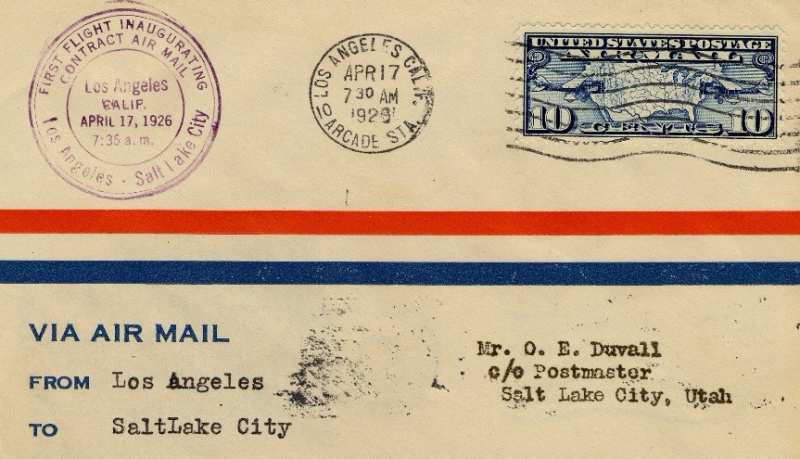 This envelope, addressed to Salt Lake City's postmaster was one of thousands deposited in Los Angeles collection boxes in anticipation of the first airmail flight.
On April 17, 1926, CAM Route #4 began operations. CAM #4 was set up between Los Angeles, CA and Salt Lake City, UT. The contract for this route was awarded to Western Air Express, Inc. and traveled through a then little-known Nevada town named Las Vegas. On April 14, the company made a successful test flight over the route. Los Angeles's mayor Cryer was so enthused about the project that he created a yard-long letter with appropriately large envelope postmarked with replica Pony Express stamps and a special cancellation approved by the city's postmaster. The "Los Angeles' Times" reported breathlessly on tests and opening day flights, with headlines touting that the service would bring "New York 30 Hours Closer." Nine special airmail service collection boxes were set up through the city to receive mail specifically for the flights which took between 7-8 hours to Salt Lake City. The service was a great success, not until early May did a flight have problems, and that was simply a plane that had to come down early due to weather.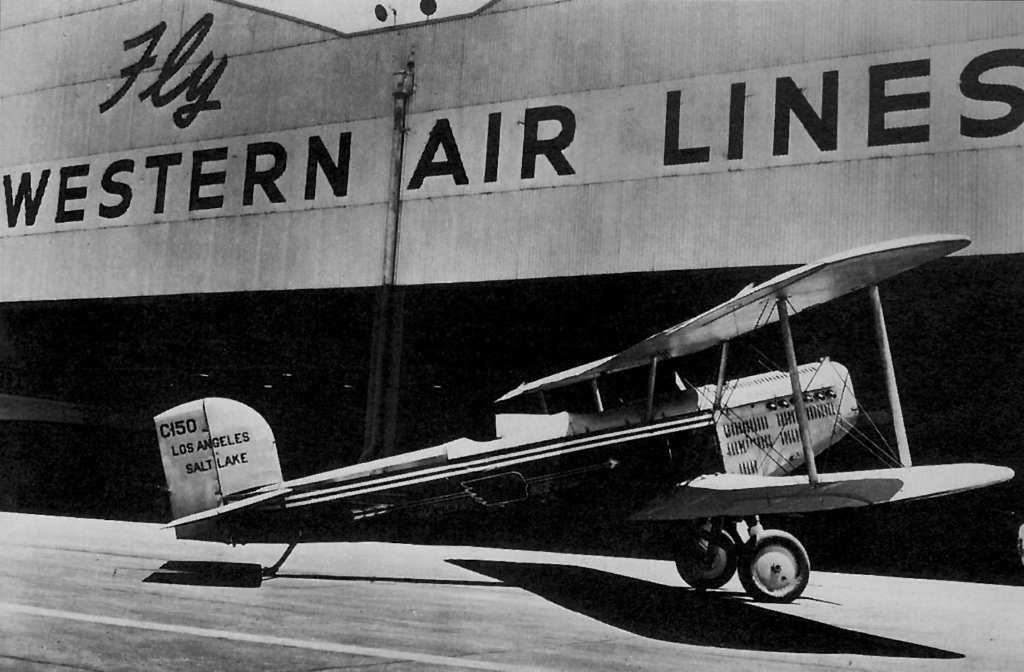 The Douglas M-2 was used by the Post Office Department towards the end of their airmail operations. Hanshue used these planes when Western Air Express began operations.
Western Air Express was owned by Harris "Pop" Hanshue, who used Douglas M-2 mail planes for his first flights. These were the planes that the Post Office had begun to use in its last year of operation. Hanshue was from Mendon, MI, where he worked for the Olds Motor Company. Like many of the era's aviation enthusiasts, Hanshue's love of aviation developed from a love of car racing.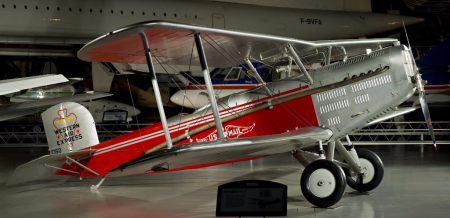 Douglas M-2 aircraft owned by Smithsonian's National Air & Space Museum. It is on display in the Boeing Aviation Hangar at the Steven F. Udvar-Hazy Center in Chantilly, VA.
While the Post Office was focused on moving mail, Hanshue and other new air carriers were anxious to carry passengers as well. When there was not as much mail, they could make room for potential passengers, by adding folding chairs in the cargo space. Few were brave enough to purchase a ticket. But before long, a passenger decided to brave the skies. On May 23, Ben Redman paid $90 to travel the length of the route from Salt Lake City to Los Angeles. By the end of the year, over 200 people had sat on mail sacks or the removable seats and braved the cold of open cockpits to their destination.
Before long Hollywood got into the act, as Samuel Goldwyn arranged with the airlines to ferry cast members and film negatives between Los Angeles and Nevada, where the company was filming "The Winning of Barbara Worth." The cast included Gary Cooper in his first feature role. In July, Col. Hanford MacNider, Assistant Secretary of War, and his wife flew by Western Air mail from Los Angeles to Salt Lake City. The colonel proclaimed the trip "the treat of a lifetime." There were no reports of his wife's reaction.