"Beautiful Blooms: Flowering Plants on Stamps" Opens Tomorrow!
10.19.2017
Blog
By Ren Cooper, Marketing Assistant

The National Postal Museum (NPM) is pleased to announce the opening of its newest exhibition "Beautiful Blooms: Flowering Plants on Stamps." On view October 20, 2017 through July 14, 2019, "Beautiful Blooms…" highlights the indigenous flowering plants, bees, birds and butterflies as celebrated on U.S. postage stamps from 1966 through 2007. Graced with an abundance of life, nature stamps are some of the most popular issuances in the American commemorative philatelic program. Featuring the flora and fauna of various states and regions, these stamps likewise recognize the creation of vital wildlife refuges and raise awareness about the importance of protecting endangered species.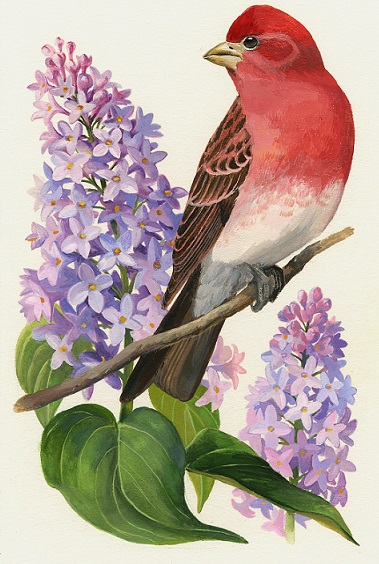 We are particularly excited about this exhibition for a variety of reasons! For one, 33 pieces from the renowned Postmaster General's Collection (on long-term loan to NPM from USPS), will be available for public viewing for the very first time. As you may or may not know, the Postmaster General's Collection contains original artwork commissioned by the Postal Service for U.S. stamps over several decades. Once a stamp is produced, the initial works are moved to a safe, climate-controlled storage space for archival purposes; this exhibition lets them shine. "Botanical stamp art, particularly flowering plant stamp art, represents some of the most attractive artwork in the Postmaster General's Collection," said Calvin Mitchell, exhibition curator. "This exhibition, displayed in a garden setting, offers the public a rare view of the stunning artwork that results in beautiful stamps appreciated by people around the world."
While this exhibit showcases extraordinary compositions, it also invites visitors to examine the process of stamp design and production through pairs of concept art and final art, as well as through larger images displayed in juxtaposition to their finalized, miniature stamp size. Pieces of developmental and finished works created by illustrators using an array of media—such as oils, pastels and digital design—are included in the exhibition hall. These pieces are organized into 7 themes: Flowering Trees; The Rose: Queen of Flowers; Birds in the Garden; Pollination; Botanical Congress; The Seasonal Garden and Beautification of America. Visitors are likely to recall affixing a number of these stamps to envelopes and will now have the chance to admire the vibrant colors, intricate details, and exquisite accuracy of the prototypes.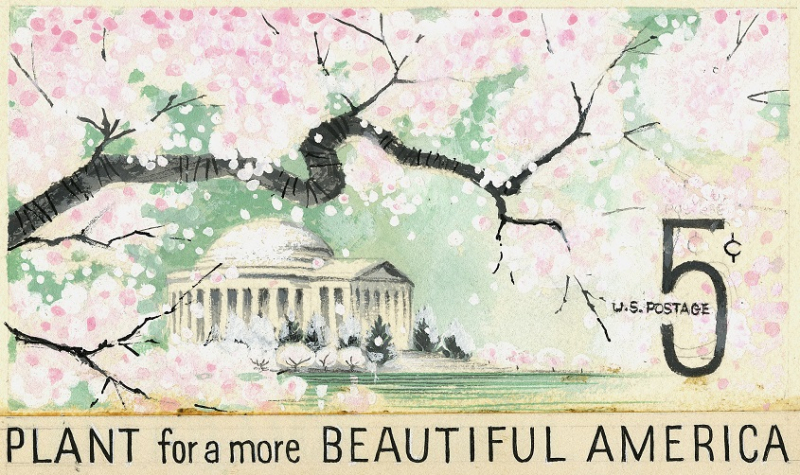 In addition to support from USPS, "Beautiful Blooms…" was developed in partnership with Smithsonian Gardens. This unique collaboration has provided the opportunity to share not only artworks, but living objects courtesy of our friends at SI Gardens. Through the efforts of the combined exhibits teams at SI Gardens and NPM, the museum's Atrium has been transformed into something nearly unrecognizable, something magical. The tranquil garden setting is further complemented by a large-scale mural triptych of lush garden imagery from the Smithsonian Institution's collection of hand-painted glass lantern slides.
So, come pay us a visit at the National Postal Museum and savor the essence of nature in bloom before the winter frost sets in! "Beautiful Blooms: Flowering Plants on Stamps" opens tomorrow!
Visitors are encouraged to share photos of their "Beautiful Blooms" experience on their social media accounts with the hashtag #NPMblooms.