Country Music Icons: Immortalized and Celebrated in Stamps
07.10.2017
Blog
By René Rodgers
Editor's note: In honor of National U.S. Postage Stamp Day, the National Postal Museum is pleased to welcome guest blogger René Rodgers, Curator of Exhibits & Publications at the Birthplace of Country Music Museum.
July 1 was National U.S. Postage Stamp Day, a day to celebrate these miniature works of art and their important role in correspondence and communication.
While letters and messages have been sent throughout history, the first ever pre-paid postage stamp was issued in the United Kingdom on May 6, 1840. This stamp bore the profile portrait of a young Queen Victoria and was known as a "Penny Black" due to its cost and the ink color used for the printing. The first stamps issued in America were a 5-cent Benjamin Franklin stamp and a 10-cent George Washington stamp, both produced in 1847.
U.S. postage stamps are often used to commemorate important events and people in American history – the first American commemorative stamps were produced in 1893 to celebrate the discovery of the New World by Christopher Columbus. Since then, there have been numerous commemorative stamps and stamp series, including ones to honor the people who made a mark on country music.
Jimmie Rodgers
The 13-cent Jimmie Rodgers commemorative stamp was issued on May 24, 1978, and its first-day city was Meridian, Mississippi, Rodgers's birthplace – it was issued during the town's annual Jimmie Rodgers Festival. The design of the stamp celebrates his nickname as the "Singing Brakeman," a persona based on his railroad career and reflected in a character he played in a short film of the same name. The film, produced by Columbia Pictures and Victor Talking Machine Company in 1930, features Rodgers singing three of his songs at the "Railroad Eating House" after a long day on the rails. As with many stamps, the Jimmie Rodgers stamp was part of a series, the first issued in the U.S. Postal Service's Performing Arts and Artists series.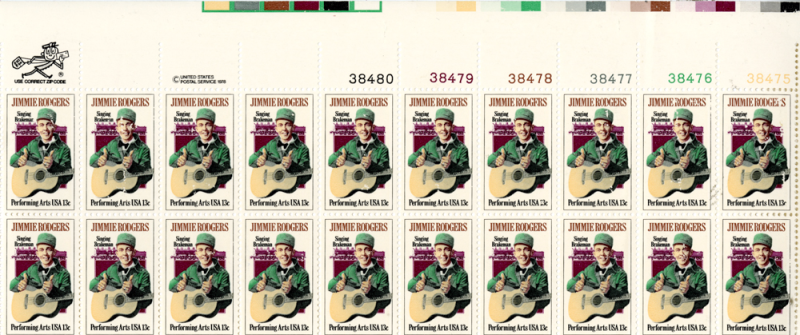 © Jimmie Rodgers Stamp © 1978 United States Postal Service. All Rights Reserved. Used with Permission. Third-party permissions courtesy of Karen Court at Jimmie Rodgers Properties I LP.
Legends of American Music Series: Hank Williams, Patsy Cline, The Carter Family, and Bob Wills
From 1993 to 1999, the U.S. Postal Service produced the Legends of American Music Series. This series covered a host of genres and contributions to American music, including rock-and-roll, jazz and blues, gospel, opera, folk, and popular music; songwriters, conductors, composers, big band leaders, and Hollywood and Broadway songwriters and composers; and, of course, country music icons. The country music stamps, all issued in 1993, featured Hank Williams, Patsy Cline, The Carter Family – A. P., Sara, and Maybelle, and Bob Wills. The stamps were presented at various dedication ceremonies, including one highlighting the Hank Williams stamp at the Grand Ole Opry, which was attended by his son. Williams Jr. noted that his family was thrilled about the stamp, adding that he had told his children that their grandfather now had his picture in the U.S. Post Office, and not on an FBI poster!
Artist Richard Waldrep designed the stamps, creating the artwork for them at 400% of the actual stamp size using gouache that had been thinned so it could be applied with an airbrush, creating a smoother surface showing no brush strokes; he then filled in the minor detailing with brush and colored pencil. The results are vibrant portraits of these artists, capturing their personalities and performance. Waldrep has created 38 stamps for the U.S. Postal Service, including several other commemorative series. He remembers in particular his work on the Centennial Olympic Games stamps of 1996 when he was asked to sign 30,000 sheets of the stamps – he says his signature has never been the same since!
Roy Acuff
Rather than artwork, the 37-cent Roy Acuff commemorative stamp bore a photographic likeness of the "King of Country Music." As with the Legends of American Music stamps, the Roy Acuff stamp was printed using the gravure process, a type of printing where the image is engraved on a metal plate for use on the printing press – 52 million Acuff stamps were produced. The stamp was first issued in Nashville, Tennessee, and it was presented at a dedication ceremony during a live Roy Acuff tribute show broadcast from the Grand Ole Opry on September 13, 2003. By coincidence, Johnny Cash had passed away the day before, and the former Postmaster General Marvin Runyon promised he would do all that he could do to be sure Cash was also memorialized through a U.S. postage stamp in the future.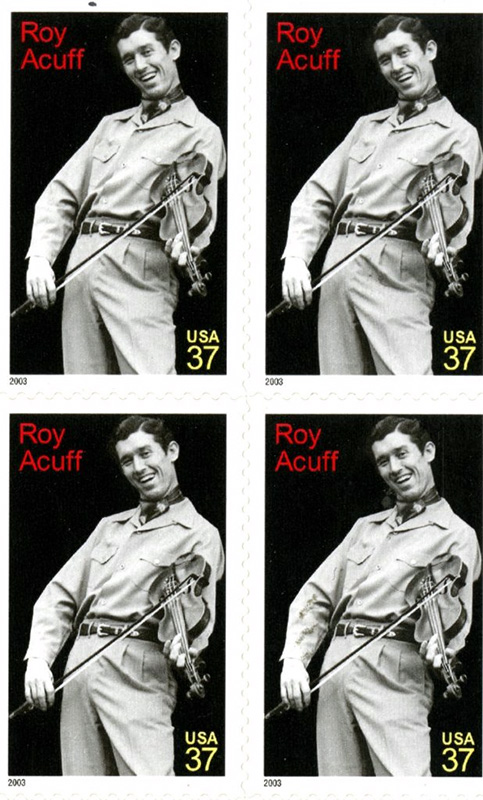 Roy Acuff Stamp © 2003 United States Postal Service. All Rights Reserved. Used with Permission.
Johnny Cash
The promise made at the Roy Acuff issue ceremony came to fruition in June 2013 when the U.S. Postal Service released a Forever stamp commemorating Johnny Cash, part of their Music Icons series that also included Lydia Mendoza and Ray Charles. The dedication ceremony was attended by son John Carter Cash, daughter Rosanne Cash, and musicians Larry Gatlin, Jamey Johnson, The Oak Ridge Boys, The Roys, Marty Stuart, and Randy Travis, amongst others. The image used on the stamp is a photograph by Frank Bez, taken during a photo session for Cash's album Ring of Fire: The Best of Johnny Cash (1963). The level of detail and thought put into stamp design is often extraordinary – for instance, the square stamp pane surrounding the Johnny Cash stamps was designed to resemble a 45rpm record sleeve.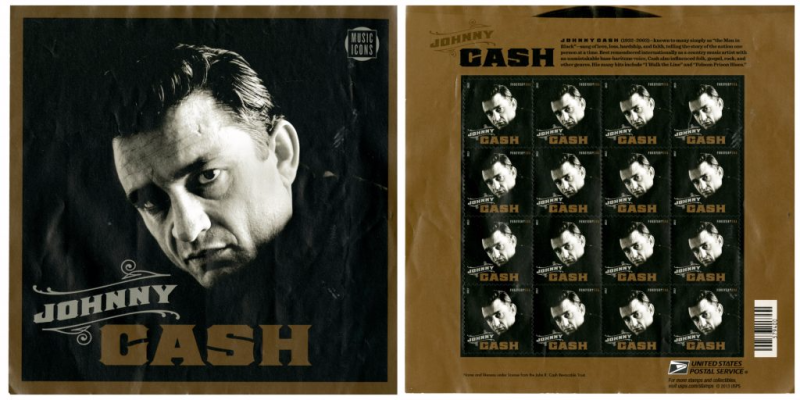 Music Icons; Johnny Cash Stamp © 2013 United States Postal Service. All Rights Reserved. Used with Permission. Third-party permissions courtesy of Josh Matas at Sandbox Management.
Country Music Stamps and Beyond
Other stamps from the U.S. Postal Service and Canada have celebrated other country music icons. For instance, the U.S. Postal Service issued stamps focused on cowboys of the silver screen, two of which were also known as singers: Gene Autry, the "singing cowboy" and Roy Rogers, the "King of the Cowboys." And Canada Post released a series focused on the contributions of Canadian country music stars with stamps of Shania Twain, k. d. lang, Tommy Hunter, Hank Snow, and Renée Martel.
Special thanks to Patricia Raynor at the National Postal Museum, Richard Waldrep, Karen Court, Josh Matas, and Andrea at the U.S. Postal Services Rights & Permissions Department for their help with this post.