Private First Class Harold Schultz: USPS Mail Sorter and Iwo Jima's Unknown Hero
03.16.2018
Blog
By Holly Chisholm, National Postal Museum Intern
The exhibition, "Trailblazing: 100 Years of Our National Parks," displays a number of objects connected to the parkland and national monuments in the Washington, D.C., area, including patriotic covers from World War II and blocks of the Iwo Jima (Marines Issue) stamp. The 3-cent stamp features Joseph Rosenthal's famous photograph of the second Iwo Jima flag raising, an image from 1945 recently in the news after research concluded that one of the photo's six men had been misidentified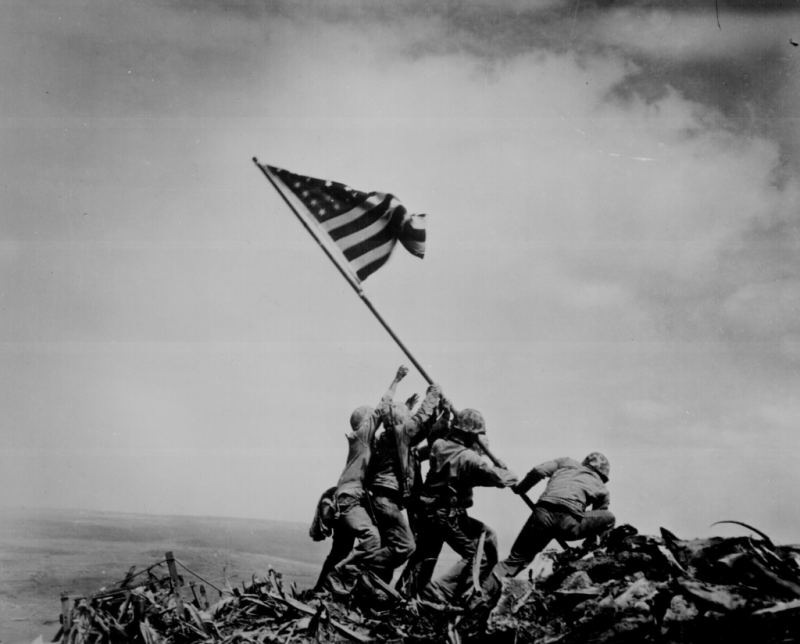 Raising the US flag for the second time atop Mount Suribachi by Joe Rosenthal; Iwo Jima, Japan, February 23, 1945. United States National Archives I80-G-413988
On February 23, 1945, U.S. Marines of the 28th Regiment, 5th Division, raised a second American flag atop Iwo Jima's Mount Suribachi while Associated Press photographer Joseph Rosenthal snapped one of the most iconic pictures in American history. Due to the chaos of war, however, the six men in Rosenthal's photo remained anonymous until later investigations identified them as Private First Class (PFC) Ira Hayes, PFC Franklin Sousley, Sergeant Michael Strank, PFC Rene Gagnon, Pharmacist's Mate Second Class (PhM2c) John Bradley, and Corporal Harlon Block. Seventy years later, new evidence has both revealed that PhM2c Bradley is not in the photograph and identified the unknown serviceman as PFC Harold Schultz.
A number of confusing circumstances surround this understandable case of mistaken identity. First, Rosenthal's photo was one of many quick captures on the battlefield, where details like the men's names seemed unimportant in the midst of gunfire. At the same time, the photograph depicts the second—not first—flag raising on Mt. Suribachi; the Marines were ordered to replace the original flag with a larger one visible to ships at sea. Pictures were taken at both flag raisings, allowing men like PhM2c Bradley to know they were in a photo, just not which photo.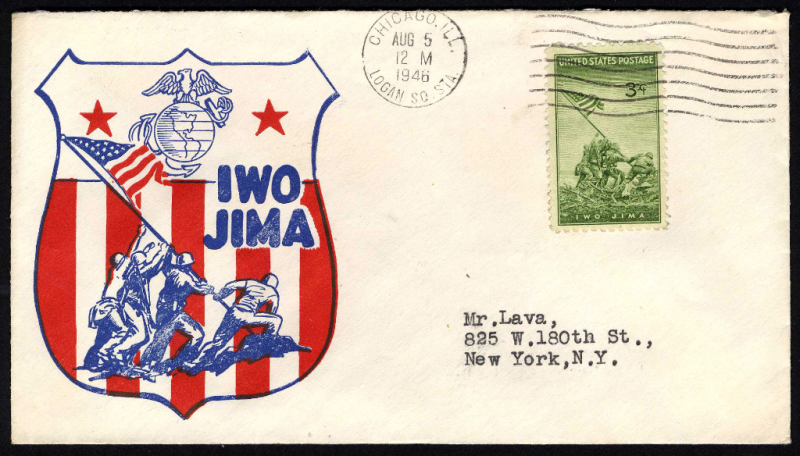 Commemorative cover with cachet of soldiers raising U.S. flag inside shield; postmarked August 5, 1946, addressed to Mr. Lava, New York, N.Y.
The testimony of PFC Gagnon—the Marine who had climbed Mt. Suribachi with the replacement flag—was key to determining the original six names but could not necessarily be corroborated, as Strank, Block, and Sousley were killed in action at Iwo Jima. 
Gagnon, Hayes, and Bradley—the three surviving servicemen in the photo—returned home as heroes and toured the country to help sell war bonds. After their time in the spotlight, both Gagnon and Bradley settled down and raised families, with Bradley's son writing the New York Times Bestseller "Flags of Our Fathers" based on his father's role in the Iwo Jima flag raising. 
As a Pima Native American, Hayes resumed civilian life in Arizona's Gila River Indian Community, but suffering from survivor's guilt, he descended into alcoholism and died alone ten years after the war. 
In 2014, new questions about the second Iwo Jima flag raising led the USMC to form a panel that reviewed the film, eyewitness, and photographic evidence from February 23, 1945, and confirm the identities of the six flag-raisers.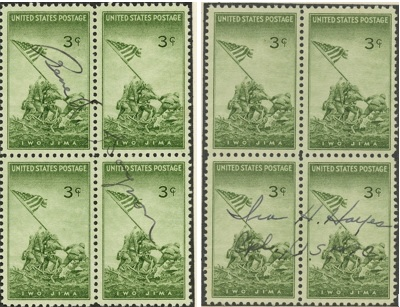 Blocks of the Iwo Jima stamp signed by the second flag-raisers PFC Gagnon, PhM2c Bradley, and PFC Ira Hayes (promoted to corporal). These blocks come from the Malcolm MacGregor Collection of Autographed Stamps. MacGregor's passion was in collecting personally signed stamps. As such, he sent his stamps to the dignitaries and notables pictured on them with a request to obtain their signatures for his collection.
The USMC Huly Panel—as well as other historians and forensic experts—performed extensive studies comparing Rosenthal's image with other photos taken atop Mt. Suribachi and film shot by war photographer Sgt. Bill Genaust. Through the 2016 investigation, it was determined that Bradley was only involved in the first flag raising; in the Rosenthal picture, the man thought to be Bradley was in fact Sousley, leaving an unidentified Marine in Sousley's place. Further examination of the unknown serviceman, however, revealed an improperly slung rifle and a broken helmet strap—significant evidence that helped identify the Marine as PFC Harold Schultz.
Wounded at the battle for Iwo Jima, Schultz received a Purple Heart and was sent home to Michigan. He later moved to Los Angeles, where he worked for thirty years as a USPS mail sorter in Chinatown. At sixty-six years old, he married his neighbor Rita Hayes. Schultz rarely talked about his time in World War II, but his stepdaughter remembers Schultz mentioning his role in the Iwo Jima flag-raising once over dinner. Nevertheless, Schultz died in 1995 and his wife died in 2013, leaving his part of the story—and why he never revealed his identity in the Rosenthal photo—a mystery.
Holly Chisholm is a recent graduate of Washington College with a special interest in tourism history. As part of her NPM internship, she has written a series of guest blog posts inspired by objects in the museum collection and in the exhibition, "Trailblazing: 100 Years of Our National Parks."
View "Trailblazing..." at the National Postal Museum before it closes on March 25, 2018!