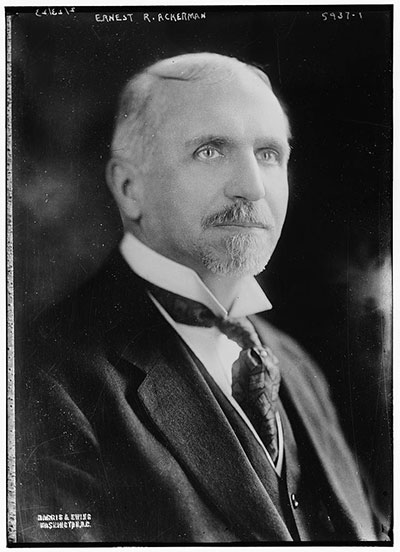 Born in New York City in 1863, Ernest R. Ackerman amassed one of the nation's greatest philatelic collections during his lifetime. Intrigued by the stamps on envelopes his father, a patent lawyer, received from the Patent Office in Washington, D.C., Ackerman began his business career as a stamp dealer, building an impressive mail order business. Within a few short years, he moved into other mercantile endeavors, numerous of which related to cement and water. He traveled widely, and interest in philately opened many doors for him, including that of King George V, also a collector. Throughout his life, Ackerman's exhibits won numerous awards.
Though a successful businessman, Ackerman devoted much of his adult life to politics. He held many posts in the New Jersey legislature, and was elected to the U.S. House of Representatives in 1919.
Ackerman died in office in 1931. His will left "all proofs of United States Stamps which shall be owned by me at the time of my death" to the Library of Congress. Although proofs formed the great bulk of his massive collection, only three volumes were ever received by the Library. Estate appraisers classified many proofs as "special printings," "reprints," or "essays" in order to exclude them from the bequest. Ackerman's heirs tried to sell the material privately, but collectors stayed away, fearful that the government could claim title. The remainder of the Ackerman collection was finally sold at auction in 1950.
The Library of Congress transferred its Ackerman Collection to the National Philatelic Collection in 1958.
Mary T. Sheahan, National Postal Museum