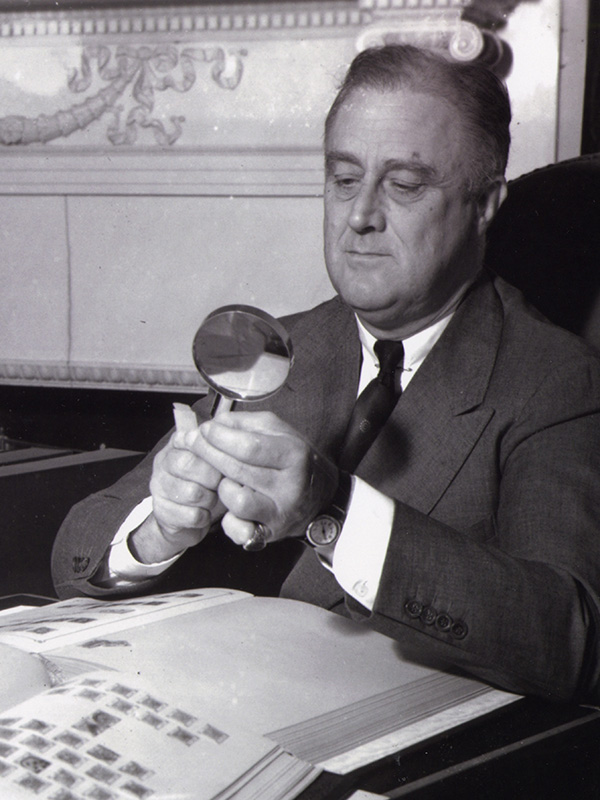 Franklin D. Roosevelt (1882 - 1945), thirty-second president of the United States, aroused nationwide interest in stamp collecting when, during the 1930s, the White House released numerous photographs of him working on his stamp collection. Though the intention of issuing images of a relaxed president metaphorically "putting the world in order" reassured citizens during the Great Depression, other, unintended, consequences occurred – primarily a surge in collecting and stamp clubs.
The rewards of stamp collecting blessed much of FDR's life. As a child, he looked to stamps for knowledge about the world. As a polio-stricken adult, they offered solace. Throughout his entire life, including his presidency, he spent time each day with his collection. In addition to enjoying his stamps privately each day, FDR joined stamp clubs, bought stamps from dealers and in auction, and promoted the hobby by association with stamp shows such as the 1936 international exhibition TIPEX in New York City. During the 1930s, he and Postmaster General James A. Farley enthusiastically brainstormed over stamp designs, colors, and themes. Roosevelt actually sketched numerous ideas for stamp designs.
In 1946, following FDR's death, his family sold his philatelic estate through Harmer Auction. It included U.S. die proofs, full sheets, worldwide stamps, and covers. The museum acquired the FDR sketches for postage stamps through the James A. Farley, former postmaster, donation. Donations and purchases have added other ex-Roosevelt treasures to the NPM collection.
Mary T. Sheahan, National Postal Museum