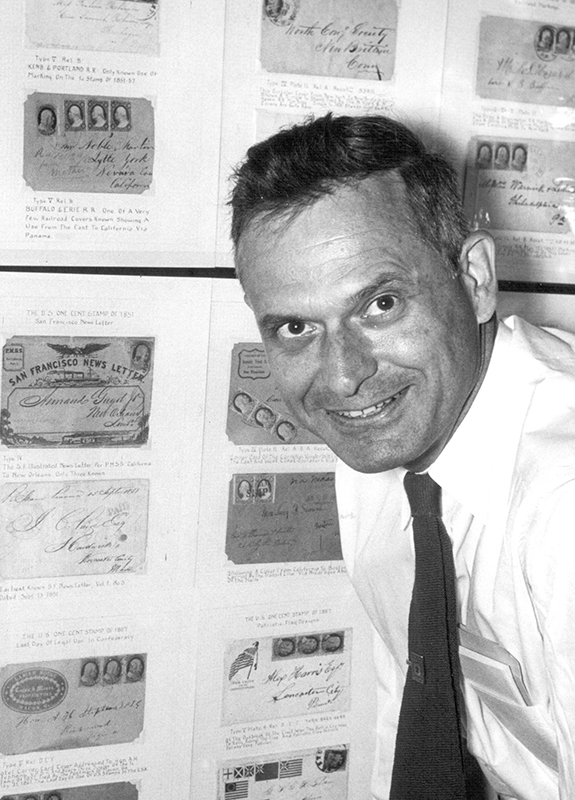 George W. Brett, born in Spirit Lake, Iowa, in 1912, worked as an R.P.O. clerk (1936-1942) before joining the navy. After his W. W. II military service and post-war employment in Panama, he continued his education at the University of Chicago. He worked for many years as a geologist for the U.S. Geological Survey in Washington, DC, where he retired in 1979. He died in 2005.
Brett devoted his life to researching and writing about United States stamp production, thus becoming one of the nation's experts on that topic. For over sixty years, his groundbreaking research on topics ranging from the first 1847 issue to present-day issues guided philatelic discussions countrywide. He wrote over five hundred reports and articles in addition to the book The Giori Press, 1961, Printing Methods and Techniques, published in 1985. His service to the United States Stamp Society (also under its preceding name, the Bureau Issues Association) was unparalleled. He contributed frequently to its journal, The Specialist, and he served as editor in 1964. Brett also served as president of the society (1966-1967), chairman of the board (1968-1973), and chairman emeritus. His awards were many, including the Luff Award, the Writers Hall of Fame, the Distinguished Philatelist Award, the Lichtenstein Award, and the Hopkinson Memorial Award.
Brett was a founding member of the NPM Council of Philatelists. His estate established the George W. Brett archive and endowment for research at the NPM. His donation included over a hundred boxes of papers, awards, and literature related to U.S. and Canal Zone philately. The collection can be explored using the following Finding Guide.
Mary T. Sheahan, National Postal Museum