Philatelic Fervor at Pine Spring Elementary
06.22.2010
Blog
By Libby Newkumet, National Postal Museum Intern
The students at Pine Spring Elementary are excited for the summer. So excited, in fact, that in a classroom with a countdown of the school year on the wall, one of the more recent numbers has a smiley face. When I visited Pine Spring in Falls Church, Virginia on June 14, 2010 with some of my colleagues from the Postal Museum, we got caught up in the summer fever as well, giving the kids a taste of freedom by talking to them about something interesting and fresh—stamps.
Upon arrival at Pine Spring, Alex Haimann, Beth Simmonds, Jennifer Atwood and I were herded to our first classroom, where a group of third graders sat in wait on the floor. Alex, my supervisor, proceeded to give them a presentation on his own personal history with stamp collecting and the ability of philatelic items to give access to the past. He shared some items that he had brought with him, allowing the students to hold treasures that in any normal museum setting they would only be able to see through glass. Items that brought particular delight included covers with the signatures of Thomas Jefferson and Alexander Hamilton. After this presentation, Alex gave a couple more to fourth and fifth graders, changing things slightly as the day progressed.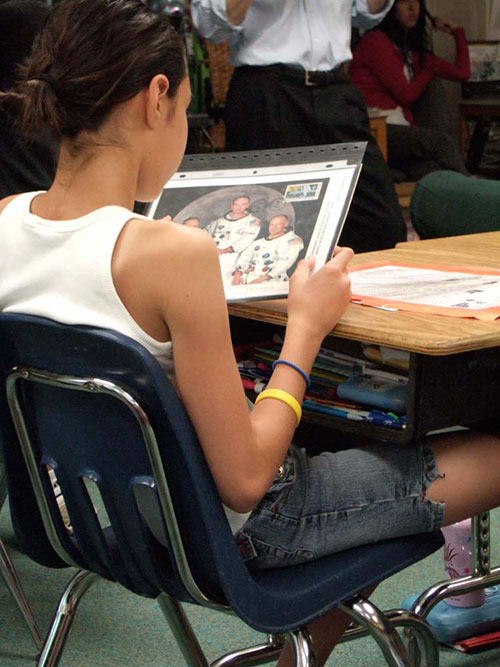 After the presentations, we switched gears and helped students make online exhibits to be published on the Postal Museum's website. With Ms. Richardson's third grade class, we decided to amp up the summer spirit by making an exhibit focused on traveling. We split into three groups, so Beth, Jennifer and I could each act as scribe as Alex compiled the exhibit. Each group had to come up with the following—a destination within the United States, a transportation method, a couple of activities, and some well-known individuals to meet.
Jennifer's group decided to go to Las Vegas, Nevada in a spaceship. My group chose to drive chopper motorcycles down to Orlando, Florida. Beth's group used jetpacks to get to Los Angeles, California. Our groups then chose a number of activities for when they arrived at their destinations, including visiting Disney World, going to the beach, watching World Cup soccer, and even playing outside. The Las Vegas group met Bart Simpson and Jackie Robinson. The group in Orlando saw Mickey Mouse, Pluto and Superman. Finally, the Los Angeles group got to meet Mickey Mouse, Pocahontas and John Smith. After we had decided all of these details for our trips, we worked with Alex to choose stamps that depicted these places, people and things. Then we included text to describe our adventures.
Ultimately, the summer jitters at Pine Spring transformed into an enthusiasm for stamps. We got to take the kids outside of the classroom to experience the past by holding objects with signatures of famous individuals. We got to take them on trips across the United States by creating an exhibit. And we even got to take them away from their normal routine, inviting them into the philatelic world and hopefully igniting in them an interest in something they may never have considered before.
On a basic level, I enjoyed our visit to Pine Spring because I got to scope out the scene and soak in the essence of a full day in the classroom. But more importantly, I marveled at the intelligence of the students we encountered and their ability to focus on a task, even when plagued by summer fever.