Philatelic Musings on Art: The Obama's Art Selections on Stamps
02.15.2010
Blog
Guest post by Mark H. Haimann, MD

Since today is Presidents Day, a post connecting our current president, art and philately seemed most appropriate. After Barack Obama and his family moved into the White House in 2009, they decided (as all presidential families do) to bring some new art into their private quarters. First families can choose from collections all over Washington and even the whole country. Any museum or collector is glad to loan an item, as the prestige of being selected for the White House can raise the value of a work of art or other works by the artist in question.
The Obamas chose many contemporary pieces, including works by African American and Native American artists, as well as by women.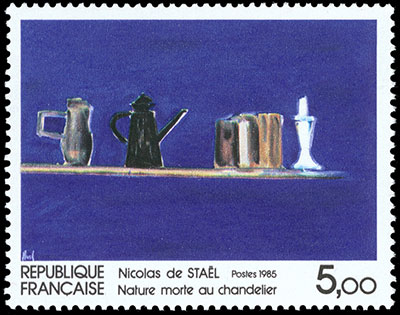 Appropriately, almost all works were by Americans (either by birth or naturalization). Only two artists were not American, Nicholas de Stael (1914-1955) and Giorgio Morandi (1890-1964). The first, de Stael was born in Russia but spent most of his life in France. He was for much of his career an abstract painter, but later returned to more realistic subjects. He was hugely successful in the American art market in the 1950's and many of his works are present in the USA. This success helps explain how one of his paintings ended up in the White House. His work is represented on a French stamp issued in 1985 (at right above).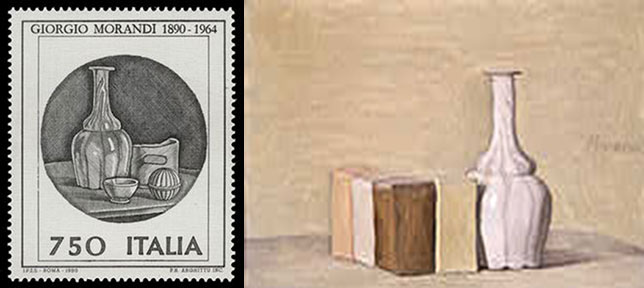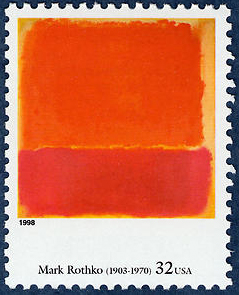 It is much more difficult to understand how a work by the second artist, Giorgio Morandi, ended up on the Obama's list. However, this choice certainly shows excellent taste! (Disclaimer: My main collecting interest is the work of this artist.) Morandi was born, lived, worked and died in Bologna, Italy. He never traveled to the USA, and in fact only rarely left Italy. For almost his entire career he painted the same everyday objects, typically bottles and small boxes. The painting chosen from the National Gallery by our first family (at right above) is a typical work. Morandi had little connection to the USA, although after WWII his art was featured in a few exhibitions in this country. Since his death in 1964, Morandi's art has been represented on three stamps, the best is an Italian issue of 1990 representing an etching. Morandi was a Professor of etching at the Academy of Art in Bologna and is considered one of the greatest engravers since Rembrandt. The Italian stamp is an excellent representation of one of his most famous etchings, and one of his personal favorites.
It is worth noting that the only other artist chosen by the Obamas who is represented on a postage stamp is the famous American abstract expressionist, Mark Rothko.
About the Author
"Hi Everyone: My name is Mark Haimann and I am a lifelong philatelist and art collector. This past October I presented a public program about American artist Alexander Calder and his connections to philately at the National Postal Museum. Following the talk, I was asked if I wanted to blog for the museum about the art world and its connections to philately. How could I say no, so therefore I'm excited to present this first blog post in a continuing series entitled Philatelic Musings On Art."