Philatelic Musings on Art: Velazquez at the Metropolitan Museum, NY
03.01.2010
Blog
Guest post by Mark H. Haimann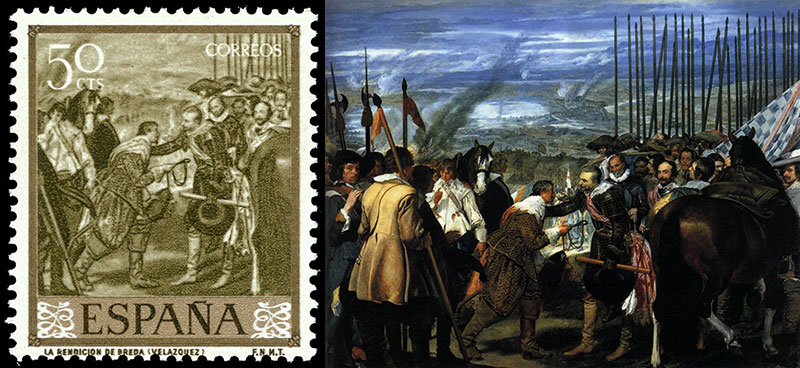 It's always fun to find a work of art that is represented on a stamp. Unfortunately, this often entails a trip to some far off location, many times on another continent. Right now, thanks to some clever research by conservators at the Metropolitan Museum of Art in New York City, it's possible to come close to an original artistic image represented on a stamp. Or to be more accurate, as you will see below, almost represented on a stamp.
There is a super famous painting by Diego Rodriguez de Silva y Velazquez (1599 - 1660) in the Prado Museum (Madrid, Spain), entitled "The Surrender of Breda" (see right image above). It commemorates the victory of Spain's army over the Dutch city of Breda, and was a tribute to the Spanish commander, Ambrosia Spinola. It's a big, beautiful, quite spectacular painting, on the same level as other brilliant paintings by this artist such as the sensual "Rokeby Venus" or the remarkably clever "Las Meninas".
Spain honored this painting by placing it on a stamp in 1959 (see left image above). Sadly, this stamp does not do justice to the beauty and brilliance of the painting. And, to add artistic insult to philatelic injury, the entire painting is not even depicted. One figure missing from the stamp is the figure at the far right edge of the painting, gazing out at the viewer (see high magnification image at right). Exactly who he is has been much debated, but remains unknown.
Which brings me to The Metropolitan Museum. For many years a painting hung in a room containing several Velazquez works. The particular item in question, "Portrait of a Man" (below), was attributed for many years to a pupil or disciple of the master (in museum lingo: "from the workshop of Velazquez"). However, a recent restoration has convinced the museum that the portrait is instead by Velazquez himself. And on close inspection, the figure portrayed is the same gentleman on the far right edge of the "The Surrender of Breda" in the Prado, and on the 1959 Spanish stamp.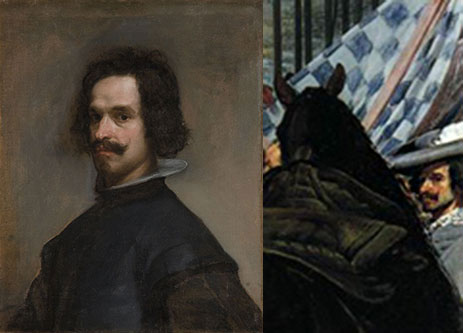 There is a great video that tells the story of how the Metropolitan experts figured all this out, which can be viewed on YouTube. Next time you are in NYC with a bit of spare time, check out this Velazquez portrait, and think of the stamp this gentleman almost made it onto.