Postal Gals: 2019 Curatorial Internships at the National Postal Museum
07.25.2019
Blog
By Shannon Chamberlain, Tosca DiBella, and Jenna Lipman; Curatorial Interns, July 25, 2019
This summer, Shannon Chamberlain, Tosca DiBella, and Jenna Lipman were interns for the Curatorial Department of the National Postal Museum. They have spent two months carrying out research projects for the museum with the intent that their projects will soon be transformed into an online platform for all to see. They wanted to share a bit about their projects, as well as what they were able to take away from their experiences here at the Smithsonian's National Postal Museum.
Shannon: Hello! My name is Shannon Chamberlain, and I am a curatorial intern at the Smithsonian's National Postal Museum (NPM), with guidance from my fantastic supervisor, Nancy Pope. I am originally from West Palm Beach, Florida. My focus is the airmail route from Chicago to New York, which was attempted initially in December of 1918, and successfully established during late summer of 1919. I am a student at the University of Florida, majoring in History and minoring in Education and Anthropology. I am going into my sophomore year, and I am involved in organizations such as Dance Marathon and Gamma Phi Beta. My favorite things about Washington, D.C. are the fireflies and great food!  
Tosca: Hi!  My name is Tosca DiBella, and I am a curatorial intern at the Smithsonian's National Postal Museum.  I am working under the esteemed curator Nancy Pope, where I am researching a series of U.S. Mail Transportation paintings in the museum's collection by Tennessian artist Lloyd Branson.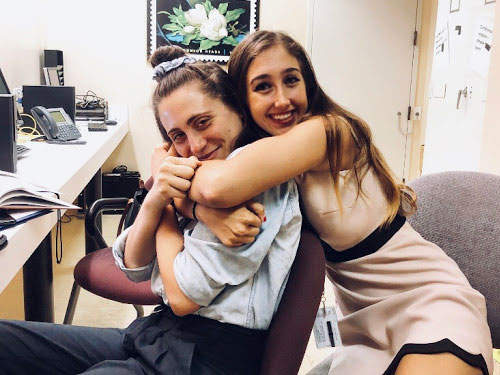 It is a postal mystery as to why Branson was specifically commissioned by the U.S. Postal Service to paint these artworks. It is speculated that the series was designed for multiple World's Fairs, and it is my job to identify why these paintings exist! I am a rising senior at Slippery Rock University, where I am majoring in Professional Writing and minoring in Art History and Philosophy. I have had a wonderful experience working alongside a fantastic collection, supportive peers, and a knowledgeable and experienced staff.
Jenna: Hello! My name is Jenna Lipman and just like my two friends above,I am also a curatorial intern at the National Postal Museum under the mentorship of Nancy Pope.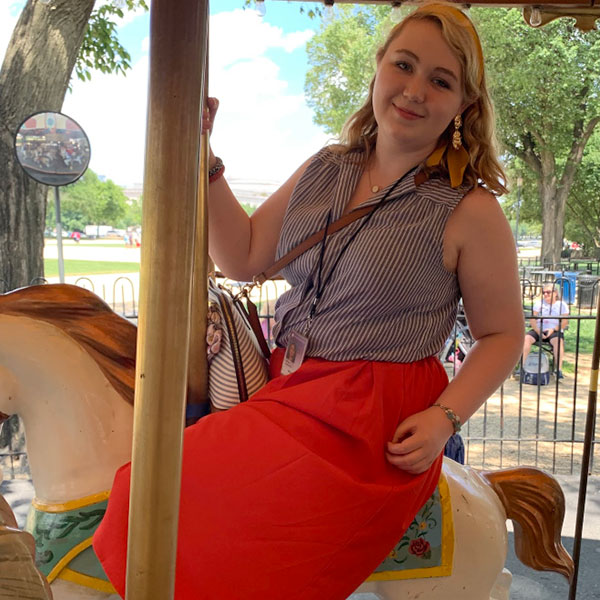 My project revolves around the "moral corruption" of the American Dime Novel on Industrial America, and its popularity due to second-class mail-rate abuse. Originally from Minnesota, I am currently a rising junior at the University of St. Andrews in Scotland, majoring in Medieval and Modern History. I've loved working at the Smithsonian not only because of their world-class collections, but also the community I've found with my coworkers.
As each of us were applying to this internship, we all were nervous about whether or not to initially apply, given the famous prestige of the Smithsonian Institution. However, much like the inspirational poster that conspicuously hangs in doctors' offices: "You miss 100% of the shots you don't take." Given that two of us are not from the D.C. area, there was also the complication of moving here to take up our internship. This fact made some other potential employers wonder if we were serious applicants or not. However, the Smithsonian is really great for creating a geographically diverse body of interns, both nationally and internationally. 
On a day-by-day basis, our routine always changes! One day, we'll be in the office reading books regarding our subjects. The next day, we could be at research centers around D.C., such as the National Archives and the Library of Congress. Occasionally, we attend intern events, such as early openings for other Smithsonian museums. Constructing our projects involves reading primary and secondary literature, going through archives such as newspapers and scrapbooks, writing material based on what we find, designing and creating a website or other host for our research, as well as presenting our findings to museum staff.
Since the National Postal Museum is not located on the National Mall itself, it is a different experience to that of other Smithsonian museum interns. However, that hasn't stopped us from exploring the many museums available, or making friends along the way. If you're working in a different department than other interns within your institution, we definitely recommend taking the time to reach across the aisle, say hello, and maybe plan a time to go out for lunch together! OFI also has been very helpful with scheduling events to integrate the other interns from various Smithsonian departments together. We recommend the Smithsonian Intern Scavenger Hunt; shout out to our coworkers Sean and Katharine from the NPM Education Department who won 1st prize! ! Given that all three of us were entering this internship knowing no one in the department, it was so nice to have people to have lunch with and go sightseeing on the weekends. (Tip: Get that contact info early so you have the opportunity to keep in touch.)
While exploring D.C., do not hesitate to ask other non-Smithsonian museums if they have benefits for Smithsonian employees. Simply by asking, Shannon and Jenna were able to enter the National Geographic Museum for free because of professional courtesy! Also, take advantage of the other benefits that your badge grants you! As you can see, we most definitely enjoyed our carousel ride before our Smithsonian Castle tour.  Also, every purchase at a certified Smithsonian storefront is discounted! We took advantage of these discounts, and purchased many items including a mailbox ornament, lanyards, jewelry, stamps, and postcards.
This internship has taught all of us how to work independently, as each of us have our own projects, meaning that the research is unique to each individual project. If you are someone who has difficulty in doing your own researching and writing, this internship will help you augment your personal work abilities. In addition, this internship has exposed us to research that is similar to what is done for higher level classes, thesis projects, and even future careers. We have handled archives, requested materials from institutions, and corresponded with authors and librarians to discover new sources. This internship has shown us how to find information that is not immediately in front of us or on the internet, a valuable skill for those of us going into careers that involve continuous research. Furthermore, this internship is more than just doing research. We have been able to see various departments within the museum, including both the Conservation and Collections. By allowing us to learn about every department, our experiences at the National Postal Museum have helped us to identify our interests as well as to enhance our opportunities in pursuing museum work.
The National Postal Museum thanks our hard working summer interns and wishes them the best of luck in their future endeavors!
Learn more about internship opportunities at the National Postal Museum »