Postal Genealogy Program Recap and Research Resources
09.29.2023
Blog
By Julie Medlock Flake, Genealogical Researcher; Lynn Heidelbaugh, National Postal Museum curator; James R. Miller, Philatelic Geneaologist; Meera Muñoz Pandya, National Postal Museum educator; and Thomas Paone, National Air and Space Museum curator
On March 9th, 2023, four scholars came together to discuss the role that Postal Genealogy can play in historical research.
Julie Medlock Flake is a genealogy researcher and writer at Heart Genealogy. Ms. Flake teaches an introduction to genealogy course for Arlington County Schools Community Learning. Ms. Flake has experience in online research, archive and library searches, and has a passion for traveling to the places her ancestors lived, including the eastern United States, Ireland and Northern Ireland. She enjoys finding clients' ancestors across the United States and parts of Western Europe. Prior to establishing Heart Genealogy, Ms. Flake worked for Tax Analysts as a researcher and MITRE Corporation as a research librarian. Ms. Flake received her BA in English (non-fiction writing emphasis) from George Mason University and her MS in Library and Information Science from Catholic University.
Lynn Heidelbaugh is a curator at the Smithsonian's National Postal Museum, where she specializes in the history of the U.S. Postal Service, military mail, and the material culture of letter writing. Ms. Heidelbaugh has served as lead curator for several exhibitions including, Mail Call (2011), Behind the Badge: The U.S. Postal Inspection Service (2014), and My Fellow Soldiers: Letters from World War I (2017), for which she received a Smithsonian Secretary's Research Award in 2018. She is co-author of Between Home and the Front: Civil War Letters of the Walters Family.
James R. (Jim) Miller is the author of Philatelic Genealogy, Old Envelopes, Letters, and Postcards as Genealogical Sources and he writes "From the Philatelic Genealogist" for the Ohio Genealogical Society Quarterly. He presented "Write That Letter Home: Senders, Recipients, and the Content of World War I Correspondence" at the National Postal Museum in 2018. He is the executive director of Philgen.org where more than two dozen of his articles on philatelic genealogy are posted. He especially enjoys using online family trees to contact genealogists regarding postal history written or received by someone in their family tree.
Thomas Paone curates the lighter-than-air collection, including balloons, blimps, and airships, at the Smithsonian National Air and Space Museum. Paone's research focuses on ballooning in the Civil War, as well as the use of airships and blimps in America. He is coauthor of Milestones of Flight: The Epic of Aviation with the National Air and Space Museum as well as Between Home and the Front: Civil War Letters of the Walters Family.
Postal sources such as letters, covers, and other kinds of correspondence can be contain of a wealth of genealogical information. Conversely, genealogical research can also be revealing when it comes to postal history. The participants in this program have shared some reflections on this topic and the content that they spoke to during the program.
---
Genealogy Researcher Julie Flake shares some personal reflections on and connections to the topic:
Letters can contain a wealth of information. I find letter writers are less guarded when writing to family. You can find biographical information, friend and family relationships, what they did and what they liked. For example, we have a collection of letters that my great-grandmother wrote to my great-grandfather in the years before they were married. They lived in different towns but had family in the town the other lived. She relates local news, her outings and vacations, getting electricity at her house, sighting Halley's Comet and even books she was reading. A few years into their correspondence she started addressing him as "Dear Harvester." It was initially thought that this was because he was a farmer but a closer reading showed that she had read a book called The Harvester and she thought that he was like the Harvester. I read the book and it was fun to see what characteristics she thought he had, which allowed me to get to know them both.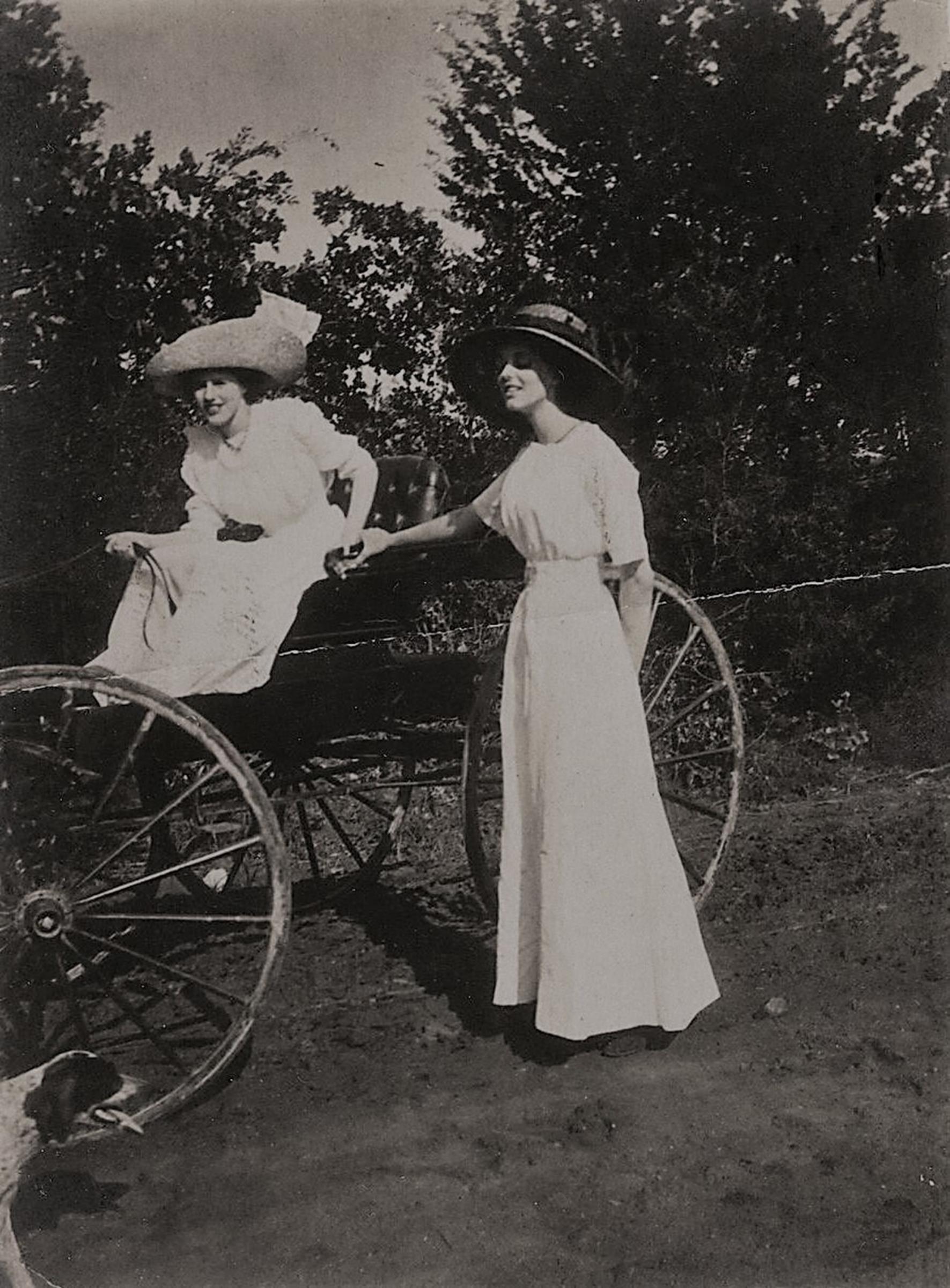 Letters also vary in their tone and purpose according to who your ancestor was writing to. In the 1890s, my ancestor spent several years trying to obtain a widow's pension for her mother after belatedly learning about pensions for survivors of Civil War soldiers. There are many letters in the pension file that describe the hardships the family had faced over the years: working at a young age, illness, needed operations, loss of fingers from a work accident, and one case of injury from slipping on a banana peel. These letters were trying to win the sympathy of the pension officers and so describe only hardships, giving them a different tone than letters between family and friends.
---
Lynn Heidelbaugh, Curator, National Postal Museum, writes:
Duing the online program in March 2023, Heidelbaugh and Paone discussed how genealogical research was essential for understanding the documents in the Walters family collection that they published in Between Home and the Front: Civil War Letters of the Walters Family (Indiana University Press, 2022). Moreover, they emphasized how Flake's research findings answered questions that required the knowledge and skills of her expertise to confirm details needed to identify individuals in the Ward family of Rachel (Ward) Walters and her husband David Walters' family. This information not only provided clues about the individual family members, but it also gave context to the individual's lives and roles in the community—who was writing to whom and what or whom they were referring to when sharing news in the letters. Flake, Heidelbaugh, and Paone were able to find out about the approximate years that the Ward and Walters families moved from Ohio to northwestern Indiana, the approximate timing and kind of education for the children, the various jobs held by family members, and the military careers of the Walters brothers.
Along with the National Park Service's database on soldiers and sailors, the muster rolls at National Archives for Eli, Isaac, David, and John Wesley Walters were some of the first records that Flake, Heidelbaugh, and Paone consulted to begin to piece together the Walters brothers' experiences of the American Civil War. Steps as simple but significant as verifying dates and locations known for the Walters were necessary to accurately identify which of the numerous "John Wesley Walters" and "David W. Walters" in the military records were which. Combining published histories of their regiments, including the NPS's summaries of battle units, with research into the war and particular battles helped to fill in most of the dates and locations that were missing from some of the letters and gave context to the situations they were describing, as well as those they chose to omit, in their correspondence. For instance, looking at both military pension and census records for Isaac revealed how he lived after the war and confirmed that he had been in the Battle of Gettysburg—something his letters in the museum collection did not mention.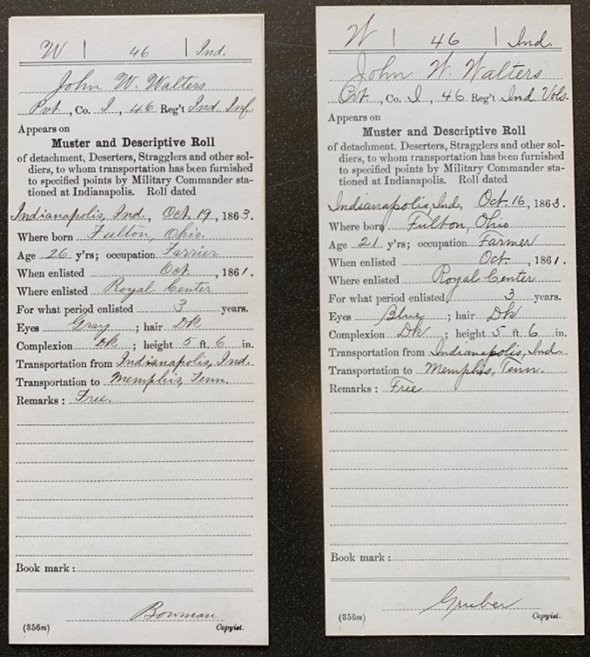 The full pension records at the National Archives for David Walters helped Heidelbaugh and Paone reach conclusions about David's death in the prisoner-of-war camp at Florence, South Carolina, and the many years Rachel worked to gather documentation and witness affidavits to verify their marriage, the birth of their son, and the circumstances of David's death during the war. That set of full pension documents is the public record of Rachel's post-war life. In the museum's collection are her 1865 to 1868 correspondence with references to assistance from her employer on the matter and to assistance from David's former commanding officer Captain John Louderback, as well as exchanges with Clara Barton's Missing Soldiers Office in her efforts to secure the pension. The documents show that she finally gained access to David's pension in 1868, just a few months before she died, at which time, the pension passed to their son Willard O. Walters (see NPM object 1991.0219.163 for one of Willard Walters' pension documents).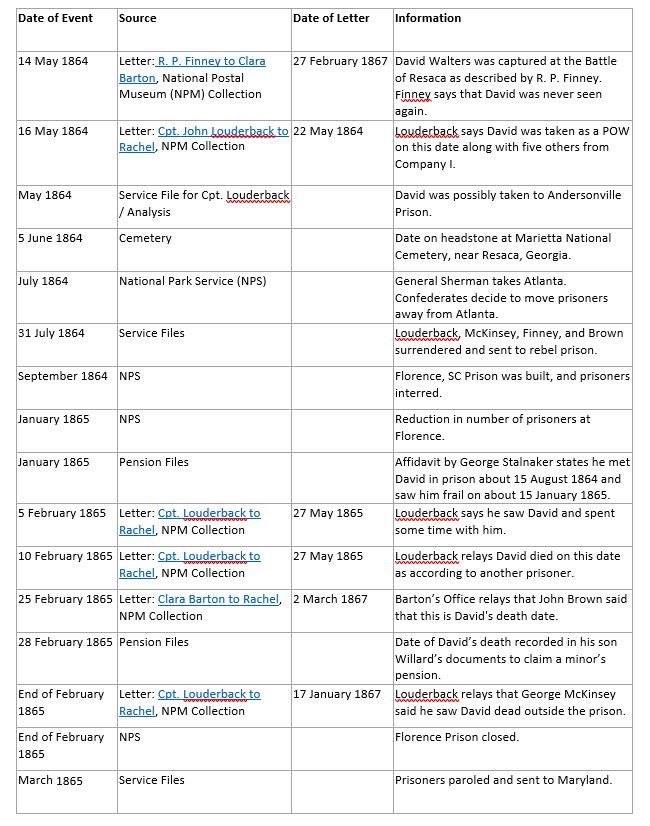 During the program Heidelbaugh and Paone discussed that they were unable to find out the cause of Rachel's death. It may be in a local record that they did not have ready access to, but they noted it is indicative of the relative paucity of information in archival sources on women's lives. The information available about Rachel (Ward) Walters in the public record, like many women of her time, tends to be in association with her male family members—her father and husband—such as, the head of household in census records and marriage certificate. They also noted that the fact that Rachel's letters survived the war is unusual. Although military service members treasured the correspondence from the home front, they could not always keep it over the course of their many battles and travels. For some, they chose to destroy the letters because of the personal and emotional connection, in some instances it was a decision about priorities of what to carry, and for others the circumstances of war, time, distance, and weather were not conducive to preserving letters.
The genealogical information about individuals and the families gave background details needed for understanding Rachel's correspondence and the role that she had in connecting the Walters brothers David, Isaac, and John Wesley who were writing to her. It also helped solve several mysteries in the collection in addition to the question about David's death. For instance, Heidelbaugh described how one letter just did not seem to fit into the chronological order of the documents. The letter was clearly dated as "1863" but Heidelbaugh knew that references in the text pointed to 1864. The first clue was the death of Cousin Joseph Walters mentioned in the letter, but the date recorded in military records is May 1864. The date of a second event in the letter was also verified through the marriage records for Walters' neighbors Milton Sellers and Susan Martin who were wed in May 1864. With these two record sources pointing to the year 1864, Heidelbaugh and Paone surmised that this must have been a slip of the pen or mind when Rachel dated the letter, and so they decided to place the letter within the chapter of 1864.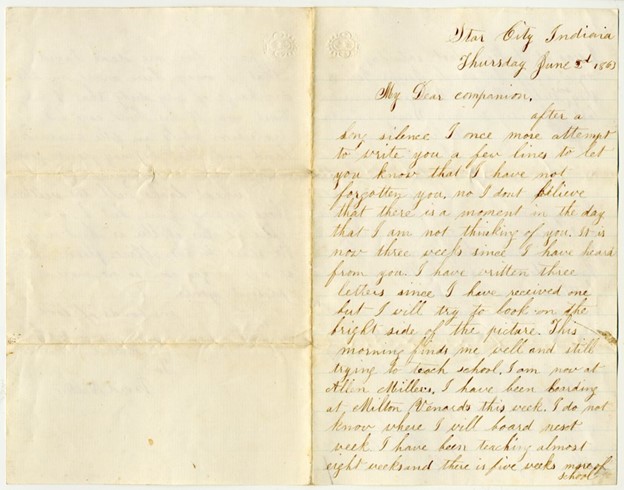 Genealogical research assisted with seemingly minute details and bigger questions in the work Heidelbaugh and Paone undertook for Between Home and the Front in transcribing the letters and writing of this collection's historical context. They explained during the program that this research is something they do in many facets of the work for curating collections at the Smithsonian. Paone described using military service records to gain understanding about individuals who have connections with museum objects such as log books that list pilots' names that have flown certain aircraft. Heidelbaugh discussed ways she looks for backgrounds about writers and recipients of mail and those who work the mail. In her research at the museum, she frequently consults records on employment history of postal workers. For instance, using the United States Official Register (see page 6 of about.usps.com/publications/pub119.pdf for a description of this publication) she was able to track down that Rachel (Ward) Walters' father Samuel Ward, Jr. was postmaster of Mooresburg, Harrison Township, Pulaski County, Indiana from June 2, 1853 to July 28, 1862. She also used the civilian personnel records of the National Archives to request documents about Willard O. Walters career as a Rural Free Delivery carrier. Heidelbaugh and Paone both commented on how digitization of public records has been invaluable in speeding up and increasing access to genealogical sources that they frequently use. Knowing where to find these online but also how to seek out originals not yet digitized are keys to successful genealogical searches.

For more information about the Walters family letters
Resources for researching postal employees and post office locations:
---
The following is an excerpt from Philatelic Genealogy by James R. Miller:
Millions of our ancestors' old envelopes, letters, and postcards await discovery by genealogists. While you may already have old correspondence in your family papers, some of your family's envelopes, letters, and postcards may have survived outside your home. They may be in private or public stamp and postcard collections. They may be pictured in old stamp auction catalogs, books on postal history, or published postcard collections. They may be in manuscript collections at local, state, or national libraries, museums, and historical societies. Hundreds of thousands are on sale every day on the internet. Some show where our immigrant ancestors lived before coming to the United States and where brothers and sisters moved after they left their hometown. Others document military service, where people worked, their political and social interests, their pastimes, and where they went on vacation. A real photo postcard may show their picture. Some simply let us glimpse a day in an ancestor's life. Family information requests and family reunion announcements have been sent by postcard. Using these materials as genealogical sources is what can be called postal or philatelic genealogy.[1]
Each postcard and envelope that traveled through the mail is unique and personal. Most are handwritten. Our ancestors wrote the name and address of someone they knew on the envelope or postcard. Their text is like a page from their diary. A postmark confirms the date and place of mailing. Many provide information that is unavailable elsewhere. In genealogical terms, old envelopes, letters, and postcards are original sources of primary information.[2]
Genealogists are fortunate that old envelopes, letters, and postcards have been saved for many years for reasons other than genealogy. Postal historians are stamp collectors who collect 'covers,' that is, entire envelopes or postcards with a stamp, postmark, and any additional marking such as "censored" or "airmail," as well as folded letter sheets sent from the 1600s to the mid-1800s. Postal historians are interested in how mail was transported, what routes it traveled, postal rates, and in general, how the mail system worked. Postcard collectors are often interested in pictures of a particular location or a theme, such as valentines. The same envelope and postcard can be appreciated for different reasons by a postal historian, a postcard collector, and a genealogist.
Philatelic Genealogy, Old Envelopes, Letters, and Postcards as Genealogical Sources, a 2016 book, promotes the use of envelopes, letters, and postcards as genealogical sources. The book presents one hundred envelopes and postcards in ten categories as a sampler of the age and variety of available material. The ten chapters are folded letters, westward expansion, the war of 1861-1865, work, immigrants, family and friend correspondence, real photo postcards, social and political interests, travel and vacation, and World War one. Original letters or transcriptions accompany twenty of the envelopes. Thirty-four other envelopes are empty but still tell a story. Forty-six postcards are shown. The senders and recipients are identified in a census, city directory, or other genealogical source, and their birth and death dates and parents' names are given, if determined. The relationship between the sender and recipient is explained, when possible. Nineteen envelope and postcard designers and publishers are also identified, as well as two paper manufacturers. An introductory chapter focuses on correct identification of the sender, the recipient, and their relationship. A closing chapter describes an online philatelic genealogy database. The benefits of philatelic genealogy for postal historians and postcard collectors are summarized in an appendix along with a primer on genealogical research. The names of senders, recipients, and other people cited in letters and postcards, and their locations are indexed.
Notes:
This text is based on the preface to Philatelic Genealogy, Old Envelopes, Letters, and Postcards as Genealogical Sources by James R. Miller, which was published in 2016.
1) James R. Miller, "Philatelic Genealogy, Old Envelopes, Postcards, and Immigrant Origins," New England Ancestors (now American Ancestors), vol. 10, no. 2 (Spring 2009), 37-38.
2) Elizabeth Shown Mills, Evidence Explained, Citing History Sources from Artifacts to Cyberspace (Baltimore, Md.: Genealogical Publishing Company, 2007), 24-25, for definitions of original source and primary information.
If you are interested in searching genealogical records on your own, here are a few suggestions for getting started.
Some basic information used by genealogists is available online. Two large websites are Ancestry.com (a subscription website that requires payment), and FamilySearch.org (a free website that requires registration), but there are other choices. Both Ancestry and FamilySearch have user-submitted family trees that may help with philatelic genealogy or in making your own family tree, but the locations, dates, and family members presented in the tree may or may not show the sources for the information. A family tree without sources may be helpful, but verification using a census, vital records, a city directory, and other source documents is necessary to be certain of the information.
Contact your public library's reference desk or local history room to find out if genealogy databases are available at your library without charge and possibly from home using your library card.
Your library may have basic genealogy guidebooks such as The Source: A Guidebook to American Genealogy, 3rd Edition (Provo, Utah: Ancestry, 2006) by Loretto Dennis Szucs and Sandra Hargreaves Luebking, or The Researcher's Guide to American Genealogy, 3rd Edition (Baltimore, Md.: Genealogical Publishing Company, 2000) by Val D. Greenwood.
Ask your library about genealogical societies in your area and workshops for beginning genealogists.
The U.S. Census: Genealogical searches often begin with the United States census. The census has been taken every ten years since 1790 and becomes public seventy-two years later. The 1950 census is the most recent census to be made public, which occurred in 2022. The 1790 to 1840 censuses list heads of household only and the remaining household members are grouped by age, gender, and whether free or slave. The 1850 census was the first to list the names of all household members and includes their birthplace (typically a state or country). The relationship of each person to the head of household first appears in the 1880 census, along with the street name and building number for each household. Without a written indication of the relationship, the oldest adults in the household are probably husband and wife and parents of the children in the household, but additional information will be needed to confirm relationships. The 1880 census also provides the birthplace of each person's mother and father, and this continues up through the 1930 census. Most of the 1890 census was lost in a fire, except the special census of Union veterans and their widows.
---
With varying areas of expertise, these four experts were able to present on the wide-ranging applications of the field of Postal Genealogy.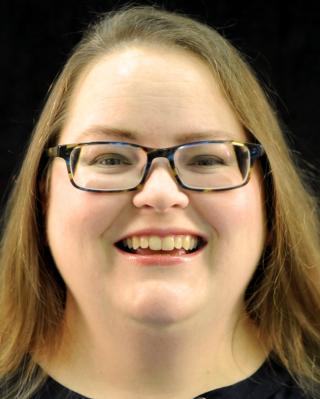 About the Author
Lynn Heidelbaugh is a curator specializing in the history of the U.S. Postal Service, military mail, and the material culture of letter writing. Ms. Heidelbaugh has served as lead curator for several National Postal Museum exhibitions including, Mail Call (2011), Behind the Badge: The U.S. Postal Inspection Service (2014) and My Fellow Soldiers: Letters from World War I (2017), for which she received a Smithsonian Secretary's Research Award.