Remembering Amelia Earhart: Pilot, Pioneer, Philatelist
07.22.2016
Blog
By Ren Cooper, Marketing Assistant
This Sunday, July 24th, 2016, marks the 119th anniversary of Amelia Earhart's birth. Here at the National Postal Museum, we are proud to have on exhibit one of Amelia Earhart's flight suits. It is leather and wool lined to protect the pilot from the cold temperatures of high altitudes. The National Postal Museum also possesses Earhart's personal collection of flown mail with photographs. Earhart raised funds for her flights by carrying and autographing special letters that were then sold as collectors' items to philatelists.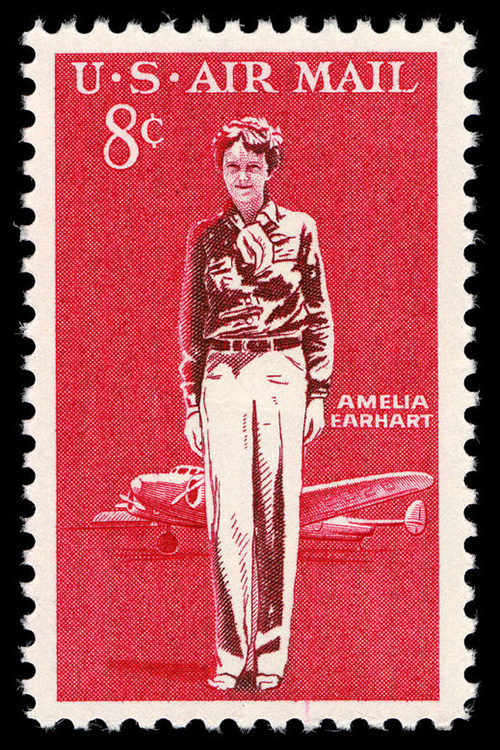 A native of Kansas, Earhart was a quintessential tomboy who allegedly kept a scrapbook during her youth of newspaper clippings about successful women in mostly male-oriented fields, such as film direction and production, law, advertising, management, and mechanical engineering. In addition to her groundbreaking and heroic flights, Earhart co-founded the Ninety-Nines in 1929, a still-active international organization which serves to provide mutual support and professional opportunities to women in aviation. A member of the National Women's Party, Earhart was an early champion of the Equal Rights Amendment, a proposed amendment to the United States Constitution designed to guarantee equal rights for women.
In honor of Amelia Earhart, her incredible determination and pioneering spirit, we'd like to share with you a few photos of the National Postal Museum's Women's History Month Celebration, held earlier this year. We were fortunate to have an Amelia Earhart impersonator – the very talented Pat Jordan of the American Historical Theatre of Philadelphia. In addition to hearing about the fascinating life and accomplishments of noted philatelist Amelia Earhart, there were games, stories, and a scavenger hunt as children of all ages learned about women's roles in the United States Postal Service. Another special guest was United States Postal Inspector Kai Pickens!
Here are some of our favorite photos of the festivities:
Amelia Earhart Family, The Official Website of Amelia Earhart, "Biography," accessed July 20, 2016.
Nancy Pope, Arago: People, Postage & the Post, "Amelia Earhart's Flight Suit," May 1, 2006, accessed July 20, 2016.