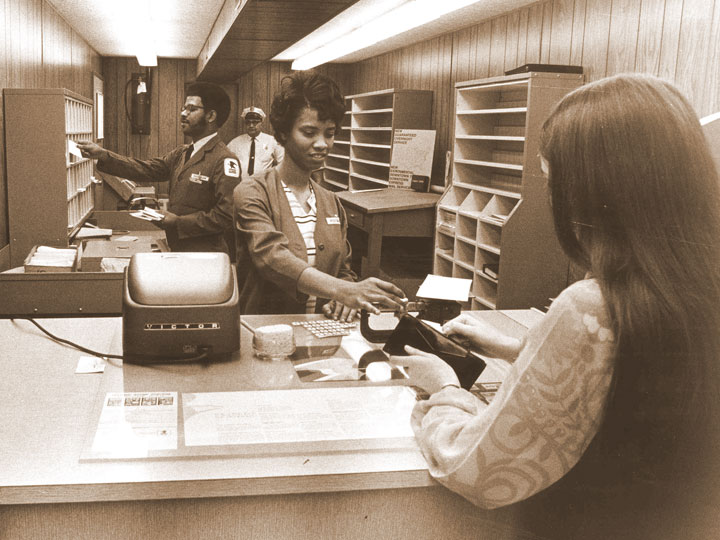 Postmaster Winton M. Blount appointed four African American men, two of whom were lifetime postal employees to management positions in October 1971.(1) The men, John Strachan, Emmett E. Cooper, Jr., Alvin J. Prejean, and Joseph N. Cooper, all brought different strengths and experiences to their new roles in the Postal Service.
John Strachan was appointed manager of the New York Metropolitan Postal Center. His responsibilities included managing the postal operations in Manhattan and the Bronx. Strachan began his postal career as a clerk in New York City in 1941. In 1967 he was appointed postmaster of the New York City Post Office. In addition to his postal work, Strachan served on the community advisory council for the Harlem Hospital. He was also a member of the NAACP and the National Urban League and received his BS and MA from New York University.(2)
Emmett Cooper was named the manager of the Detroit Metropolitan Postal Center, the nation's eighth largest postal installation. Cooper began his postal career as a clerk in Cleveland. He went on to become the director of personnel at the Cleveland post office. Later, he became the chairman of the Postal Board of Appeals and Review. In 1970 he was named the Director of the Postal Management Branch in the Bureau of Operations.(3)
Blount appointed Alvin Prejean to head the Office of School Priorities for Postal Service. His responsibilities included overseeing the equal opportunity programs and directing the Postal Academy training program.(4)
Joseph Cooper served as the advertising manager in the Department of Communications and Public Affairs. He had previously served as the Director of the New York Museum of Black History and Culture.(5)
Statistics from December 1979 illustrate that African Americans held a higher percentage of executive positions in the Postal Service than any other minority group. The data shows that of the Postal Service's 807 executives, 4.5% are African American, while only 2.2% are female, 1.4% are Latino, .2% are Native American, .7% are Asian.