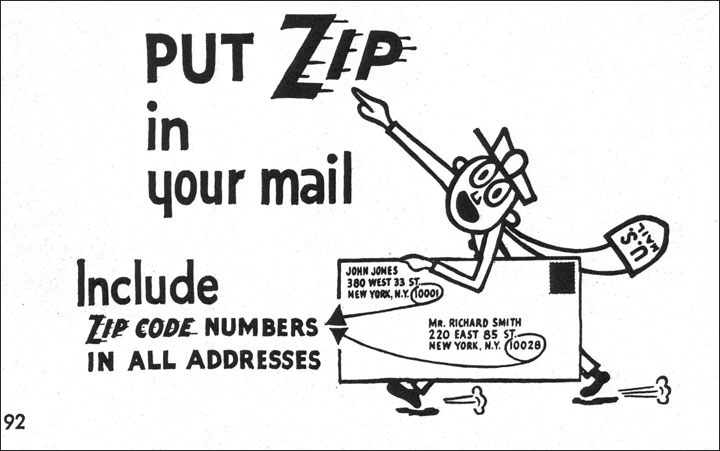 Mr. Zip appeared in several popular magazines during the 1960's. Here he is in an ad from a March, 1965 issue of Time (Time, March 19, 1965, 92).
While Mr. Zip appeared in local post offices, on the sides of delivery vehicles, on postal uniforms, and in various events in the early to mid 1960's, his likeness also appeared in newspapers, popular magazines, on the radio, and in public service announcements on local television channels. He appeared on the pages of magazines such as Time, Life and Reader's Digest. In print advertisements, particularly those that appeared in small newspaper or magazine columns, an image of Mr. Zip often stood out, accompanied by a short message promoting ZIP Code use.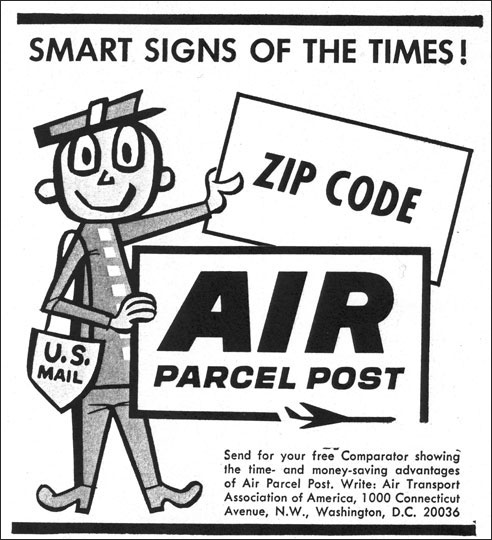 In a September, 1965 issue of the Postal Record, Mr. Zip promoted ZIP Code, as well as air parcel post (Postal Record, September, 1965, 69).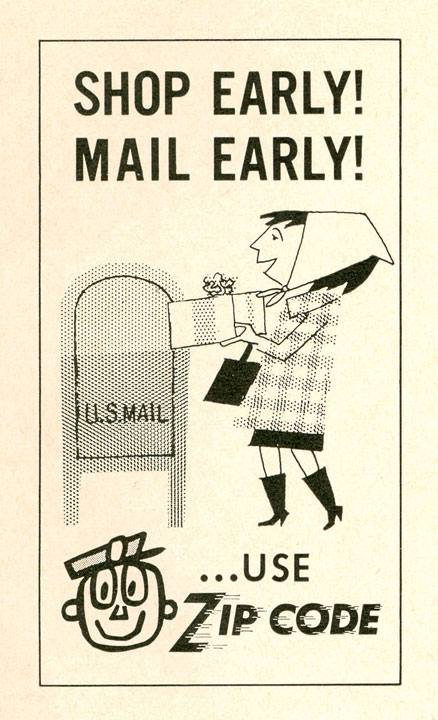 In radio and television spots, specifically those written by the Department's Office of Public Information prior to 1965, Mr. Zip is often mentioned. One script states, "Mr. Zip represents the revolutionary new ZIP Code system of mail delivery."(1) Other spots used Mr. Zip to promote the "Mail Early for Christmas" campaign (an annual campaign that aimed to convince Americans to mail Christmas cards and gifts early in the Christmas season to avoid late delivery and postal backups that might result from large volumes of mail being sent in the days immediately before the holiday). One such script from 1965 stated, "Take a tip from the Post Office's Mr. Zip. Do your Christmas shopping early so that you can mail early."(2) Another from 1968 said, "That smiling little postal character Mr. Zip is again suggesting your holiday mail will arrive on time, if you shop early and use ZIP Codes."(3) In order to reach Hispanic and Latin American audiences in places like Florida and the Southwestern United States, the Post Office Department translated a number of its radio spot scripts into Spanish.(4)
Later radio spots from 1966 and the last years of the 1960's were produced by the Advertising Council and rarely mention Mr. Zip. However, he could easily be found in print advertisements. It seems that images of Mr. Zip, instead of mentions of him in radio and TV spots, were more crucial to his success in gaining recognition among the American public.
ZIP Code Campaign Public Service Announcement Videos