When did women marry men that they met through the mail?
Where were they from?    Where were they going?

Mail-order brides generally moved in a westward direction, but they did not always sojourn to the West Coast. Some moved from Illinois to Wisconsin, others from Maine to Colorado, and still others from Minnesota to South Dakota, to name a few examples.1 Other mail-order brides simply moved to a different part of their own home state.2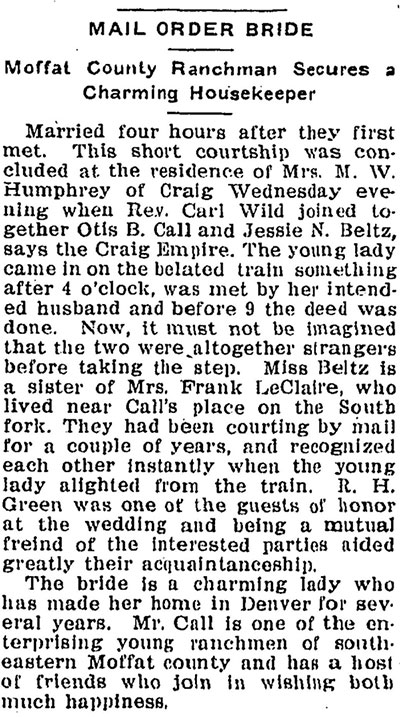 Otis Call and Jessie Beltz, both of Colorado, tied the knot in 1915. They had never met in person but had corresponded by mail for several years.
"Mail Order Bride: Moffat County Ranchman Secures a Charming Housekeeper," The Steamboat Pilot (Steamboat Springs, CO), March 3, 1915, 2. Colorado Historic Newspapers Collection.
Meeting a spouse through the mail, however, was not a strictly domestic phenomenon. The international iteration of mail-order brides was picture brides. Picture brides were women living overseas whose introduction to their prospective husbands came through an exchange of photographs in the mail. The term originates from the Japanese phrase shashin kekkon, which literally translates as "photo marriage."3 In addition to Japan, countries such as Korea, Armenia, Greece, and Italy sent picture brides to the United States.4
Most mail-order marriages occurred between the 1880s and the 1910s, but they have been documented into the 1920s.5 The timing of picture brides from specific countries often correlates to US immigration law or domestic events. For example, in response to the Armenian Genocide, some women came to the United States as picture brides.6  The genocide ended in 1923, and newspaper articles from 1921 and 1922 demonstrate boats filled with Armenian women arriving in New York as picture brides.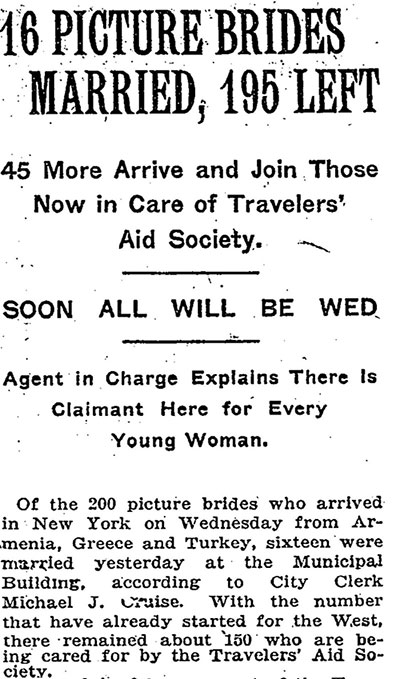 "16 Picture Brides Married, 195 Left," New York Times (New York, New York), August 4, 1922, 10. ProQuest Historical Newspapers.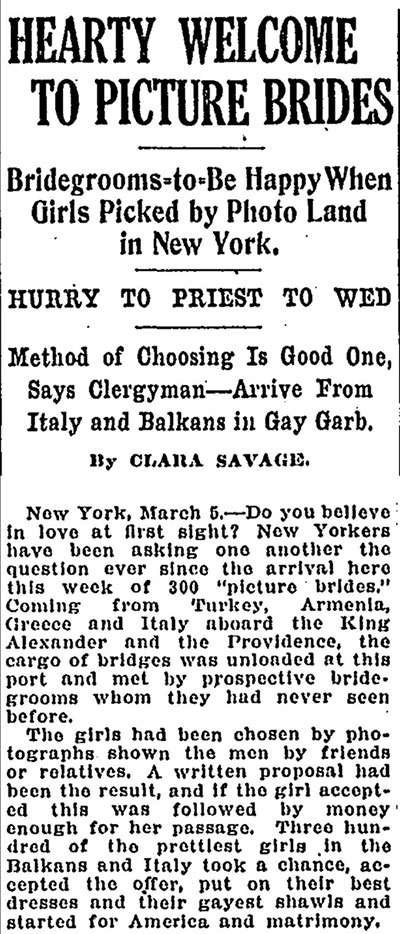 Clara Savage, "Hearty Welcome to Picture Brides," Washington Post (Washington, DC), March 6, 1921, 24. ProQuest Historical Newspapers.