Why would a young woman leave her family, and her home – likely never seeing them again in this earthly life – to travel in sub-par quarters to become a mail-order bride?
Why would a bachelor agree to marry someone he had come to know only through her letters?
Why bother studying the mail-order bride system?

The phenomenon of a courtship correspondence is a stark contrast to today's culture of dating. Modern parallels, such as online dating, exist, but they usually facilitate an in-person meeting well before a marriage proposal.1 The prospect of leaving one's family, friends, and livelihood, and traveling to a different part of the country to tie the knot with someone whom they had never met in-person seems outlandish to many today. What would possess a person to take such a risk?
That question, however, comes from a 21st century frame. Was such a proposition risky when men and women did it in the late 19th and early 20th centuries? Yes. But as a whole, these men and women seemed to have a more pragmatic approach to marriage. Mail-order marriages were potentially dangerous, but they also offered men and women a means to achieving some of their goals. Whereas marriages in the past had been practical and strategic tools to advance the good of a larger kin group, mail-order marriages seem to have been practical and strategic tools to advance the good of the individual.
MOTIVATIONS FOR MARRIAGE
Men
One of the most basic reasons that men tried to find spouses through the mail during the nineteenth century was because of an imbalance in the gender ratio. There were many factors that contributed to this imbalance, ranging from the California gold rush, to the American Civil War, to westward expansion. The first significant event to contribute to the unbalanced gender ratio was the discovery of gold in California in 1848. It inspired many a man – both domestic, and international – to head to the American West in search of fortune.2
While some women and children traveled west, men outnumbered them by a long-shot. Male-to-female population ratios vary widely, but, for instance, historian Joann Levy notes that by 1852, 25,855 men, 7,021 women, and 8,270 children had passed through Fort Kearny, Nebraska en route to their final destination.3  While this particular statistic is specific to folks headed to Oregon, it is indicative of a larger trend; women in the West were scarce.
Many pioneers were disappointed to discover that all of the easily-accessible gold had already been panned. After investing extensive time and money to travel by ship, wagon, or railway, however, they were not about to head back home.4 As the 19th century progressed, pioneers headed into the mid-West and West in search of gold, natural resources, open land, and a fresh start. Some were coming from the eastern portion of the United States, but others came from foreign countries. Between 1850 and 1890 approximately 7.5 million European immigrants traveled to the United States, a portion of them settling on farms in the western part of the country.5 Due to the demanding nature of farming, some men sought to marry and have children who could help them to establish and maintain a farm. For others it was particularly significant to marry and have children so as to carry on the family name.6
There were plenty of other reasons that men of the West wanted to marry. Some men desired a spouse because they were lonely, some needed money, and still others hoped for someone who shared their cultural background. It is important to note that while there were not as many white women in the American West, there was not a total absence of women. Indigenous women were, of course, present in the American West, and some pioneers formed relationships with them. Statehood advocates feared that inter-racial marriages would not count as "civilized behavior" and therefore threaten the possibility of transitioning from territory to statehood.7 Many Americans expected that the presence of (white) women would help to civilize the Wild West by replacing alcohol, gambling, and prostitutes with schools, and churches.8
Immigrant men confronted the same trials (loneliness, poverty, rough living conditions) that their American counterparts did, but their immigrant status also provided unique motivations to marry mail-order brides. For example, Japanese men who had immigrated to the United States but returned to Japan for more than 30 days were eligible to be called for conscription there. Marrying a picture bride eliminated this risk, and it also reduced the time and expense of extensive travel.9
Women
Just as the West drew men with the promise of opportunity, fortune, adventure, and a new beginning, it also did for women. In many cases marriage provided a literal ticket for a woman to go West and seek a better life.
For Mary Richardson, marriage was a way to realize her desire to be a missionary out West. She was born in West Baldwin, Maine, in 1811 and had taken classes at Maine Wesleyan Seminary. Despite her glowing letters of recommendation, the American Board of Commissioners for Foreign Ministries (ABCFM) ultimately denied her application because she was a single woman.10
In the same month (March 1837) that Mary learned of her rejection from the ABCFM, Elkanah Walker, a seminary student at Bangor Theological Seminary, was preparing to become a missionary in Africa. He wrote to the Secretary of the ABCFM, asking "Is it advisable for me to go without a companion [i.e., a wife]? This is rather a delicate question to ask, but as I view it of much importance, it will plead its own apology."11 The Secretary responded, "You ought by all means to have a good, healthy, patient, well-informed, devotedly pious wife. There is a Miss Mary Richardson of Baldwin, Maine, who has offered herself to the Board but we can not [sic] send her single. From her testimonials, I should think her a good girl. If you have nobody in view, you might inquire about her."12
Elkanah showed the letter to his friend, William Thayer, who had briefly met Mary twice in the past year.13  William encouraged Elkanah to reach out, but Elkanah was hesitant. As such, William sent a letter to Mary. He asked her if she would be willing to marry someone if that marriage would allow her to become a missionary.
In his initial letter to Mary, William feigns ignorance about Mary's rejection from the ABCFM and encourages her to keep an open mind about the various ways that she might become a missionary. Without naming Elkanah, he plants the possibility that marriage could be a means to missionary work for Mary. Towards the close of the letter, near a red X, he suggests, "Suppose Providence should bring to your hand a good-hearted, mission-spirited companion:--but the strangest supposition in the world, after all."
William Thayer to Mary Richardson, 23 March 1837, Cage 57, Elkanah and Mary Richardson Walker Papers 1830-1938, Manuscripts, Archives, and Special Collections, Washington State University Libraries Digital Collections.
Mary responded in the affirmative. William then sent Mary a letter of introduction to Elkanah. Elkanah still was not convinced, and so William penned another letter, this one to be hand-delivered to Mary by Elkanah.14
A nervous Elkanah hand-delivered this character witness from William to Mary. In this letter William made Elkanah's purpose clear, stating that he had come "as a solicitor for [her] heart + hand."
William Thayer to Mary Richardson, 17 April 1837, Cage 57, Elkanah and Mary Richardson Walker Papers 1830-1938, Manuscripts, Archives, and Special Collections, Washington State University Libraries Digital Collections.
On April 22, 1837, Elkanah made his way to Mary's home to make a presentation for the local church on missionary work. The next morning, he gave Mary William's letter suggesting that she marry Elkanah. By that evening she accepted his proposal. 15 Mary and Elkanah corresponded for the better part of the year, while Elkanah finished seminary.16 On March 5, 1838, they married, and soon after they headed west to be missionaries.17 Their marriage spanned four decades and seven children, and throughout that duration Mary and Elkanah became very close friends.18
Mary became a mail-order bride to realize her ambition of serving as a missionary. Other women also found that the mail-order method of match-making allowed them to pursue ambitions of their own, such as greater personal autonomy.
Some western states made a deliberate effort to encourage the migration of women by promising them liberal women's legislation. In 1849, for example, California legislators crafted a state constitution that defied the tradition of coverture law. That is, the Constitution allowed women to retain ownership of their property upon marriage. Henry Halleck helped craft the Constitution, and he explained the end of coverture as a means of attracting single women to settle out west. He articulated this intention, saying, "I do not think that we can offer a greater inducement for women of fortune to come to California. It is the very best provision to get us wives that we can introduce into the Constitution."19 Kansas (1855), Oregon (1857), and Nevada (1864) also eliminated coverture laws with the intention of drawing women to their states.20 Since western legislation promised women autonomy, and western men offered marriage, independent women could achieve the former by agreeing to the latter as mail-order brides.
In addition to its favorable property laws for women, California offered women the legal right to initiate divorce. 21 Presuming that women outside of California were aware of this law, it made marriage to a man met through the mail a slightly less risky proposition – if the marriage turned sour, women had legal rights to leave it.
States also wooed women to traverse the country with the promise of suffrage. In 1869 Wyoming became the first state to allow women the right to vote. Utah (1870), Washington (1883), Montana (1887), Colorado (1893), and Idaho (1896) followed suit, all promising women suffrage prior to their East Coast counterparts. 22
Some women became mail-order brides not to advance their position or pursue their own goals, but simply to survive. Women often depended upon men in their lives to provide for them economically. Losing a husband to death introduced an economic vulnerability. Having to provide for children after the death of the breadwinner only exacerbated economic woes. As such, some widows, like Lilla Stewart of Quincy, Illinois, looked to find husbands through the mail. Lilla was a widow with children, thus marriage offered the hope of financial security. She shared and an epistolary courtship with J.W. Miller, a lumberman of Eau Claire, Wisconsin, and married in 1886.23
The death of men in the Civil War only compounded the gender ratio imbalance that the resource rush to the West had begun. Between 1861 and 1865, nearly three million men fought in the War. One in five would die. Many others survived but came home grievously injured. The death count alone, though, was equivalent to approximately two-and-a-half percent of the general American populace.24 Although this might not sound significant enough to threaten women's marriage prospects, the average age of a Union soldier was 25.8 years old – prime for marriage, therefore the one in five was concentrated among eligible men.25 As such, many women feared that with the new scarcity of men, they would end up spinsters. 26
Other women chose to answer bachelors' calls for correspondence simply for the fun of it. Not all of them hoped that the correspondence would lead to wedding bells, and were surprised when their pen-pal thought otherwise.27 Others started out with a lark and ended up with a husband. 28

Note that this tale of an almost mail-order bride comes from New Jersey in 1907. Certainly, it defies the stereotype of women of the mid 19th century traveling to the West Coast.
"Courtship by Mail Failed." New York Times (New York, NY), January 1, 1907, 1. ProQuest Historical Newspapers.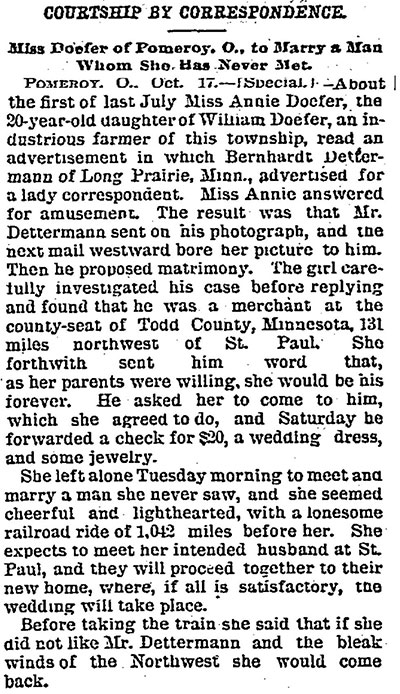 Annie Doeffer chose to respond 'for amusement' to Bernhardt Dettermann's personal ad.
"Courtship by Correspondence: Miss Doefer of Pomeroy, O., to Marry a Man Whom She Has Never Met." Chicago Daily Tribune (Chicago, IL), October 8, 1888, 1. ProQuest Historical Newspapers.
Finally, some women sought husbands by letter simply because they were lonely and found their local surroundings lacking suitable candidates for marriage. Such was the case of Ethel Moore, a 22 year old resident of Southport Maine.29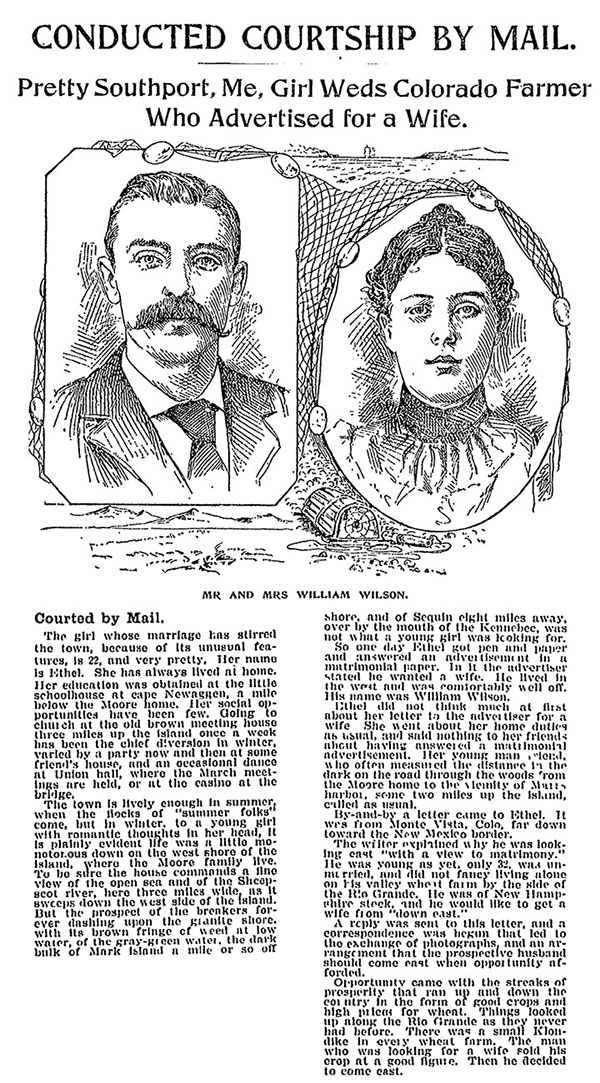 This is an excerpt from a larger article profiling Ethel Moore and William Wilson. Ethel was a member of a twelve-person fishing family on the coast of Maine. In describing the landscape, the author of this article hints that the quietness of the town contributed to Ethel's decision to respond to William's ad: 'The town is lively enough in summer when the flocks of "summer folks" come, but in winter, to a young girl with romantic thoughts in her head, it is plainly evident life was a little monotonous down on the west shore of the Island, where the Moore family live."
"Conducted Courtship by Mail: Pretty Southport, Me, Girl Weds Colorado Farmer Who Advertised for a Wife," Boston Daily Globe (Boston, MA), January 7, 1898, 6. ProQuest Historical Newspapers.
Whereas being a mail-order bride for an American woman was usually an act of autonomy, being a picture bride was often a decision made by family members and external circumstances. In Japan, for example, filial piety was a strong motivator for women to become picture brides.30 Arranged marriages were still the norm in many countries, so picture brides were merely a geographical extension of the tradition.31 Some Japanese women hoped to find work in the United States so that they could send money home to their families.32 Immigrating to the United States as a laborer, however, became difficult given immigration policies like the Gentlemen's Agreement of 1907. This agreement prohibited any new Japanese laborers from entering the United States, but wives, children, and returning laborers were excluded from this restriction.33 Marrying as a picture bride was one way for women to skirt immigration law and gain entrance to the United States.
Although arranged marriages were a common reason that women became picture brides, other women chose to pursue correspondence courtships by their own volition. For example, in 1910 Korea became a Japanese colony.34 Kim Suk-eun explained her rationale for becoming a picture bride as a means of escaping colonial rule. She said, "Day by day, no more freedom – that's why I wanted to leave Korea, and the only route was as a picture bride."35 Japan prohibited Korean migration but made an exception for women. Between 1910 and 1920, 951 Korean women moved to the Territory of Hawaii as picture brides, and 115 to mainland United States.36
The Armenian Genocide was another reason that some women became picture brides. Between 1915 and 1923 the Turkish government carried out a genocide against the Armenian people with the goal of exterminating their population from the Ottoman Empire. Soldiers killed men, but deported women, children, and the elderly to Syria.37 This massive trauma drastically upended the gender ratio, with 80-85% of survivors being women and children.38 Many young women ended up in refugee camps, and orphanages. Being unable to return to Turkey, and realizing how many men had died, some young women decided to start anew in the United States as picture brides.39
Beyond these country-specific events, American immigration law inadvertently encouraged women to become picture brides through an 1891 amendment to the Immigration Act of 1882. This Act identified being a "convict, lunatic, idiot, or any person unable to take care of himself or herself without becoming a public charge" as reasons for immigration officials to deny entry into the United States.40 The 1891 amendment added a further stipulation that excluded anyone "likely to become a public charge" from entering the country. Interpretation of "likely" was highly subjective, and officials frequently implemented it in a racist way, linking poverty rates with ethnicity and disproportionately denying entry to southern Italians, Asians, Mexicans, Jews, and Greeks. Women had a very difficult time proving that they could be financially autonomous, and were much more likely to gain entry if they had a male legal guardian. Such a guardian could be an uncle, or a brother, but for those without male relatives in America, it was often a husband.41
Mail-order brides are a historical oddity. They simultaneously break from traditions of arranged marriages and also fail to resemble modern matrimonial customs. While precise statistics do not exist, mail-order matches make up only a minority of all marriages. If mail-order matches are not representative of larger marriage patterns, why bother studying them at all?42 The study of the mail-order bride system is significant because it provides an opportunity to explore important questions that extend beyond the minutia of a historical oddity: How has the nature of marriage evolved? How do laws – particularly those pertaining to immigration – impact people's decisions? Where do socially subordinate groups find autonomy? What are the unforeseen consequences of war and conflict?  Mail-order marriages, then, are more than a peculiar phenomenon of history. They are an occasion to acknowledge the incredible interactions of individuals and institutions, and they offer students of history an opportunity to appreciate the complex context that surrounds a person's decision to say, "I do."