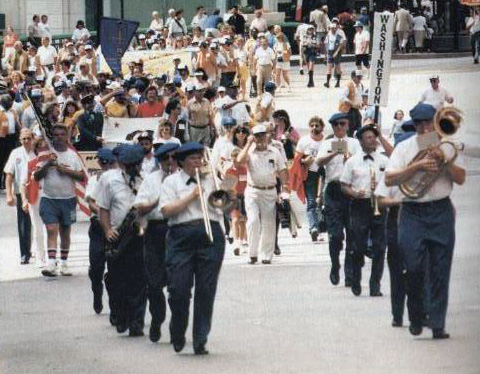 One of the earliest examples of postal worker camaraderie after hours is the creation of letter carriers' bands through the National Association of Letter Carriers (NALC). The NALC was organized in 1889 and letter carriers' bands arrived soon after. There are conflicting accounts about which band existed first, but Chicago, Cleveland, Minneapolis, St. Louis, Milwaukee, Omaha, New York, New Jersey, Philadelphia, Jersey City, and Newark letter carriers' bands were all in existence by 1900. Below is a list of cities in which letter carriers' bands were mentioned throughout NALC publications and historic newspapers.
Baltimore
Boston
Brooklyn
Chicago
Cleveland
Dallas
Dayton
Denver
Detroit
Jersey City
Los Angeles
Memphis
Milwaukee
Minneapolis
New Jersey
New York
Newark
Omaha
Philadelphia
Providence
Salt Lake City
San Francisco
Seattle
Sheepshead Bay, NY
St. Louis
St. Paul
Youngstown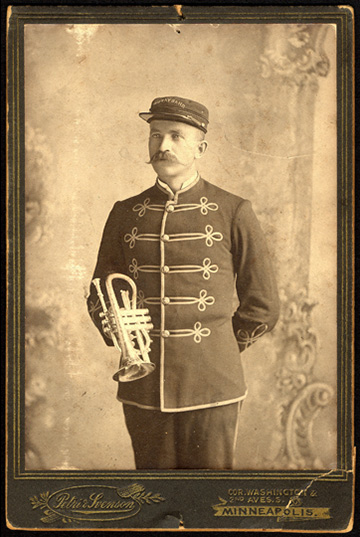 The letter carriers' bands began playing first at National Association of Letter Carrier conventions, where many of the bands would join the letter carrier parade at the beginning of the convention, to help increase union solidarity and excitement. However, each band also had local engagements—most often to celebrate members of the post office. For example, the New York Letter Carriers' Band escorted newly married couples, with the groom usually a letter carrier himself, from the church to the reception, playing celebratory music along the way. On one occasion, the wedding of Newark Letter Carrier "Phil" Parker and Mary E. Kane to be specific, the band headed a procession of the couple's friends who had unharnessed the horse from the carriage and pulled the happy couple along by hand. As the New York Tribune noted, "The bride and groom made several attempts to escape from the carriage, but the doors were held shut by guards on both sides"(1). The letter carriers' bands also visited local public officials for important events, such as St. Louis Postmaster Baumhoff's 20th anniversary in 1901(2) or Missouri Congressman Richard Barthold's 46th birthday to thank him for his efforts in improving the postal service in St. Louis(3). The visits to houses and the heartfelt reasons for visiting perfectly embody the playful, yet sincere spirit of the postal worker community.
Letter carriers' bands would also give local concerts to raise money for uniforms, new instruments, or funds to travel to the next convention and play at post office events. San Francisco even had Letter Carriers' and Mail Distributors' Balls at which the San Francisco Letter Carriers' Band would play. The Denver Letter Carriers' Band played various locations across the country on its way to the 1905 National Convention in Portland, OR. Not only did this increase camaraderie within the band itself, but also expanded the sense of community on a national scale; letter carriers from very different areas were able to come together through their interest in music and position in a letter carriers' band, such as at a lagoon outing hosted by the Salt Lake City local. Playing at similar letter carriers' picnics was very common for many bands. The Salt Lake City and Denver locals even challenged each other to a baseball game at their 1905 meet-up. One of the most unique events was a sham naval battle held at Carson's Bay Hotel in St. Louis in Minnetonka, at which the Minneapolis Letter Carriers' Band played the theme music.
During the height of their popularity letter carriers' bands were very important in the creation of camaraderie because they would "[kindle] the union spirit at NALC conventions and rallies," not only within the NALC, but for postal workers as a whole because music can be enjoyed by everyone(4). President of the Omaha NALC Branch said in 1893, "I think carriers could, in various ways, be instrumental in doing a great deal of good, not only for themselves but their brother carriers, by way of concerts and various entertainments. All that is needed is united action"(5)—and this is exactly what the letter carriers' bands provided.
The bands have had anywhere from eighteen up to fifty instruments and members. The uniforms have also covered a wide spectrum: from the New York Letter Carriers' Band and Drum Corps' gray coats with black braiding, white trousers and white caps(6); to the Lawrence Letter Carriers' Band's bright red coats and white trousers(7). Practicing has also widely varied between bands and through the years. But, no matter the amount of practice, the St. Louis Letter Carriers' Band was sure to tell the St. Louis Republic that they meet for "practice and a general good time" back in 1901.(8)
The types of music played depended on the occasion, though patriotic themes were always popular. A few examples of programs are below:
New York Letter Carriers' Band, Abingdon Square Park concert, July 4, 1900
Salutation: "The Star Spangled Banner"
March, "The Comedy King"-Hirst
"In Sunny Tennessee"-Boettger
Patrol, "America"-Meacham
March, "The Battleship Oregon"-Fulton
Cornet Solo, Daphne Polka-McQuaid, Houts
Reverie, "The Wayside Chapel"-Wilson
Two step, "The Blue and the Grey"-Chattaway
Finale, "My Country, Tis of Thee"(9)
Baltimore Letter Carriers' Band, 1912
Overture—"War Songs of Boys in Blue." Baltimore Letter Carriers' Band.
Soprano Solo—Selected. Mrs. Chas. Roe. Assisted by Miss Ethel Viola Hardy
Dainty Spanish Dance—"I Want to Powder My Nose." Miss Katharine and Master Raymond Moeslein. Assisted by Miss Irene Fitzsimmons."
Banjo Solo—March. "See America First." Fred. B. Hammann.
The audience will now have fifteen minutes of Bro. Wm. Grace.
Cornet Solo—"Answer." By one of Bro. Roberts' scholars, assisted by the band.
Tenor Solo—"Tramp, Tramp, Tramp. Comes the Mail Man." Bro. Norris. Assisted by Miss May L. Jennings.
Selection by Lake Male Quartette, composed of Bros. N. W. Bortner, Armstrong, Diggs and Mackert.
Reading—Mrs. Schilling.
Bass Solo—Wm. B. Fairley.
Overture—"Mignonette." Baltimore Letter Carriers' Band.(10)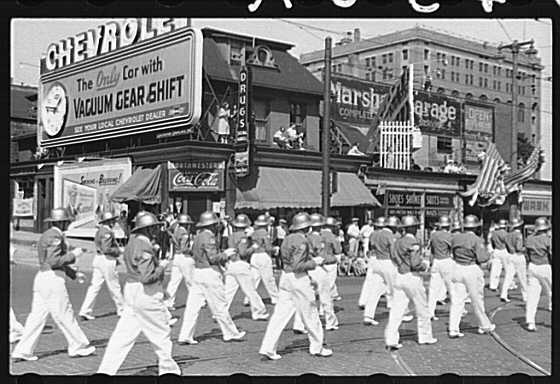 However, no matter the program, letter carriers' bands always received praise for their lively and talented renditions. A reporter noted, "A selection was played by the Brooklyn Letter Carriers' Band which was very favorably received. As an encore John Woods for the band played a cornet solo. After he had finished, 'Just like Sousa' was heard from members of the audience"(11). Another reported of the Baltimore, Boston, Youngstown, and Dallas Letter Carriers' Bands, "The harmony was real stuff".(12 The San Francisco band was even so good that it began to compete against professional bands, which depended on these paid engagements for their livelihoods. As a result, locals became quite riled up and indignant and the Postmaster was asked to "use his authority to take the postal musicians out of the field of competition with the professionals".(13)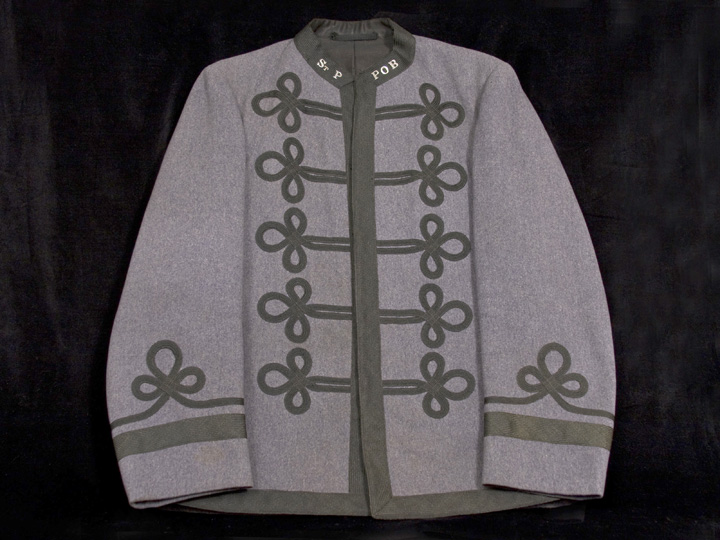 Letter carriers' bands had become such a big part of the NALC by the 1911 St. Paul Convention that the National Association of Letter Carriers' Bands was created. The founding members were the Boston, New York, Brooklyn, Cleveland, and Chicago Letter Carriers' Bands. The Association was organized with three objects in mind:
To promote measures for the musical education of its members.
The improvement of the musical features of the conventions of the NALC.
To unite, fraternally and socially, all the letter carriers' bands of the United States for their mutual benefit and enjoyment.(14)
The NALCB declared its loyalty to NALC stating it was "ever ready to give [its] aid in any matter whatsoever to bring to a successful conclusion any project that the NALC may undertake in which [its] services may be required".(15)
Some time later, the president in 1948 set up a Letter Carriers' Band Fund to subsidize as much as possible the price of sending up to five letter carriers' bands to the biennial convention each year. A tax of twenty cents per year was levied against each NALC member to create and support this fund. The bands were to be paid "on a rotating basis regardless of location to the convention city and beginning in alphabetical order with those letter carriers' bands that were not funded to the 1948 National Convention".(16)
Conventions were also very important to the creation of a postal worker community, especially between different letter carriers' bands in their travels. Ideas, music, and activities were often shared and taken to heart. When the convention was held in Cleveland, OH, other letter carriers' bands witnessed the Cleveland band's commitment to helping the less fortunate by giving concerts at poorhouses, orphanages, etc, and promised to do the same in their own cities(17). Thus the community of postal workers was both expanded and strengthened.
Letter carriers' bands were well known during their prime. Participation in letter carriers' bands was important and impressive enough that many obituaries of the period mentioned deceased letter carriers' positions and commitment. The Salt Lake City Letter Carriers' Band held a contest in 1948 to find a new majorette to accompany them to their convention in Miami. Three winners were to be picked, with the second and third places to act as back-ups, in case the first place winner could not fulfill her duties. The band's president was sure to point out "that the expenses for an adult traveling companion and the winning majorette will be paid"(18)—because most entries were young, high school aged women, many with baton twirling talents.
Music has continued to be a large part of the postal worker experience. The 1899 convention in Scranton boasted of its Scranton Glee Club that sang with the bands.(19) A minstrel company and mandolin club also accompanied letter carriers' bands in St. Louis and Minneapolis respectively. Many similar groups of various musical forms have existed, and continue to do so, around the country.