Church Street was one of four post offices closed after September 11. The other three were able to reopen within the next week. The Peck Slip post office was the first to reopen, followed by the Bowling Green post office at 25 Broadway that re-opened on September 20. The Wall Street post office at 73 Pine Street reopened the next day. The Church Street post office remains the only New York City post office still closed since the September 11 attack.
The Church Street post office and federal building, completed in 1935, was designed under the watch of Lewis A. Simon, supervising architect of the Treasury from 1933-1939. While this sturdy, New Deal-era building was not destroyed, significant damage occurred from the attack and the collapse of the twin towers. Windows were blown out, dust and debris covered floor after floor inside the building. A remnant of one of the planes and other debris also landed on the top of the building.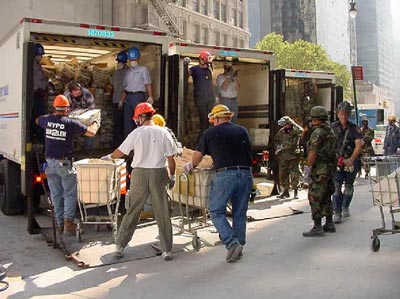 After the towers collapsed, firemen worked out of the Church Street post office to fight the fire in building 7 of the World Trade Center complex, leaving significant water damage in addition to the tower debris. Damage to the building has been estimated at over $25 million and it will be at least a year before it reopens. Additionally, 29 postal vehicles parked nearby were destroyed when building 7 collapsed on the afternoon of September 11.
Mail left at the Church Street post office on September 11 was retrieved by US Postal Inspectors, aided by the National Guard and local police. The mail was taken by truck to the main post office at 33rd street, also known as the Farley building, for processing. It was here that New Yorkers stood in lines that weaved around the building, divided by ZIP code, to get their mail for weeks following the attacks.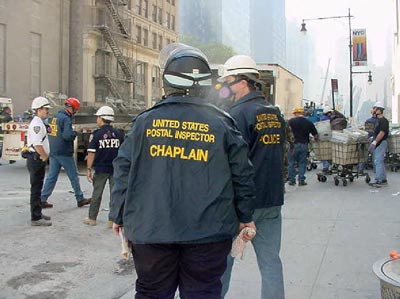 The Church Street Post Office is still closed, its workers still spread out in other postal facilities around the area. Continued concerns over contamination have kept the building empty. Lead, mercury, fiberglass dust, heavy metals and asbestos were driven every nook and cranny in the building by the force of the towers' collapse. It is the largest building in the area that remains unoccupied. In the months following the collapse of the towers, the post office interior floors have also taken on additional contaminants of bacteria, fungi and decayed matter. It is hoped that the building will be ready for reinhabitation by late fall 2003. (After extensive work, the post office reopened in 2004.)