"At the peak of the crisis in Chicago, ten million pieces of mail were logjammed. The sorting room floors were bursting with more than 5 million letters, parcels, circulars, and magazines that could not be processed. Outbound mail sacks formed small grey mountain ranges while they waited to be shipped out."
–Postmaster General Lawrence F. O'Brien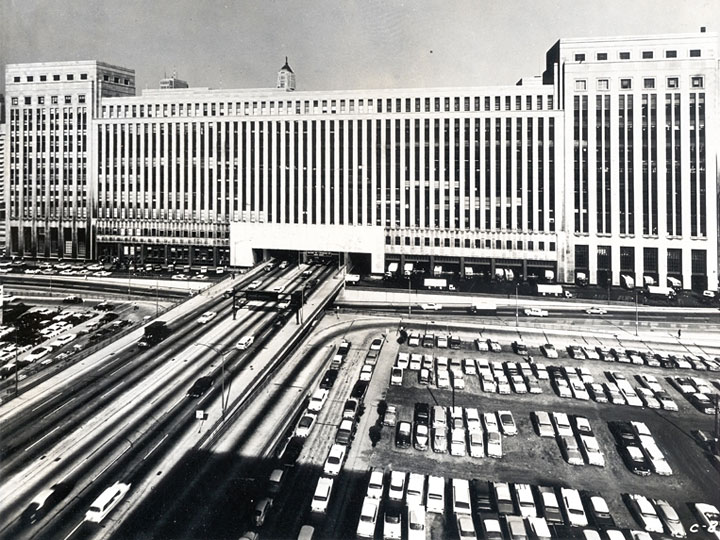 Through the 1930s and 1940s the Post Office Department had suffered from problems related to mismanagement and outdated facilities and mail sorting systems. While the 1950s saw a new emphasis on finding and adding new technology, the post war economy helped boost an extraordinary explosion of mail. By October 1966 the Chicago Post Office was overwelmed by all that mail. The office, which was the world's largest postal facility at the time, shut down for three weeks. Ten million pieces of mail piled up, undelievered. Postmaster General Lawrence O'Brien described the situation in Chicago in hearings before the House Appropriations Subcommittee on Departments of Treasury and Post Office. He told the committee that "the sorting room floors were bursting with more than five million letters . . . that could not be processed."(1) O'Brien noted that the problem was not that "something specific happened in 1966, but that enough did not happen in the previous 33 years."(2) He went on to say that "we are trying to move our mail through facilities largely unchanged since the days…when our mail volume was 30 percent of what it is today."(3)
After the Chicago shut down, Postmaster General O'Brien set up a task force to review the Post Office Department. A year later, in 1967, President Lyndon Johnson created a commission to further review the POD, using the task force's recommendations. The Commission, named the Kappel Commission, after its chairman, Frederick Kappel, was charged with determining what organizational structure would be most efficient for the Post Office Department. The Commission's final report, released in June 1968, called for a government–owned corporation to operate the Post Office Department and for the removal of the position of Postmaster General from the Presidential Cabinet. The Commission's findings became the basis for the Postal Reorganization Act of 1970.
Morale among postal workers, which had been low before the Chicago shutdown, continued to worsen in the late 1960's. One major issue affecting morale was salary. On average, a letter carrier's starting salary was $6,176 and only rose to $8,442 after 21 years of service. Because of the 23 percent turnover rate, eighty percent of postal employees ended their careers in the same pay grade they had begun in. Additionally, eighty-five percent of Post Office Department employees had jobs in one of the five lowest job classifications.
In early 1970, Post Office Department employees learned that Congress was considering a three percent pay raise for postal employees, while also proposing a 41 percent salary increase for themselves.(4) Many employees did not consider three percent an adequate pay raise, and some took drastic action. This was just one more perceived injustice that helped push several postal employees in New York to begin a strike on March 18, 1970.