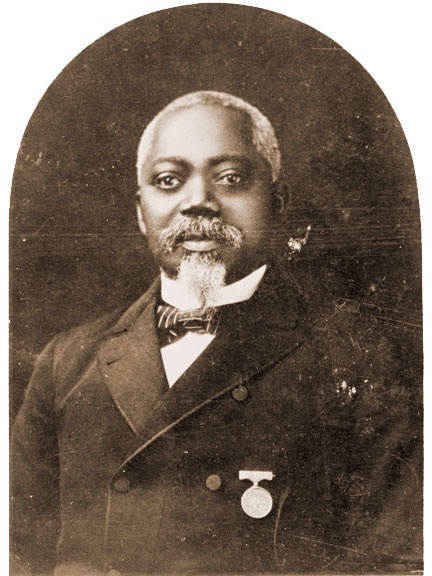 William H. Carney
William Carney was the first African American to earn the Congressional Medal of Honor.  He received the medal on May 23, 1900 for the bravery he displayed in the Civil War, where he was a member of Company C, 54th Massachusetts Colored Infantry.(1) He became a letter carrier in New Bedford, Massachusetts, and served there from 1869 until 1901.(2)
John W. Curry
John Curry is another early African American letter carrier. He began working as a clerk in the Washington, DC post office and transferred to the carrier service in 1870. Curry was an active member of the National Association of Letter Carriers (NALC) and consequently his obituary appeared in the June 1899 issue of the NALC's monthly publication, The Postal Record.  The article emphasized his "steadfast devotion to duty" and his concern for carriers' rights. Curry's efforts to "open the way for admission to other colored [sic] carriers" and his active participation in political affairs were also applauded in the April 29, 1899 issue of the African American newspaper, The Washington Bee.(3) 
David W. Washington
David Washington is identified in Marshall Cushing's book, The Story of Our Post Office as "one of the first colored men to be employed in the mail service in Memphis," Tennessee.(4)
Isaac Myers
Isaac Myers was the first known African American postal inspector.  He served from 1870 until 1879.  During his employment he helped solve a number of notorious cases.(5)
Zachary T. "Z. T." Fletcher
Zachary Fletcher was the first postmaster of the Nicodemus, Kansas, an African American settlement established during Reconstruction.  He was appointed on September 12, 1877.  His wife also served as postmaster of the Kansas Post Office from 1889 until 1894.
James W. Mason
James Mason was the earliest known African American postmaster. He was appointed postmaster of Sunny Side, Arkansas on February 22, 1867.
George B. Hamlet
George Hamlet was the first African American to have been appointed Chief Postal Inspector. He was appointed on August 3, 1897.
Minnie M. Cox
Minnie Cox was the first known African American female postmaster. She was postmaster of Indianola, Mississippi from January 1891 until April 1893.  She also served from May 1897 until February 1904.(6)
Joseph A. Clarke
Joseph Clarke was the first African American to be appointed Special Assistant to the Assistant Postmaster General of the Bureau of Operations.  He was appointed on November 9, 1954 and served until the early 1960's.  His responsibilities included advising the Department staff on the Federal Employment Policy for assuring equal opportunity employment.(7)
Leslie N. Shaw
Leslie Shaw was the first African American postmaster in a major American city. He was appointed on October 1, 1964 as Postmaster of the Los Angeles, California, Post Office.(8)
Ronald B. Lee
Ronald Lee was the first African American to be appointed Assistant Postmaster General, when he was appointed APMG of Planning and Marketing in 1969 by Postmaster General Winton M. Blount.(9)
Emmett E. Cooper, Jr.
Emmett Cooper was the first African American to become Regional Postmaster General. He was named Eastern Regional Postmaster General in 1977.(10)
Bonnie F. Guiton
Bonnie Guiton became the first African American woman member of the Postal Rate Commission on December 15, 1985.(12)
George E. Johnson
George Johnson was the first African American governor of the Postal Service. He served from 1971 until 1974.(12)