"Nobody ever notices postmen somehow."
–G.K. Chesterton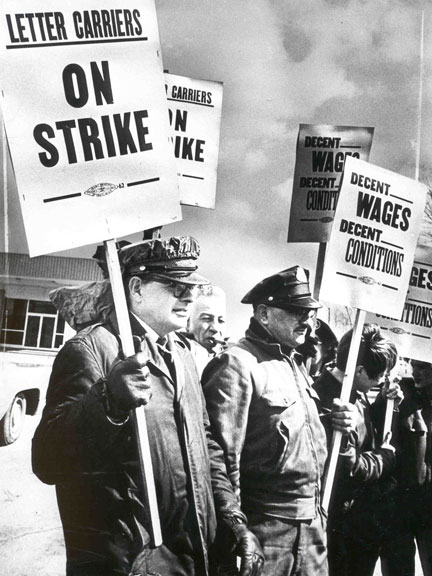 The 1970 postal strike began as a wild cat strike called by local New York leaders of the National Association of Letter Carriers (NALC). It began on March 18, 1970(1) and led to the first national postal stoppage in U.S. history. Approximately 200,000 workers participated in the strike. It was the first and largest walkout ever against the Federal Government.(2)  The strike led to emergency negotiations between management and national postal unions. As a result, postal workers receive the largest pay raise in postal history. Nor did striking postal workers received any penalties for their actions.
The strike began in New York City, and by the end of the week grew to involve postal workers from more than 30 major cities.(3)  Uniformly low wages were cited as the crucial issue. The workers argued for increased salary and retirement benefits, among other things.
The effects of the strike were far reaching. At the time of the strike the postal service handled approximately 270 million pieces of mail daily. Everything from personal letters to draft notices were sent through the mail. One side effect of the strike and the inability of the New York draft board to mail out notices was that approximately 9,000 New York men had a temporary reprieve from the draft. Another government branch was about to run into problems as well. The nation's 1970 census questionnaires were scheduled to be mailed out. In an effort to get the mail moving again, President Nixon called in the National Guard to help process mail in many major city post offices.(4)