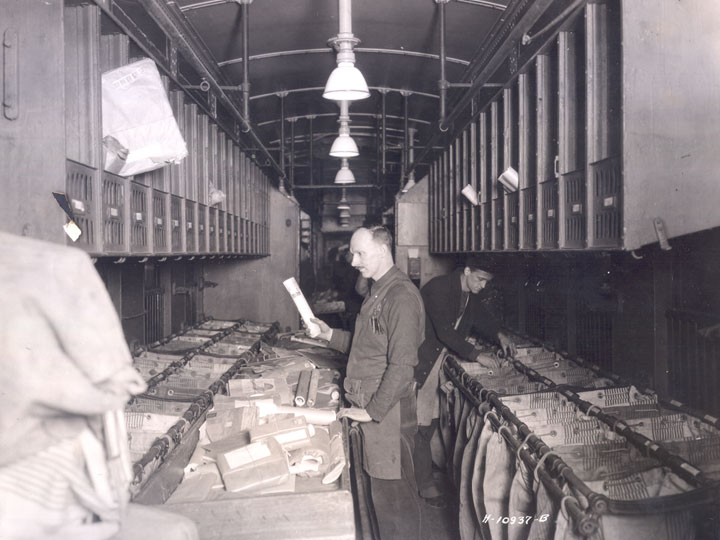 RPO clerks at work, package mail in foreground.
The turn of the 20th century brought more changes for the Railway Mail Service. The railway post office clerk's life was considered "one filled with risks," as acknowledged by the Second Assistant Postmaster General.(1) Clerks frequently encountered train wrecks, falls, derailments, fires, and robberies. One of the more prominent safety hazards were the wooden cars. A simple spark could ignite a blazing fire. The wooden framed cars provided no protection against flames, adding and, in the fact were little more than kindling as they were filled with bags of mail.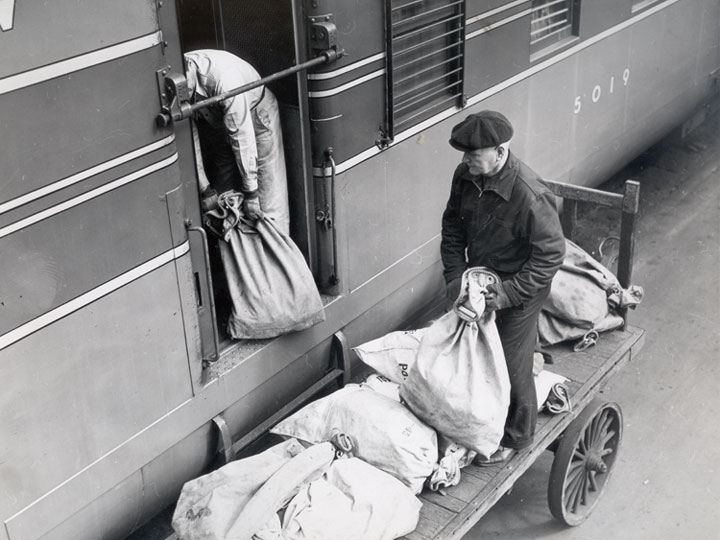 Loading mail at terminal depot to RPO car, cir. 1955
On January 1, 1913, the Parcel Post Act was ratified. It offered a new way to send large objects through the mail. Within its first five days of activity, four million packages were handled by 1,594 post offices nationwide. Eventually, strict regulations had to be set up to restrict what could or could not be sent after people attempted to transport unconventional packages. One couple in 1914 could not afford the train fair for their four-year old daughter to visit her grandparents, so they tacked the grandparents' address on the child and sent her by way of the Railway Post Office for the cheaper rate of 53-cents.
Listen to former RPO clerks Donald Bresland talk about transporting one of the more common parcels – baby chicks! Also, hear John Liszewski talk about his surprise when he realized what he was transporting one day: