Air Mail Service Began:
February 12, 1920
Air Mail Service Ended:
March 30, 1920
Assignments:
College Park, Maryland
March 15, 1920 – Newark, New Jersey
March 20, 1920 – Bellefonte, Pennsylvania
Pilot Harry Sherlock's Air Mail Service career was cut short by a crash at Heller Field in Newark, New Jersey. Prior to that incident, Sherlock had come face to face with the strict, unforgiving rules of Second Assistant Postmaster General Otto Praeger's management. The pilot was penalized 10 flying hours for what was termed "poor judgment in making landing at College Park on March 11, 1920." Sherlock was told at that time that "this matter will be given consideration at the time [you are] up for first promotion."
On March 30, 1920, Sherlock was flying de Havilland #72 from Bellefonte, Pennsylvania to Newark, New Jersey. His airplane was sighted around 2:45 pm at 3,000 feet, according to an official report after the crash. "Pilot circled field once to lose altitude and had about hundred fifty feet altitude over Tiffany's factory, at the east end of field and was gunning motor preparing to make a landing, hitting stack directly in center of motor at a speed of about eighty miles per hour. Ship collapsed and nosed down between fence and concrete cupale, wrecking ship completely. Pilot Sherlock was carried out by the boys of the field, assisted by men from the factory and died being carried from ship to dispensary of that factory. Being present at the coroners visit was informed that he had a broken nose, broken neck, broken jaw, both collar bones broken and three ribs shattered over the heart."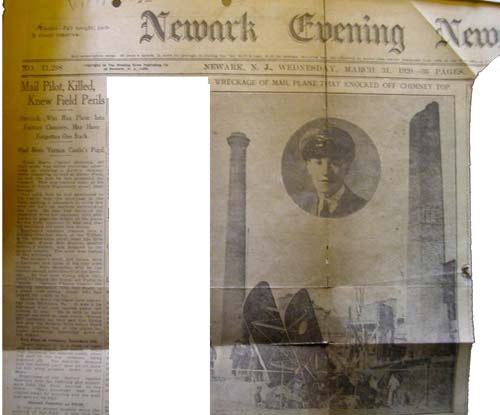 On March 31, 1920, the Newark Evening News front page story was this tragic, fatal crash of Harry C. Sherlock into the tower of the Tiffany plant.
- Courtesy of the National Archives and Records Administration
Sherlock's grieving mother wrote to Praeger, speaking for her son and other airmail pilots when she complained about the wretched conditions of Heller Field and the lack of condolences from postal officials to her on her son's death.
"We have waited word from Washington to see what you intended doing in this matter but up to this date, have not heard from you, neither have we received one line of sympathy from your Department.

"As everyone seems to know, the approach to Heller Field is a death-trap for aviators and we feel we would like to see that Field discontinued for the safety of future Air Pilot's lives, even though we have lost our own son through someone's disgraceful neglect. Sunday afternoon, we were over at the Field and we are of the opinion that it is a most unappropriate [sic] and dangerous landing place for any Aviator, no matter how expert he might be as a flyer and we feel that it is just a miracle for any pilot to land safely."

"It seems very dreadful that Pilot Sherlock should have gone through the War safely and then to have met his death in this terrible way, and more especially on account of the Government allowing such a Field to be used by their employees at this time."

"We feel, therefore, that something should be done to compensate us for this frightful happening and we would be glad to hear from you at your earliest convenience."

Praeger's single page response detailed the various roads to financial compensation Mrs. Sherlock could pursue, and ended with a paragraph expressing his condolences at the death of her son, "while our acquaintance with him was rather brief, nevertheless he endeared himself to all with whom he came in contact by his sunny disposition and pleasant manner."
Praeger's letter did not address a single concern about the dreadful conditions of Heller Field.