Singing a Postal Song
02.25.2013
Blog
By Nancy Pope, Historian and Curator
You might know the lyrics to "Please, Please Mr. Postman," or "Return to Sender," but how about "My Parcel Post Man" or "The Old Postmaster?" Folks have been writing songs about their mail, and what it brings (or doesn't) for more than 100 years. Over the years the museum has compiled a listing of more than 300 mail-themed American songs. The earliest we found was "Mail Line Packet," copyrighted in 1857 by P.P. Werlein & Company. Between then and now, hundreds of songwriters have weaved musical tales of love letters and sad letters, and a wide world of postal dramas.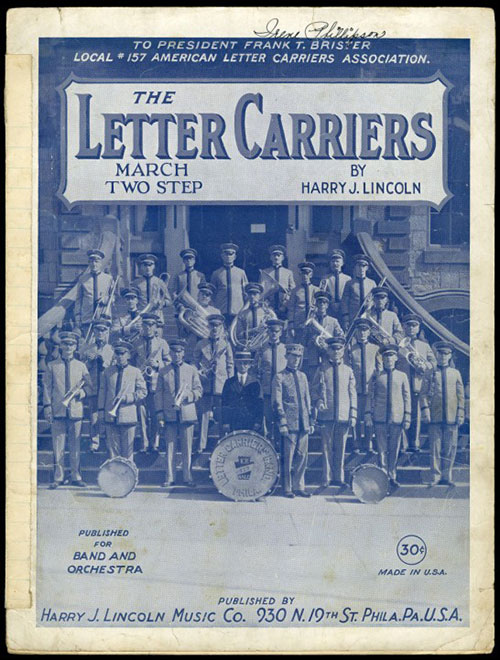 Postal workers have inspired more than a few songs. A Boston, Massachusetts music teacher named John G. Murdock wrote "The Letter Carrier's Grand March" in 1874. Letter carriers received another music tribute when a prolific musician and teacher, Harry J. Lincoln of Philadelphia, wrote "The Letter Carriers March and Two Step" in 1926. The museum has a copy of Lincoln's sheet music for this piece in its collection.
The year 1881 must have been a hard one for older Americans. Two songs were published that year urging more letter writing. A.W. Filson's "Write the Old Folks at Home" and the slightly more pleading "Write to the Sad Old Folks at Home" by Robert Hornung and Theodor Wolfram.
The Post Office Department's brand new free rural delivery system inspired M.C. Bales to write the "Rural Mail Route Waltz" in 1902, the year that Rural Free Delivery became an official service. And a couple of decades after America's flying mail service began Jimmy Mundy and Benny Goodman set America swinging to their "Air Mail Special"
But aside from a song here or there touting the postal system or its employees, the bulk of America's postal songs have focused on what was most important to the people – the mail itself. Songs of gratitude for good news delivered by mail are side by side to ballads of despair for the letter that wasn't written. Max Sturm's mournful 1886 song "Letter That Never Came" expressed sorrow at not receiving a letter from a loved one. Sorrow that would find itself put into song again a half a century later in Frankie Brown's "No Letter Today."
From joy to sorrow, from wondering if a letter will ever come, or wondering what it will say when it gets there, musical mail songs have been created using a wide range of musical styles. From marches to ragtime, swing to pop, songwriters have used the innate drama of the pause before opening a letter, or the wait for the carrier's footsteps outside the door to see if someone was thinking of you as the backdrop for stories of mail's role in our lives.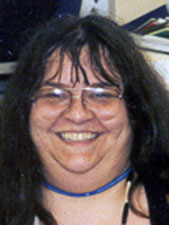 About the Author
The late Nancy A. Pope, a Smithsonian Institution curator and founding historian of the National Postal Museum, worked with the items in this collection since joining the Smithsonian Institution in 1984. In 1993 she curated the opening exhibitions for the National Postal Museum. Since then, she curated several additional exhibitions. Nancy led the project team that built the National Postal Museum's first website in 2002. She also created the museum's earliest social media presence in 2007.