The 17th Maynard Sundman Lecture
Yamil Kouri Jr.: U.S. Military Mail During the War with Spain - 1898
ELLIOT GRUBER: Good afternoon, or depending on where you are joining us from, good morning or good evening. I am Elliot Gruber, and I am the director of the Smithsonian National Postal Museum. Thank you for joining us today for our first virtual Sundman Lecture. As you may know, the postal museum, along with many other Smithsonian museums, has been closed since the start of the pandemic, but as soon as the postal museum safely reopens, and when you are comfortable traveling, I hope that each and every one of you will visit us this coming year.
It is now my honor to introduce Don Sundman. Don Sundman is president of Mystic Stamp Company. He serves as the chairman of the National Postal Museum's Council of Philatelists and is one of the museum's greatest supporters. He and his brother David established the Maynard Sundman Lecture Series in 2002 to honor their father Maynard. Maynard Sundman began collecting stamps in 1927, and at the age of 19 started his first philatelic business selling stamps through the mail. His passion for stamps continued throughout his lifetime. The lecture series allows the Sundman family and the National Postal Museum to share this passion with a broader audience by featuring talks by authors and expert philatelists. And now, it is my honor to introduce Don Sundman.
DONALD SUNDMAN: Thank you, Elliot. I'm Don Sundman, and I'm excited that you're here today, and welcome to the 17th Annual Maynard Sundman Lecture. Maynard Sundman was my father and, as Elliot was saying, he started Littleton Stamp Company in 1945, after his army discharge. He was in the service for World War II. He loved stamps his entire life, and loved collecting, and he was also an advertising pioneer. And so, he combined his love of stamps with his talent to reach a wide audience. And he introduced the fun of collecting to millions of Americans. And that's why my brother David and I are so proud to honor him with this lecture and to bring Yamil's story to a larger audience. So, thank you for coming today.
SUSAN SMITH: And let me join my welcome to those of Director Gruber and Donald Sundman. I am Dr. Susan Smith, the Winton M. Blount Research Chair. I am sorry that we were unable to meet in person and would like to let you know a bit about today's set up. This is a webinar. As such, members of the audience will not have use of their microphones or their cameras. Please put questions into the Q&A box, and I will read them to the presenter after his talk, grouping them when appropriate. We will go through as many of the questions as possible before 5:00 PM. If you are asking about a specific slide or image, please provide enough information to enable Dr. Kouri to identify it. And please note, this lecture is being recorded and will be available on the postal museum's website in the future.
It is now my distinct pleasure to introduce today's speaker, Dr. Yamil H. Kouri, Jr. Yamil Kouri became a stamp collector at the age of eight. He has been active in multiple aspects of philately at the local national and international levels, including exhibiting, judging, writing articles and books, organizing an annual postal history symposium, serving in leadership positions in organized philately, and representing the United States as a commissioner and multiple international exhibitions and as vice president of the Inter-American Federation of Philately. He is a Fellow of the Royal Philatelic Society of London and member of the European Academy of Philately and the Spanish Academy of Philately. His list of philatelic honors is long, and these last two years have been particularly illustrious. In 2019, the U.S. Philatelic Classics Society named him its distinguished philatelist and his exhibit, "The First Postal Issues of Spanish Antilles," won the Champion of Champions Competition. In 2020 he was invited to sign the Roll of Distinguished Philatelists in the United Kingdom, and he received the American Philatelic Society's Luff Award for exceptional contributions to philately.
His talk today is based on his most recent book, Under Three Flags, The Postal History of the Spanish Cuban American War. It won the American Philatelic Society Literature Grand award in 2019. He is the chairman of the Spellman Museum of Stamps and Postal History Board of Trustees and Vice President of Boston 2026 World Expo. When not involved with stamps or family events, he works as an oncologist and hematologist in the Boston area. National Postal Museum is honored that Dr. Kouri has joined us today as the 17th Maynard Sundman lecturer. His talk is titled, "U.S. Military Mail During the War with Spain, 1898." Yamil.
YAMIL KOURI: Thank you very much, Susan. And it's an honor to have been invited to deliver the annual Sundman Lecture, which will deal with the mail of the U.S. military during the Spanish-American War in 1898.
This war perhaps is not well-known amongst most people. It has been dubbed the, the "Splendid Little War," because it lasted only three and a half months and because its cost in both financial terms and the human cost was relatively low. However, the impact that it has, it had was tremendous not only for Spain, the losing party, who - which after 400 years in the New World, lost the remaining possessions it had in the Americas, but also for the United States that was launched into the international scene. And this was the beginning of the American territorial empire. This is an extensive subject. I'm going to touch upon some of the highlights.
Essentially, this war was about Cuba. Since the early 19th century, four American presidents have attempted to buy Cuba from Spain, beginning with Thomas Jefferson, who only a few years after the Louisiana Purchase in 1803 offered Spain seven times the amount he paid for the Louisiana Purchase. Louisiana Purchase doubled the size of the United States. Cuba is barely the size of the state of Florida, but it's difficult for us to comprehend the importance that sugar had at that time. It was such a valuable commodity that Cuba was the richest colony in the world. Eventually, the U.S. investment in Cuba throughout the 19th century increased exponentially. There were millions of dollars invested in mostly sugar mills, but also on tobacco plantations. The underlying currents in Cuba towards the end of the 19th century were as follows:
In early 1895, the Cubans started the war of independence from Spain. There were about 30,000 insurgents in the islands, half of which did not have firearms. They used the most primitive weapons. The world was orchestrated by the Cuban Revolutionary Party operating from agencies abroad. The headquarters actually were in New York city. And the Cubans operated a - their own independent postal system, both within the island of Cuba and outside.
I'm showing a letter here that was sent by the Cuban Revolutionary Party from Key West, franked by a Cuban "government in arms" stamps, stamp paying for the postage between the United States and Cuba. This letter was sent to New York where it was handled by the Cuban delegation and then was sent to Cuba in a clandestine fashion, which was the, the way this mail system operated. I was showing this slide, this slide showing this cover sent from Key West via New York to Cuba. The Spanish responded with force; in the three and a half years of this conflict they sent about a quarter million troops to Cuba. By some estimates, it was even more. They were joined by thousands of more Cuban volunteers that were loyalists to the Spanish cause. Over the years, more than 46,000 Spanish soldiers died in Cuba, mostly from diseases. By the time this, the U.S. joined this conflict, the Spanish treasury was depleted. This is a letter sent by a Spanish soldier from Cuba to Spain. They enjoyed free franking privileges. It was posted in a military command post and transferred by the regular civilian postal service to Havana and then to Spain.
This slide is a little bit busy, but it's a fundamental part of the story. By early 1898, Spain tried to appease the Cuban insurgents and offer the island political autonomy. This was a little bit too little, too late. The Cuban insurgents wanted nothing more than nothing less than full independence. But also, it irritated the, the large segment of the loyalist population, mostly in Havana. And there were multiple anti-Spanish government manifestations in Cuba, predominantly in Havana, but also there were anti-American demonstrations because the U.S. was seen as a sympathizer of the Cuban revolution and the Cuban fight for independence. So, in 1890 - in February of 1898, the U.S. Consul General in Havana, Fitzhugh Lee a southerner from Virginia, nephew of former Confederate General Robert E. Lee, following one of these anti-American manifestations became alarmed and cabled Washington requesting the presence of a U.S. battleship in Havana to protect the American interest. Washington cabled Key West, they dispatched the USS Maine, it was captured here arriving in Havana on January 25th. By the way, two days later Consul Lee realized he overreacted and cabled Washington to stop them from sending the battleship, but it was too late. The battleship arrived in Cuba without the knowledge of either Fitzhugh Lee or the Spanish authorities. So, it caught everybody by surprise, and it did nothing to improve the relations between the two nations.
This letter was sent by a John Maza, a coal passer aboard the USS Maine. It was carried by another ship in a private bag into Washington D.C., where it entered the U.S. mail and the stamp was canceled. A few weeks after the arrival in Havana, the USS Maine blew up under mysterious circumstances. And John Maza, unfortunately, was one of the 268 officers and sailors who perished during the explosion. This is a photo of Arlington National Cemetery, the Spanish-American War section. This is the monument to the USS Maine. John Maza's name is engraved on the side of these monument.
The first postal consequence of the war, by the way, there were a number of diplomatic failures and on April 24th, Spain declared war to the United States. The following day, the U.S. did the same thing. The first postal consequence was the interruption of mail between the U.S. and Spain and its possessions. Four American cities used specific markings for this type of interrupted mail. I'm showing three of them here. This postcard was sent from Guatemala to Madrid. It was intercepted in New Orleans. This letter was sent from Australia to Cuba; in San Francisco had received this marking indicating that the mail could not be delivered because of the war. The cover on the bottom was sent from Philadelphia to Santiago de Cuba also detained in New York. New York used two different types of labels for these types of correspondence and two markings later on. The other city that used a label was Boston, which I'm not showing here.
The second postal consequence of this conflict was a concession that the U.S. post office gave to the U.S. military members, soldiers, sailors, Marines, and later on other people associated with the military service. The concession was a very simple, they, they, eliminated the penalty on, on, on, short paid or unpaid mail, which was double the deficit. They were allowed to send their mail unpaid without any penalty. And they extended the domestic postal rates for mail to the troops deployed abroad. Instead of the 5-cent international fee, it was only 2 cents. Later on, they required that these letters were endorsed by either officers or chaplains or surgeons, but this practice started earlier. This is a letter that I'm showing from one of the large federal military camps, Camp Alger in Northern Virginia. It was sent without postage. And because of the volume of correspondence was so huge, some of the officers, and in this case, a chaplain devised a handstamp to expedite endorsing these letters.
The second - I'm sorry, the U.S. Navy at that time was not very powerful, in fact, there were half a dozen Latin American countries that had a bigger navy than the United States, but in March the U.S. Congress, anticipating a conflict with Spain, passed an emergency funding of $50 million to shore up the Navy. 133 vessels were purchased, and another 28 vessels were transferred from other entities to, from other agencies to, the Navy. And the naval personnel was doubled to more than 2000 officers and more than 24,000 sailors.
I'm showing a few examples of naval mail. The letter on the top was sent from the USS New Orleans. This ship was, this battleship was originally a, an armored cruiser but operating in the Brazilian Navy that was purchased by the United States. It was postmarked in Key West. Most of the mail from the Atlantic squadron and the West Indies Squadron was processed in Key West. They led the two letters on the bottom were sent unpaid. The first one, the one on the left was sent from the USS Resolute, but carried into Key West by the USS Nashville and charged 2 cents postage due. This one was sent from a ship stationed in Guantanamo Bay, Cuba.
The first act of war was the naval blockade of Cuba, which was made retroactive to April 21st. There were strict international guidelines to make a blockade legal. The, the country imposing the blockade had to have the capability to blockade those ports. And it had to declare which ports were being blockaded. The US Navy did not have the number of ships necessary to do so, o, initially the blockade only included several ports in the northwest part of the island.
YAMIL KOURI: I'm showing a cover here which is the only one known captured during the blockade. It was being carried by a Spanish coastal steamer, the Argonauta, which I show here, along the southern coast of Cuba when it was detected by a number of American warships and eventually captured by the USS Nashville. The previous slide showed a cover carried by the USS Nashville. This letter has a manuscript notation that indicated that it was given to the military government of the island by the U.S. Army on the 3rd of June of 1898, it was addressed to the U.S. - to the German Imperial Consul in Santiago de Cuba. This was, by the way, the, the biggest war prize in the Spanish American War was a capture of this steamer.
The U.S. Army was completely unprepared for this conflict. Before, just before the war, it only had 28,000 regular troops - about a tenth of the troops that were present in Cuba, the Spanish troops that were present in Cuba, alone. The national guard had about 115,000 men. There was no- nobody had any idea of how many men were needed for this conflict or, or and how long were they needed for. So, the initial call by McKinley was for 125,000 volunteers at the end of April. A month later, he asked for another 75,000 men. Well, the enthusiasm was so high that more than a million men answered the call. most of whom had to be rejected. By the end of the war in August of 1898, the U.S. Army had the more than doubled to 60,000 regular troops. And there were 216,000 volunteers that had enlisted to fight against Spain.
What happened with all of these men, where do you put them? Well, the initial move was to establish local and regional camps within states. There were hundreds of camps, more than 300. Every state had at least one, nearly all the territories had at least one camp. They were very short lived and they not - some of them didn't even have a formal name. They did not use their own postmarks. The mail was canceled at the nearby town. I'm showing two covers here from, one from Springfield, Illinois, another one from Columbus, Ohio. All of the soldiers in these camps were either members of the national guard or had volunteered for the conflict. Most of the soldiers were transferred as of early May to the large federal camps that were established later on. Some of these camps were later on used again as demobilization camps. But the reality is that most of these troops never saw any action during the conflict.
There was widespread paranoia about the possible attack of the Spanish along the east coast, fanned by some of the sensational -sensationalist newspapers. So, a number of coastal defenses were fortified with several camps to, to aid in their defense. I'm showing two covers here from Massachusetts. The one on the top was sent from a soldier stationed in Stage Fort in Gloucester. This is where the Massachusetts Bay Colony was founded in the 1600s. The one on the bottom is from Fort Rodman in New Bedford, Massachusetts sent unpaid. This fort is still open and is now a museum that can be visited, it's very nice.
After the initial local and regional military camps, the army decided to house the soldiers in very large federal camps. They had one or more army corps. There were eight of these camps. Most of the soldiers were assigned to the first five camps. The sanitary conditions were fairly poor. This was an improvised small city, so to speak, and there were many casualties, many sick and, and dead soldiers due to disease in these camps.
It's important to mention the important role of the YMCA in facilitating soldiers' correspondence during this conflict, since the, the end of April the YMCA became involved and it's it sent a number of volunteers to work in these camps. They were called secretaries. More than 500 were deployed. The YMCA established more than 200 tents in 64 camps. They offered Bibles, music, reading and, of course, writing facilities. They donated writing stationery and envelopes. The central office of the YMCA alone donated more than two and a half million envelopes for which they are still fairly common. You can see them in the market. In one of the camps in San Francisco they also donated stamps. I'm showing a, a contemporary photo of one of those tents and on the top right you see an, a printed cover showing one of those tents on a, in a camp from Pennsylvania.
The federal military camps housed most of the soldiers and the vast majority of the correspondence sent from soldiers in the United States come, comes from these camps. The largest one by far was Camp Thomas in Northwestern Georgia in the Chickamauga Battlefield from the Civil War, named after the nickname the Rock of Chickamauga, George Thomas, was a union officer that had a distinguished participation in the Battle of Chickamauga. The average census in this camp was 47,000 soldiers. This is, this was the size of a medium city in the United States at that time. More than 69,000 volunteers passed through this camp. More than 7,000 regular soldiers were stationed there. It was open between May and September of 1898. It was a sprawling camp, occupied more than 12 square miles. It was so large, that it needed three separate post offices to handle the mail from the troops. I'm showing a couple of examples of, of mail from the troops. The one on the top right, has a cancellation nickname, known as a "skeleton" postmark. It had movable characters. There were several different types of these used in this and other camps. And the letter on the bottom is an unusual example of registered mail sent from this camp.
Just to give you an idea of the, of the magnitude of the task of handling mail from the troops two 60-foot train cars were required to handle mail from Camp Thomas, one for incoming, and one for outgoing correspondence. In order to pay for this, the Congress passed a $50,000 military postal service bill. It provided for additional collection to the nearby post offices, which operated in the beginning. The post offices in, in Chattanooga and now defunct town called Lytle, Georgia got 18 new postal clerks. They had to work up to 18 hours a day and this slowed down once the post offices within the camp opened. These post offices employed 20 employees. They used at least seven different postmarks. And in order to distribute mail within each regiment and company, chaplains were appointed regimental postmasters. They were aided by corporals and soldiers and, when they were not in use, they used ambulances to carry the loads of mail. This picture shows some of the mail sacks sent by the troops. To give you an idea of how busy they were, the first weekend when it opened they handled 80,000 letters, but at the peak of activity the, the amount of letters reached 320,000 a day, out of which 1,200 were registered letters which were much more time consuming. Mail was delivered to the troops twice daily. And they also offered money order business.
YAMIL KOURI: After the federal camps, some of these soldiers were sent to embarkation camps. The largest one by far was Tampa, then a city of 26,000 inhabitants, which was overwhelmed by the number of troops sent to Tampa. More than 48,000 troops, 27,000 of which ended up going to Cuba. And this was supposed to be a quick stop, but there was a lot of indecision on where to invade Cuba, so they were held there longer than they should have, from May to July of 1898. The problem with Tampa is that it did not have the facilities to handle this, this, this flood of, of people. One of the biggest problems about that that as you can see in this illustration here, there was a single railroad track going to the piers. The backlog of, of, the trains reach all the way to Columbia, South Carolina; it was unbelievable. This illustration here shows some of the camps that - some of the seven camps in and around Tampa - that, that the house, the, the troops. If we use one word to describe what was going on in Tampa, "chaos" comes to mind. The photo on the lower left shows an example of how busy things were. Food was spoiled in the hot summer sun inside the cars without being unloaded. It was not properly marked. On the right of this photograph, you see the transports that have the numbers on the side, but it was really disorganized and chaotic. The U.S. Army learned a lot about the logistics of moving troops after this fiasco.
Mail from this embarkation camp was handled by the local post offices. They did not have any specialized markings or postal facilities. The illustration on the lower right showed the tent that was used as a postal facility to handle through mail that was sent to the local post offices.
Here you see two examples. One cancelled in Port Tampa on the top right, which was a separate city from Tampa. They only, the other one on the lower left was cancelled in Tampa. And it shows one of the envelopes donated by the YMCA that I mentioned earlier. There were other smaller embarkation points, but Tampa was by far the largest.
I'm showing here on the top right a stereo view of one of the 59 transports that the army used to send the troops to Cuba and other places. There were a lot of transports employed by the U.S. Navy, as well as hospital ships that mostly brought troops back from Cuba to the United States. The troops were completely crammed. As an example, this, this illustration of the fort on the right shows the USS Yucatan that carried the, the famous Rough Riders to Cuba. Well, the, the Rough Riders was a cavalry regiment but there was no room for the horses. So, with the exception of a few horses for the top officers like, like, Leonard Wood and Teddy Roosevelt, this became essentially an infantry unit. There's very few letters known, written on the transports for the conditions that I've mentioned. The ones that are known are, were written on onboard the transports on the way back to the United States from Cuba, like the examples shown on the bottom of the slide.
Once the Spanish squadron was found to be hiding in Santiago, as you see here in the southeastern part of Cuba, the port of Santiago was blockaded by the U.S. Navy. And it was decided that the invasion would take place around Santiago. The main, the initial site for the landing was the town of Daiquiri and now a famous word in, in known all over the world. The, the drink Daiquiri was named after this little town. The main, the landing started on the 22nd and 23rd of June. Close to 30,000 American troops landed initially in Daiquiri and as the Spanish troops retreated into Santiago the front moved to the west. The second embarkation point was the hamlet of Siboney, a little bit west a few miles west of Daiquiri.
I show here two letters. The one on the top right, was sent by a sailor onboard the USS New Orleans, the same ship that was purchased from the Brazilian Navy. It was a support ship helping the, the landing of troops. It was sent unpaid and charged postage due. The card on the left was sent from Siboney, a soldier describing the conditions waiting to land. This letter has some stains and - indicating that it was very likely disinfected. There was a yellow fever epidemic that arose in Siboney leading to disinfection of, of the correspondence.
Once the landing took place, the first military postal station in Cuba, the U.S. Military Postal Station, was established in the town of Daiquiri. This is the building where the U.S. military postal station was established. It used to be run by, it used to be the headquarters of the Spanish American Iron Company, but all the employees fled once the bombardment of the outskirts of Daiquiri took place. It opened for business on the 25th of June but it was overwhelmed by the volume of mail. So, the initial correspondence, as illustrated by this cover on the top right, was simply bagged and shipped to Key West where it was processed by the U.S. mail. After that in late June, it started using, using this two-line marking "United States Post Office, Military Station Number One, Cuba." It didn't specify the town because it was not known where it would be located. After a few days, this post office was moved to Siboney, closer to Santiago, and this cover on the right on the bottom right was sent from Siboney to Pennsylvania with the same postmark applied in black.
The decisive battle of the war took place on July 3rd, 1898. The Spanish fleet left Santiago Harbor on a suicide mission. It was completely destroyed by the U.S. Navy. Nearly 1,900 Spanish were captured and sent to camps in the United States. The top officers shown on the photo below were housed at the U.S. Naval Academy in Annapolis. The main officer, Admiral Pascual Cervera, is sitting here in the center. The letter on the lower left was sent by Cervera to his wife. It was censored and handled by the POW department in the Navy in Washington, D.C. The letter on the top right was sent from New York to a seaman aboard, aboard the USS Yankee, this ship was involved in the, had a prominent part in the battle of Santiago de Cuba. It was forwarded at the Brooklyn Navy Yard.
And after the, the naval battle of Santiago de Cuba, the Spanish lost a number of battles outside of Santiago, in San Juan Hill, Kettle Hill, El Caney. And the U.S. troops surrounded and besieged the city of Santiago. The cover on the top right shows the first type of duplex marking used in Cuba. Again, doesn't specify the location, just says "Cuba" because it was not known where it would be located and it was sent unpaid to Brooklyn. Once the city capitulated on July 17th, the U.S. military station was moved into the old Spanish post office on July 21st. And the armistice was signed on August 12th, effectively ending the war. The first mail from Santiago, the first American mail from Santiago, was canceled by two captured circular day stamps. One rimless marking that reads "Santiago de Cuba, Isla de Cuba", the other one with a rim. These are two letters sent by American soldiers back to the United States.
YAMIL KOURI: Perhaps the best-known individual, American, participating in the war was Theodore Roosevelt, who prior to the war was the Assistant Secretary of the Navy. And at the moment the war was imminent he quit his post and volunteered and got an appointment as Lieutenant Colonel in the first U.S. Volunteer Cavalry Regiment, best known as the "Rough Riders." He spent six weeks in Cuba which literally made his political career. Later this year, he became - later in 1898, he went back to New York State and became governor of the state. Two years later, he became vice president of the United States, and a year later or so with the untimely death of William McKinley, he became the youngest president ever of the United States.
On the lower left you see an iconic picture of Roosevelt, here in the center, at the top of San Juan Hill after the decisive land battle that ended the Spanish resistance around the city, and the cover on the top right is the only letter that I have seen in many years sent by Roosevelt while in Cuba. It was sent unpaid. You see the captured Spanish canceler partially struck on the right and it was endorsed by himself "Soldier's Letter, T. Roosevelt, Colonel 1st U.S. Volunteer Cavalry."
Shortly after the war, there - the U.S. military established 39 numbered postal stations along the island. The Santiago de Cuba is shown here in purple. In December the - the stations established in December are shown in red. A number of additional stations established in January are shown in orange. And the rest of the stations in yellow were established in February. But at the end of February it was decided to transfer control of these stations to the civilian administration because it was already - they were already handling both military and civilian correspondence.
This is perhaps in my view, the most fascinating aspect of the Spanish-American war mailed from the military postal stations. In my book alone, I, I, the, the chapter, this chapter is more than 90 pages long. There were literally hundreds of markings, very diverse, fascinating correspondence. They were used not only during the period of military control of these stations, but during the civilian control. And they were used sometimes for many years, some of them were modified the cover on the bottom right shows one of these modified postmarks, the words, "Military Station Number 11" and New York Post Office on the bottom were eliminated. New York - the New York post office was responsible for the military postal stations in Cuba. And one area that is of particular interest to me is the, the military aspects of this conflict which were very important because they led to significant improvements that allowed the major accomplishments like the Panama Canal thanks to the discoveries made during this war.
The cover on the top right shows a caricature of an American soldier saying, "Spaniards our enemy? No!" and it shows a lion with the word "yellow fever" attacking the troops. And that was really the, the major threat. The numbers say it all. The number of deaths that the U.S. troops was the following: from disease more than 5500, in combat only 496, and from wounds only 202 people. So almost 90% of the deaths were from, from disease. This cover on the left shows something that was very common. The troops were in constant movement. This letter was addressed to a nurse in Siboney. By the time the letter got there, the, the nurse had been moved elsewhere. So, it ended up being returned. The cover on the bottom was sent by a member of the National Red Cross in Havana, obviously a philatelic cover showing the entire issue of 1899.
How did the U.S. Army deal with these sick troops? Well, the first move was military hospital ships. They were very well equipped with state-of-the-art surgical facilities, clean beds, very well staffed. The cover on the top left was sent by a chaplain on board the hospital ship Relief sent unpaid. The picture on the top right shows the hospital ship Relief next to one of the transports outside of the town of Siboney. Siboney was the epicenter of the yellow fever epidemic in Cuba. In fact, things were so bad that the drastic measure of burning down the town was undertaken and you can see the town going up in flames. This was obviously a useless measure because it was not a good understanding of the way the yellow fever that yellow fever was transmitted.
On the bottom left I show the photo of the hospital ship Missouri which was very active in Havana. It's flying the Geneva Cross. And it was painted white with a red stripe, identifying it as a non-combatant hospital ship and therefore not susceptible to military action. And on the bottom right I show a cover - very proud to be in Massachusetts, which has been a leader in healthcare since the early 1800s -Massachusetts took the initiative of having a subscription. Newspapers had publicized this, and the citizens of the state raised enough funds to buy a ship outfitted as a hospital ship and buy the supplies. And then they donated it to the U.S. Army. It was the U.S. Army Hospital Ship Bay State that played a prominent role treating the sick and wounded during this conflict.
In the meantime, on land, there were a wide variety of hospitals from primitive hospitals like the letter shown on the right, was sent from a fever hospital a few miles east of Siboney in July. The sender of this letter perished from yellow fever eventually. The one on the top left is a letter from a field hospital in Camp Columbia. This was the largest military installation in Cuba. It housed more than 10,000 U.S. troops that were needed to keep order in the island after the, the end of the conflict. By early August, almost a quarter of the U.S. troops in Cuba were sick with fever, mostly malaria but some with yellow fever, which was a lot more deadly. So, hurriedly, more than 21,000 of these soldiers were quickly evacuated from Cuba to Camp Wyckoff in the eastern tip of Long Island, New York. This camp was chosen because it was far from cities and it had a railroad line leading to it. It was in operation until the end of 1898. It used this postmark of the New York post office, a duplex marking Montauk station, New York. This is the only special delivery cover that I've seen sent from the station. The cover on the bottom right was, has the corner card of the Brooklyn Daily Eagle. This newspaper was very active, and it had a presence in the state camps, the federal camps, some Navy ships in Cuba and lastly, in the quarantine camp in Long Island. I show a picture of Teddy Roosevelt riding his horse, Chestnut, in Montauk Point. Here he was already a celebrity. He met a lot of people, including the famed the illustrator and author, Frederic Remington, a sculptor, I'm sorry, Frederic Remington, who gave him the gift of his, one of his most famous sculptures - a cast bronze statue of the Bronco Buster. And this is another copy that is sitting, as we speak, in the Oval Office in the White House of the famous Bronco Buster.
YAMIL KOURI: As I mentioned early there was a need to keep American troops in Cuba to maintain the order. The largest camp was Camp Columbia, just outside of Havana. Initially it used the postal facilities of the nearby military postal stations. This one in Havana, this one in one in Buena Vista, a suburb of Havana. And later on, the name of the camp was changed to Columbia Barracks and it in 1901 it had its own duplex canceler.
Meanwhile, in the U.S. some troops had to be kept handy for the occupation of the new possessions. Initially, they were housed in winter camps, mostly in the South. What, as this cover shows, it was not always very warm, even in the South. But when it was determined that most of the troops were not going to be needed, they were mustered out in a number of demobilization camps. Nearly 40 of these camps were established also, mostly in the South. This is another illustrated cover sent from one of these camps in Georgia.
And lastly, even though it was a success, there were some unforeseen consequences as or as I call it, the "cost of empire." Coincidentally, the U.S. acquired Hawaii, annexed Hawaii in August of 1898. It got Puerto Rico, which is still a U.S. possession, but it also had the Philippines. The Philippines - like the Cubans, the Filipinos had been fighting against Spain to try to obtain their independence. And when the U.S. took over, the Filipinos started fighting the Americans, also for independence. The Philippine war was not very well publicized or known, but it was an awful conflict with atrocities committed by both sides. It lasted until 1901. More than 4,000 U.S. troops died during this conflict; at least 10 times more Filipinos, both civilians and military, died during this conflict. Also, the presence of - the American presence in Asia was probably a factor irritating the Japanese that probably influenced the actions in the Second World War.
Cuba gained its independence from the United States on May 20th of 1902, but not with some controversy, without some controversy. The powerful Republican senator from Connecticut, Orville Platt, did not allow the ratification of the Cuban constitution until he inserted an amendment called the Platt Amendment that essentially allowed the U.S. to intervene in Cuban affairs for practically no reason. I mean, in fact, the U.S. did intervene in Cuba in 1906. It had a military government until 1909. And even though the Platt Amendment was eventually removed from the Cuban constitution in the 1940s, there was a lot of resentment and that has influenced U.S.-Cuba relations until this day. And this is a very extensive topic. I just wanted to give a broad overview of, of how rich and diverse it is. I'd like to thank the following individuals for their help during preparing this, this talk. And now I'm happy to entertain questions. Thank you very much.
SUSAN SMITH: Thank you so much, Yamil. It's wonderful. When did you start collecting these materials?
YAMIL KOURI: It's in the 1980s, early 1980s.
SMITH: Are there still particular materials that you haven't found that you think are out there?
KOURI: It's, it's fascinating. After the book was published, new items keep being discovered. I just wrote an article in the Cuban Philatelist that, that listed a couple of markings for interrupted correspondence that had not been, been described. So this is the fascinating part of this, even though it has been extensively studied for more than a century - the first collectors of this material as far as we know, the first article on these items appeared in the Cuban literature in 1902 - so people have been collecting and studying it for a while and we still find new, new, stuff. So, this is fascinating.
SMITH: When the Americans arrived in Santiago de Cuba, did any of the Spanish troops switch sides and join the Americans?
KOURI: No, because the, the Spanish were depleted and demoralized. Not that they didn't put up a resistance in Cuba, but it was a foregone conclusion. Everybody knew that Spain was no match for the United States. And in fact, there was a very quick negotiation in August that allowed the Spanish army to leave back to Spain. So, by the end of 1898, almost all the Spanish troops had left Cuba. That's not to say that many didn't stay as civilians - probably between 30,000 and 50,000 Spaniards remained in Cuba. They had married or had settled down and they did not go back to Spain.
SMITH: And in terms of the different types of covers that you discussed today and that you address in your book, are they still relatively easy to find across the board or are certain types of covers - you mentioned a couple, that are more difficult to locate?
KOURI: Yeah. I mean, there's some covers that are common. Some of the covers from Chickamauga, from Camp Thomas, you can still find them at, at the very inexpensive prices. I mean, they were sent in the millions. Some covers for military stations are, I mean, there's dozens of covers that are, are markings that are unique. So, there's a wide range of, of difficulty finding these type of materials.
SMITH: And do you have any correspondence from the San Cristobal, the Spanish destroyer that tried to escape from Santiago?
KOURI: There are, yeah, there's a whole different talk about the Spanish naval mail and the Spanish military mail. I mean, there's, there's diff- literally thousands of different markings from Spanish military units in Cuba. And yes, there are multiple covers of, naval covers from, from the Spanish in Cuba.
SMITH: So, when you find a cover from this war what are the first questions that you're trying to answer about that cover?
KOURI: Well, I mean, I, I tried to put myself in the position. I tried to travel in time to, to the period. I mean, I find this fascinating and this civilian correspondence describing the difficult circumstances they were going through with shortages, with the blockade, with lack of food, with starvation. The soldiers also had, had it very hard. Yellow fever decimated the, the U.S. troops around Santiago de Cuba. In fact, the first postal agent for, for Cuba, Evan Brewer that manned the first U.S. military postal station initially in, in, Daiquiri and later on in Siboney died himself of yellow fever. So I find that the human aspect, the human story is always so fascinating during this conflict.
SMITH: And which tools are most important for determining the biographies of the senders of the recipients? How do you get that information?
KOURI: Well, now it's a lot easier with so many you know, genealogical sites, newspapers, books. In fact, there were dozens of cover- almost every American officer or, or who participated in the in the Cuban conflict, wrote a book on it. So, there's, I collect old books. I mean, I have probably a hundred different books from participants in the, in the war.
SMITH. Okay. And are any of the camps from that war still operating today?
KOURI: Not the camps, but the sites are still preserved. I mean, Chickamauga Battlefield is, it's mostly honoring the Civil War. It was much more meaningful during the Civil War, but there are some remnants of, of the sites during the - that were used in the Spanish American War and that can easily be visited there.
SMITH: Okay. And you had said that the New York postal office was responsible for the post office stations in Cuba. What exactly does that mean?
KOURI: Yeah, there were responsible for providing the postmarks and the military personnel. Washington, D.C. was in charge of Puerto Rico and San Francisco was in charge of the Philippine Islands.
SMITH: Does that also mean that the mail transited through there as it came out of Cuba, but it was sent to New York?
KOURI: No, not necessarily. Most of the mail went to the closest port that that handled the military mail. Initially it was Key West, and then some of the New York ports, you know, in Brooklyn and elsewhere handled some of that mail. In the case of the Philippines, Hawaii, after it was annexed and, and San Francisco handled most of the mail.
SMITH: Okay. You showed quite a few patriotic covers – the preprinted, the illustrated. What types of information are available on the side of the printers? Or the publishers of those covers. Do the archives hold much information for the material you've studied?
KOURI: Not that I have found, but I have found advertisements of, of stationers, or book, or printers, or, or book, or book binders, selling patriotic covers not just to the troops but to the public in general. I mean, there's literally many thousands of different patriotic designs that were used during this conflict. It was such a popular war. This is a generation that grew up listening to stories from the Civil War that never had the opportunity to prove themselves. That's why, you know, more than a million men volunteered, but also there was a wave of patriotism like it hadn't been before. I mean, there was a common enemy and, and the, the, the yellow press, I mean, I didn't get into this, but the yellow press fanned the flames of, of war and influenced the decision to go to war, not just diplomatic failures, but the public opinion influence in this decision.
SMITH: Okay. And which American military personnel had free franking privileges during the war?
KOURI: None.
SMITH: Okay.
KOURI: Just the postmaster, just the post offices, postmasters dealing with post office businesses. But otherwise everybody had to pay from the highest level to, again, members of Congress and the White House and Cabinet, but military-wise, everybody had to pay.
SMITH: And, in regards to the book, which part of the story was the most difficult to write?
KOURI: Well, that's a good question. Probably the Cuban - the scarce, the scarcest material is the Cuban side of the conflict. I mean, so few items, so that's the hardest find. The hardest one to find, because the Spanish is so extensive, I mean far more extensive than the U.S. Again, the Spanish fought in Cuba for, you know, almost four years. The U.S., the conflict lasted for three and a half months. So, it's, it's a much different scale of, of correspondence.
SMITH: You noted in the book that the Cubans fighting for independence published stamps, largely, it sounded like, for philatelists to purchase as a fundraising mechanism? For their efforts?
KOURI: Right…
SMITH: Were there… Sorry, go ahead.
KOURI: I'm sorry. Go ahead.
SMITH: Was there an established community of philatelists in Cuba that might have been holding onto some of these materials from the war, so that there might still be pockets of material just not yet seen, or…
KOURI: No, No, I, I, don't think so. Again, the these, the stamps, I mean, the, the numbers are, are known how many were printed. They were printed in New York and they, they were very popular. There are - many, many collectors in the U.S. and Europe asked for these stamps. They were sold in bulk to dealers at a slight discount, but after the war ended in October of 1898, the, the Cuban treasury took possession of these stamps, tens of thousands of them. And in 1932, they were demonetized officially and, and sold to raise funds for the Cuban veterans' hospitals. So, I think everything has been is out there already.
SMITH: Okay. And you had also mentioned in your book that you were able to do some research with the assistance of the Cuban museum of philately?
KOURI: Yeah. The Cuban Postal Museum in Havana has a wonderful collection. I've been fortunate enough to be able to, to go there twice. They have been very cooperative. They opened their doors and provided me all the material that I needed for my research.
SMITH: Okay. Just to go through the questions here again. So commemorative stamps, in relation to this war.
KOURI: Yeah…I'm sorry, go ahead.
SMITH: Oh, no, that was…are there any?
KOURI: Yes, I mean, there's, by the U.S. and by Spain and by Cuba there's many. The, the most recent one was in 1998 "Remember the Maine," a self-adhesive stamp. But before that there's been stamps honoring the, the Rough Riders, one of the Rough Riders, famous Rough Riders, Bucky O'Neill but also Teddy Roosevelt has been honored. And that's, that's what I remember.
SMITH: Okay. Well, thank you so, so much for this wonderful talk. It's greatly appreciated. And again, for those of you that would like to revisit the talk, it will be available at the Postal Museum's website with the other Sundman lectures and those videos have already been posted, for those earlier. I guess, a big, silent round of applause. Thank you, Yamil. Thank you very much for doing this. It's greatly appreciated.
KOURI: I hope to see you in person soon.
SMITH: Yes. Thank you everybody.
KOURI: Good night.
[Traducción automática]
ELLIOT GRUBER: Buenas tardes, o dependiendo de dónde nos acompañe, buenos días o buenas noches. Soy Elliot Gruber y soy el director del Museo Postal Nacional Smithsonian. Gracias por acompañarnos hoy en nuestra primera conferencia virtual de Sundman. Como sabrán, el museo postal, junto con muchos otros museos del Smithsonian, ha estado cerrado desde el comienzo de la pandemia, pero tan pronto como el museo postal vuelva a abrir de manera segura, y cuando se sienta cómodo viajando, espero que todos y cada uno de ustedes nos visitarán este próximo año.
Ahora tengo el honor de presentarles a Don Sundman. Don Sundman es presidente de Mystic Stamp Company. Se desempeña como presidente del Consejo de Filatelistas del Museo Postal Nacional y es uno de los mayores partidarios del museo. Él y su hermano David establecieron la serie de conferencias Maynard Sundman en 2002 para honrar a su padre Maynard. Maynard Sundman comenzó a coleccionar sellos en 1927 y, a la edad de 19 años, inició su primer negocio filatélico vendiendo sellos por correo. Su pasión por los sellos continuó durante toda su vida. La serie de conferencias permite a la familia Sundman y al Museo Postal Nacional compartir esta pasión con un público más amplio al presentar charlas de autores y filatelistas expertos. Y ahora, es un honor para mí presentar a Don Sundman.
DONALD SUNDMAN: Gracias, Elliot. Soy Don Sundman, y estoy emocionado de que esté aquí hoy, y bienvenido a la 17.ª conferencia anual de Maynard Sundman. Maynard Sundman era mi padre y, como decía Elliot, fundó Littleton Stamp Company en 1945, después de su baja del ejército. Estuvo al servicio de la Segunda Guerra Mundial. Le encantaron las estampillas toda su vida, le encantaba coleccionar y también fue un pionero de la publicidad. Y así, combinó su amor por los sellos con su talento para llegar a una amplia audiencia. Y presentó la diversión de coleccionar a millones de estadounidenses. Y es por eso que mi hermano David y yo estamos tan orgullosos de honrarlo con esta conferencia y de llevar la historia de Yamil a una audiencia más amplia. Entonces, gracias por venir hoy.
SUSAN SMITH: Y permítame sumarme a mi bienvenida a la del Director Gruber y Donald Sundman. Soy la Dra. Susan Smith, presidenta de investigación de Winton M. Blount. Lamento que no hayamos podido reunirnos en persona y me gustaría informarle un poco sobre la configuración de hoy. Este es un seminario web. Como tal, los miembros de la audiencia no podrán usar sus micrófonos o sus cámaras. Escriba preguntas en el cuadro de preguntas y respuestas y se las leeré al presentador después de su charla, agrupándolas cuando corresponda. Revisaremos tantas preguntas como sea posible antes de las 5:00 p. m. Si está preguntando sobre una diapositiva o imagen específica, proporcione suficiente información para que el Dr. Kouri pueda identificarla. Y tenga en cuenta que esta conferencia se está grabando y estará disponible en el sitio web del museo postal en el futuro.
Ahora tengo el gran placer de presentar al orador de hoy, el Dr. Yamil H. Kouri, Jr. Yamil Kouri se convirtió en coleccionista de sellos a la edad de ocho años. Ha participado activamente en múltiples aspectos de la filatelia a nivel local, nacional e internacional, como exhibir, juzgar, escribir artículos y libros, organizar un simposio anual de historia postal, ocupar puestos de liderazgo en la filatelia organizada y representar a los Estados Unidos como comisionado. y múltiples exposiciones internacionales y como vicepresidente de la Federación Interamericana de Filatelia. Es Fellow de la Royal Philatelic Society de Londres y miembro de la Academia Europea de Filatelia y de la Academia Española de Filatelia. Su lista de honores filatélicos es larga, y estos dos últimos años han sido particularmente ilustres. En 2019, la U.S. Philatelic Classics Society lo nombró filatelista distinguido y su exhibición, "Las primeras emisiones postales de las Antillas españolas", ganó el Concurso Campeón de Campeones. En 2020 fue invitado a firmar la lista de filatelistas distinguidos del Reino Unido y recibió el premio Luff de la American Philatelic Society por contribuciones excepcionales a la filatelia.
Su charla de hoy se basa en su libro más reciente, Under Three Flags, The Postal History of the Spanish Cuban American War. Ganó el Gran Premio de Literatura de la Sociedad Filatélica Estadounidense en 2019. Es el presidente de la Junta de Síndicos del Museo de Sellos e Historia Postal Spellman y vicepresidente de la Exposición Mundial Boston 2026. Cuando no está involucrado con sellos o eventos familiares, trabaja como oncólogo y hematólogo en el área de Boston. El Museo Postal Nacional tiene el honor de que el Dr. Kouri se haya unido a nosotros hoy como el 17º disertante de Maynard Sundman. Su charla se titula "Correo militar estadounidense durante la guerra con España, 1898". Yamil.
YAMIL KOURI: Muchas gracias, Susan. Y es un honor haber sido invitado a dictar la Conferencia Sundman anual, que tratará sobre el correo del ejército estadounidense durante la Guerra Hispanoamericana en 1898.
Esta guerra quizás no sea muy conocida entre la mayoría de la gente. Ha sido apodada la "pequeña guerra espléndida", porque duró solo tres meses y medio y porque su costo, tanto en términos financieros como humanos, fue relativamente bajo. Sin embargo, el impacto que tuvo fue tremendo no sólo para España, la parte perdedora, que -que después de 400 años en el Nuevo Mundo, perdió las posesiones que le quedaban en América-, sino también para Estados Unidos que fue lanzado a la escena internacional. Y este fue el comienzo del imperio territorial americano. Este es un tema extenso. Voy a referirme a algunos de los aspectos más destacados.
Esencialmente, esta guerra fue por Cuba. Desde principios del siglo XIX, cuatro presidentes estadounidenses han intentado comprar Cuba a España, comenzando con Thomas Jefferson, quien solo unos años después de la Compra de Luisiana en 1803 ofreció a España siete veces la cantidad que pagó por la Compra de Luisiana. Compra de Luisiana duplicó el tamaño de los Estados Unidos. Cuba apenas tiene el tamaño del estado de Florida, pero nos cuesta comprender la importancia que tuvo el azúcar en esa época. Era un bien tan valioso que Cuba era la colonia más rica del mundo. Eventualmente, la inversión estadounidense en Cuba a lo largo del siglo XIX aumentó exponencialmente. Se invirtieron millones de dólares principalmente en ingenios azucareros, pero también en plantaciones de tabaco. Las corrientes subyacentes en Cuba hacia fines del siglo XIX fueron las siguientes:
A principios de 1895, los cubanos iniciaron la guerra de independencia de España. Había alrededor de 30.000 insurgentes en las islas, la mitad de los cuales no tenían armas de fuego. Utilizaron las armas más primitivas. El mundo estaba orquestado por el Partido Revolucionario Cubano operando desde agencias en el exterior. La sede en realidad estaba en la ciudad de Nueva York. Y los cubanos operaron su propio sistema postal independiente, tanto dentro como fuera de la isla de Cuba.
Aquí muestro una carta que fue enviada por el Partido Revolucionario Cubano desde Cayo Hueso, franqueada con un sello cubano de "gobierno en armas", sello que pagó el franqueo entre Estados Unidos y Cuba. Esta carta fue enviada a Nueva York donde fue manejada por la delegación cubana y luego fue enviada a Cuba de manera clandestina, que era la forma en que operaba este sistema de correo. Estaba mostrando esta diapositiva, esta diapositiva que muestra esta portada enviada desde Cayo Hueso vía Nueva York a Cuba. Los españoles respondieron con fuerza; en los tres años y medio de este conflicto enviaron cerca de un cuarto de millón de tropas a Cuba. Según algunas estimaciones, fue incluso más. A ellos se unieron miles de voluntarios cubanos más leales a la causa española. A lo largo de los años, más de 46.000 soldados españoles murieron en Cuba, en su mayoría por enfermedades. En el momento en que Estados Unidos se unió a este conflicto, el tesoro español estaba agotado. Esta es una carta enviada por un soldado español desde Cuba a España. Gozaban de privilegios de franqueo gratuito. Fue apostado en un puesto de mando militar y trasladado por el correo ordinario civil a La Habana y luego a España.
Esta diapositiva está un poco ocupada, pero es una parte fundamental de la historia. A principios de 1898, España trató de apaciguar a los insurgentes cubanos y le ofreció a la isla autonomía política. Esto fue un poco demasiado poco, demasiado tarde. Los insurgentes cubanos querían nada más que nada menos que la plena independencia. Pero también irritó al gran segmento de la población lealista, sobre todo en La Habana. Y hubo múltiples manifestaciones anti-gobierno español en Cuba, predominantemente en La Habana, pero también hubo manifestaciones anti-estadounidenses porque los EE.UU. eran vistos como simpatizantes de la revolución cubana y la lucha cubana por la independencia. Así, en 1890 - en febrero de 1898, el Cónsul General de los Estados Unidos en La Habana, Fitzhugh Lee, sureño de Virginia, sobrino del ex general confederado Robert E. Lee, a raíz de una de estas manifestaciones antiamericanas se alarmó y cablegrafió a Washington solicitando la presencia de un acorazado estadounidense en La Habana para proteger los intereses estadounidenses. Washington cablegrafió a Cayo Hueso, despacharon el USS Maine, fue capturado aquí llegando a La Habana el 25 de enero. Por cierto, dos días después, el cónsul Lee se dio cuenta de que había reaccionado de forma exagerada y envió un cable a Washington para evitar que enviaran el acorazado, pero ya era demasiado tarde. El acorazado llegó a Cuba sin el conocimiento ni de Fitzhugh Lee ni de las autoridades españolas. Entonces, tomó a todos por sorpresa y no hizo nada para mejorar las relaciones entre las dos naciones.
Esta carta fue enviada por John Maza, un transeúnte de carbón a bordo del USS Maine. Fue transportado por otro barco en una valija privada a Washington D.C., donde ingresó al correo de los EE. UU. y se canceló el sello. Pocas semanas después de la llegada a La Habana, el USS Maine explotó en circunstancias misteriosas. Y John Maza, por desgracia, fue uno de los 268 oficiales y marineros que perecieron durante la explosión. Esta es una foto del Cementerio Nacional de Arlington, la sección Guerra Hispanoamericana. Este es el monumento al USS Maine. El nombre de John Maza está grabado en el costado de estos monumentos.
La primera consecuencia postal de la guerra, por cierto, fueron varios fracasos diplomáticos y el 24 de abril España declaró la guerra a Estados Unidos. Al día siguiente, Estados Unidos hizo lo mismo. La primera consecuencia postal fue la interrupción del correo entre Estados Unidos y España y sus posesiones. Cuatro ciudades estadounidenses utilizaron marcas específicas para este tipo de correo interrumpido. Estoy mostrando tres de ellos aquí. Esta postal fue enviada desde Guatemala a Madrid. Fue interceptado en Nueva Orleans. Esta carta fue enviada desde Australia a Cuba; en San Francisco había recibido esta marca que indicaba que el correo no se podía entregar debido a la guerra. La portada de abajo fue enviada desde Filadelfia a Santiago de Cuba también detenida en Nueva York. Nueva York usó dos tipos diferentes de etiquetas para este tipo de correspondencia y dos marcas más adelante. La otra ciudad que usó una etiqueta fue Boston, que no muestro aquí.
La segunda consecuencia postal de este conflicto fue una concesión que el correo de los EE. UU. le dio a los militares, soldados, marineros, infantes de marina de los EE. UU. y luego a otras personas relacionadas con el servicio militar. La concesión fue muy sencilla, ellos, ellos, eliminaron la sanción sobre, sobre, sobre, correo corto pagado o no pagado, que era el doble del déficit. Se les permitió enviar su correo sin pagar sin ninguna penalización. Y extendieron las tarifas postales nacionales para el correo a las tropas desplegadas en el extranjero. En lugar de la tarifa internacional de 5 centavos, eran solo 2 centavos. Más tarde, requirieron que estas cartas fueran visadas por oficiales o capellanes o cirujanos, pero esta práctica comenzó antes. Esta es una carta que estoy mostrando de uno de los grandes campamentos militares federales, Camp Alger en el norte de Virginia. Se envió sin gastos de envío. Y debido a que el volumen de correspondencia era tan grande, algunos de los oficiales, y en este caso, un capellán, idearon un sello de mano para agilizar la aprobación de estas cartas.
La segunda - lo siento, la Marina de los EE. UU. en ese momento no era muy poderosa, de hecho, había media docena de países latinoamericanos que tenían una marina más grande que los Estados Unidos, pero en marzo, el Congreso de los EE. UU., Anticipando un conflicto con España, aprobó una financiación de emergencia de 50 millones de dólares para apuntalar la Armada. Se compraron 133 embarcaciones y se transfirieron otras 28 embarcaciones de otras entidades a, de otras agencias a la Armada. Y el personal naval se duplicó a más de 2000 oficiales y más de 24.000 marineros.
Estoy mostrando algunos ejemplos de correo naval. La carta en la parte superior fue enviada desde el USS New Orleans. Este barco era, este acorazado era originalmente un crucero blindado pero que operaba en la Armada de Brasil que fue comprado por los Estados Unidos. Estaba matasellado en Key West. La mayor parte del correo del escuadrón Atlántico y el Escuadrón de las Indias Occidentales se procesó en Key West. Llevaban las dos cartas que en la parte inferior se enviaron sin pagar. El primero, el de la izquierda, se envió desde el USS Resolute, pero el USS Nashville lo llevó a Cayo Hueso y se le cobró 2 centavos de franqueo. Este fue enviado desde un barco estacionado en la Bahía de Guantánamo, Cuba.
El primer acto de guerra fue el bloqueo naval a Cuba, que se hizo retroactivo al 21 de abril. Había pautas internacionales estrictas para legalizar un bloqueo. El país que imponía el bloqueo debía tener la capacidad de bloquear esos puertos. Y tenía que declarar qué puertos estaban siendo bloqueados. La Marina de los EE. UU. no tenía la cantidad de barcos necesarios para hacerlo, o inicialmente el bloqueo solo incluía varios puertos en la parte noroeste de la isla.
YAMIL KOURI: Aquí muestro una portada que es la única que se sabe capturada durante el bloqueo. Estaba siendo transportado por un vapor costero español, el Argonauta, que muestro aquí, a lo largo de la costa sur de Cuba cuando fue detectado por varios buques de guerra estadounidenses y finalmente capturado por el USS Nashville. La diapositiva anterior mostraba una cubierta llevada por el USS Nashville. Esta carta tiene una anotación manuscrita que indica que fue entregada al gobierno militar de la isla por el Ejército de los Estados Unidos el 3 de junio de 1898, estaba dirigida a los Estados Unidos - al Cónsul Imperial Alemán en Santiago de Cuba. Este fue, por cierto, el mayor premio de guerra en la Guerra Hispanoamericana fue la captura de este vapor.
El ejército de los EE. UU. no estaba preparado para este conflicto. Antes, justo antes de la guerra, solo tenía 28 000 efectivos regulares, como una décima parte de los efectivos que estaban presentes en Cuba, solo los efectivos españoles que estaban presentes en Cuba. La guardia nacional tenía unos 115.000 hombres. No había, nadie tenía idea de cuántos hombres se necesitaban para este conflicto o por cuánto tiempo. Entonces, la convocatoria inicial de McKinley fue de 125,000 voluntarios a fines de abril. Un mes después, pidió otros 75.000 hombres. Bueno, el entusiasmo fue tan alto que más de un millón de hombres respondieron al llamado. la mayoría de los cuales tuvieron que ser rechazados. Al final de la guerra en agosto de 1898, el ejército de los EE. UU. se había más que duplicado a 60,000 soldados regulares. Y eran 216.000 los voluntarios que se habían alistado para luchar contra España.
¿Qué pasó con todos estos hombres, dónde los pusiste? Bueno, el movimiento inicial fue establecer campamentos locales y regionales dentro de los estados. Había cientos de campamentos, más de 300. Cada estado tenía al menos uno, casi todos los territorios tenían al menos un campamento. Tuvieron una vida muy corta y no, algunos de ellos ni siquiera tenían un nombre formal. No utilizaron sus propios matasellos. El correo fue cancelado en el pueblo cercano. Aquí muestro dos portadas, una de Springfield, Illinois, otra de Columbus, Ohio. Todos los soldados en estos campamentos eran miembros de la guardia nacional o se habían ofrecido como voluntarios para el conflicto. La mayoría de los soldados fueron trasladados a principios de mayo a los grandes campamentos federales que se establecieron posteriormente. Algunos de estos campos fueron posteriormente utilizados nuevamente como campos de desmovilización. Pero la realidad es que la mayoría de estas tropas nunca vieron ninguna acción durante el conflicto.
Hubo una paranoia generalizada sobre el posible ataque de los españoles a lo largo de la costa este, avivada por algunos de los periódicos sensacionalistas. Entonces, se fortificaron varias defensas costeras con varios campamentos para ayudar en su defensa. Aquí muestro dos portadas de Massachusetts. El de arriba fue enviado por un soldado estacionado en Stage Fort en Gloucester. Aquí es donde se fundó la Colonia de la Bahía de Massachusetts en el siglo XVII. El de abajo es de Fort Rodman en New Bedford, Massachusetts, enviado sin pagar. Este fuerte sigue abierto y ahora es un museo que se puede visitar, es muy bonito.
Después de los campamentos militares locales y regionales iniciales, el ejército decidió albergar a los soldados en campamentos federales muy grandes. Tenían uno o más cuerpos de ejército. Había ocho de estos campos. La mayoría de los soldados fueron asignados a los primeros cinco campos. Las condiciones sanitarias eran bastante malas. Esta era una pequeña ciudad improvisada, por así decirlo, y hubo muchas bajas, muchos soldados enfermos y muertos debido a las enfermedades en estos campamentos.
Es importante mencionar el importante papel de la YMCA en facilitar la correspondencia de los soldados durante este conflicto, ya que a fines de abril la YMCA se involucró y envió a varios voluntarios a trabajar en estos campamentos. Se llamaban secretarios. Se desplegaron más de 500. La YMCA estableció más de 200 tiendas de campaña en 64 campamentos. Ofrecieron Biblias, música, lectura y, por supuesto, facilidades para escribir. Donaron papelería y sobres. Solo la oficina central de la YMCA donó más de dos millones y medio de sobres para los cuales todavía son bastante comunes. Puedes verlos en el mercado. En uno de los campamentos de San Francisco también donaron estampillas. Estoy mostrando una foto contemporánea de una de esas tiendas de campaña y en la parte superior derecha se ve una portada impresa que muestra una de esas tiendas de campaña en un campamento de Pensilvania.
Los campamentos militares federales alojaron a la mayoría de los soldados y la gran mayoría de la correspondencia enviada por los soldados en los Estados Unidos proviene, proviene de estos campamentos. El más grande, con mucho, fue Camp Thomas en el noroeste de Georgia en el campo de batalla de Chickamauga de la Guerra Civil, llamado así por el apodo de la Roca de Chickamauga, George Thomas, fue un oficial sindical que tuvo una participación distinguida en la Batalla de Chickamauga. El censo promedio en este campamento fue de 47.000 soldados. Esto es, este era el tamaño de una ciudad mediana en los Estados Unidos en ese momento. Por este campamento pasaron más de 69.000 voluntarios. Más de 7.000 soldados regulares estaban estacionados allí. Estuvo abierto entre mayo y septiembre de 1898. Era un campamento en expansión, ocupaba más de 12 millas cuadradas. Era tan grande que necesitaba tres oficinas de correos separadas para manejar el correo de las tropas. Estoy mostrando un par de ejemplos de correo de las tropas. El que está en la parte superior derecha tiene un apodo de cancelación, conocido como matasellos "esqueleto". Tenía caracteres móviles. Hubo varios tipos diferentes de estos utilizados en este y otros campamentos. Y la carta en la parte inferior es un ejemplo inusual de correo certificado enviado desde este campamento.
Solo para darles una idea de la magnitud de la tarea de manejar el correo de las tropas, se requerían dos vagones de tren de 60 pies para manejar el correo de Camp Thomas, uno para la correspondencia entrante y otra para la saliente. Para pagar esto, el Congreso aprobó un proyecto de ley del servicio postal militar de $ 50,000. Preveía una recogida adicional a las oficinas de correos cercanas, que funcionaban en un principio. Las oficinas de correos en, en Chattanooga y ahora en la ciudad desaparecida llamada Lytle, Georgia, obtuvieron 18 empleados postales nuevos. Tenían que trabajar hasta 18 horas al día y esto disminuyó una vez que se abrieron las oficinas de correos dentro del campo. Estas oficinas de correos empleaban a 20 empleados. Utilizaron al menos siete matasellos diferentes. Y para distribuir el correo dentro de cada regimiento y compañía, los capellanes fueron nombrados directores de correos del regimiento. Los ayudaban cabos y soldados y, cuando no estaban en uso, utilizaban ambulancias para llevar las cargas de correo. Esta imagen muestra algunos de los sacos de correo enviados por las tropas. Para que os hagáis una idea de lo ocupados que estaban, el primer fin de semana que abrieron se manejaron 80.000 cartas, pero en el pico de actividad la cantidad de cartas llegaba a 320.000 diarias, de las cuales 1.200 eran cartas certificadas que eran mucho más pérdida de tiempo. El correo se entregó a las tropas dos veces al día. Y también ofrecieron negocios de giros postales.
YAMIL KOURI: Después de los campos federales, algunos de estos soldados fueron enviados a campos de embarque. La más grande con diferencia fue Tampa, entonces una ciudad de 26.000 habitantes, que se vio desbordada por la cantidad de tropas enviadas a Tampa. Más de 48 000 efectivos, de los cuales 27 000 terminaron yendo a Cuba. Y se suponía que esto iba a ser una parada rápida, pero había mucha indecisión sobre dónde invadir Cuba, así que los retuvieron allí más tiempo del debido, de mayo a julio de 1898. El problema con Tampa es que no tener las instalaciones para manejar esta, esta, esta avalancha de, de personas. Uno de los mayores problemas de eso es que, como pueden ver en esta ilustración aquí, había una sola vía de tren que iba a los muelles. La acumulación de, de, los trenes llegan hasta Columbia, Carolina del Sur; Fue increíble. Esta ilustración aquí muestra algunos de los campamentos que - algunos de los siete campamentos en Tampa y sus alrededores - que, que la casa, las tropas. Si usamos una palabra para describir lo que estaba pasando en Tampa, nos viene a la mente "caos". La foto de abajo a la izquierda muestra un ejemplo de lo ocupadas que estaban las cosas. La comida se echó a perder bajo el sol del verano caliente dentro de los coches sin ser descargados. No estaba debidamente señalizado. A la derecha de esta fotografía, se ven los transportes que tienen los números al costado, pero estaba realmente desorganizado y caótico. El Ejército de los EE. UU. aprendió mucho sobre la logística del traslado de tropas después de este fiasco.
El correo de este campo de embarque fue manejado por las oficinas de correos locales. No tenían marcas especializadas ni instalaciones postales. La ilustración de la parte inferior derecha mostraba la carpa que se usaba como instalación postal para manejar el correo que se enviaba a las oficinas postales locales.
Aquí ves dos ejemplos. Uno cancelado en Port Tampa en la parte superior derecha, que era una ciudad separada de Tampa. Ellos solos, el otro de abajo a la izquierda fue cancelado en Tampa. Y muestra uno de los sobres donados por la YMCA que mencioné anteriormente. Había otros puntos de embarque más pequeños, pero Tampa era, con mucho, el más grande.
Estoy mostrando aquí en la parte superior derecha una vista estéreo de uno de los 59 transportes que el ejército utilizó para enviar las tropas a Cuba y otros lugares. Había muchos transportes empleados por la Marina de los EE. UU., así como barcos hospitales que en su mayoría traían tropas de Cuba a los Estados Unidos. Las tropas estaban completamente abarrotadas. Como ejemplo, esta, esta ilustración del fuerte a la derecha muestra el USS Yucatan que llevó a los famosos Rough Riders a Cuba. Bueno, los Rough Riders eran un regimiento de caballería pero no había lugar para los caballos. Entonces, con la excepción de algunos caballos para los oficiales superiores como Leonard Wood y Teddy Roosevelt, esto se convirtió esencialmente en una unidad de infantería. Se conocen muy pocas cartas, escritas en los transportes para las condiciones que he mencionado. Los que se conocen están escritos a bordo de los transportes en el camino de regreso a los Estados Unidos desde Cuba, como los ejemplos que se muestran en la parte inferior de la diapositiva.
Una vez que se descubrió que la escuadra española se escondía en Santiago, como ven aquí en la parte sureste de Cuba, el puerto de Santiago fue bloqueado por la Marina de los EE. UU. Y se decidió que la invasión se daría por los alrededores de Santiago. El principal, el sitio inicial para el aterrizaje fue la ciudad de Daiquiri y ahora una palabra famosa, conocida en todo el mundo. La bebida Daiquiri lleva el nombre de este pequeño pueblo. El principal, el desembarco se inició los días 22 y 23 de junio. Cerca de 30.000 soldados estadounidenses desembarcaron inicialmente en Daiquiri y, cuando las tropas españolas se retiraron a Santiago, el frente se movió hacia el oeste. El segundo punto de embarque fue el caserío de Siboney, un poco al oeste a unas pocas millas al oeste de Daiquiri.
Muestro aquí dos cartas. El de arriba a la derecha, fue enviado por un marinero a bordo del USS New Orleans, el mismo barco que fue comprado a la Armada de Brasil. Era un barco de apoyo que ayudaba al desembarco de tropas. Se envió sin pagar ya portes debidos. La tarjeta de la izquierda fue enviada por Siboney, un soldado que describe las condiciones de espera para aterrizar. Esta carta tiene algunas manchas y - lo que indica que muy probablemente fue desinfectada. Hubo una epidemia de fiebre amarilla que se presentó en Siboney que obligó a desinfectar la correspondencia.
Una vez realizado el desembarco, se estableció en la localidad de Daiquiri la primera estación postal militar en Cuba, la U.S. Military Postal Station. Este es el edificio donde se estableció la estación postal militar de EE. UU. Solía ​​ser regentado por, solía ser la sede de la Compañía de Hierro Hispanoamericana, pero todos los empleados huyeron una vez que se produjo el bombardeo a las afueras de Daiquiri. Abrió sus puertas el 25 de junio, pero se vio abrumado por el volumen de correo. Entonces, la correspondencia inicial, como se ilustra en esta portada en la parte superior derecha, simplemente se empaquetó y envió a Cayo Hueso, donde fue procesada por el correo de EE. UU. Después de eso, a fines de junio, comenzó a usar, con esta marca de dos líneas, "Oficina de correos de los Estados Unidos, estación militar número uno, Cuba". No especificó el pueblo porque no se sabía dónde estaría ubicado. Después de unos días, esta oficina de correos se trasladó a Siboney, más cerca de Santiago, y este sobre de la derecha en la parte inferior derecha se envió desde Siboney a Pensilvania con el mismo matasellos aplicado en negro.
La batalla decisiva de la guerra tuvo lugar el 3 de julio de 1898. La flota española partió del puerto de Santiago en una misión suicida. Fue completamente destruido por la Marina de los EE. UU. Cerca de 1.900 españoles fueron capturados y enviados a campos en Estados Unidos. Los altos oficiales que se muestran en la foto a continuación se alojaron en la Academia Naval de EE. UU. en Annapolis. El oficial principal, el almirante Pascual Cervera, está sentado aquí en el centro. La carta de abajo a la izquierda fue enviada por Cervera a su esposa. Fue censurada y manejada por el departamento de prisioneros de guerra de la Marina en Washington, DC La carta en la parte superior derecha fue enviada desde Nueva York a un marinero a bordo, a bordo del USS Yankee, este barco estuvo involucrado en el, tuvo un papel destacado en el Batalla de Santiago de Cuba. Fue enviado al Brooklyn Navy Yard.
Y después de la batalla naval de Santiago de Cuba, los españoles perdieron varias batallas fuera de Santiago, en San Juan Hill, Kettle Hill, El Caney. Y las tropas estadounidenses rodearon y sitiaron la ciudad de Santiago. La portada en la parte superior derecha muestra el primer tipo de marcado dúplex utilizado en Cuba. Nuevamente, no especifica la ubicación, solo dice "Cuba" porque no se sabía dónde estaría ubicado y fue enviado sin pagar a Brooklyn. Una vez que la ciudad capituló el 17 de julio, la estación militar estadounidense se trasladó a la antigua oficina de correos española el 21 de julio. Y el armisticio se firmó el 12 de agosto, poniendo fin efectivamente a la guerra. El primer correo de Santiago, el primer correo estadounidense de Santiago, fue cancelado por dos sellos circulares de día capturados. Una marca sin reborde que dice "Santiago de Cuba, Isla de Cuba", la otra con reborde. Estas son dos cartas enviadas por soldados estadounidenses a los Estados Unidos.
YAMIL KOURI: Quizás el individuo estadounidense más conocido que participó en la guerra fue Theodore Roosevelt, quien antes de la guerra era el subsecretario de la Marina. Y en el momento en que la guerra era inminente, renunció a su puesto y se ofreció como voluntario y obtuvo un nombramiento como teniente coronel en el primer Regimiento de Caballería de Voluntarios de EE. UU., más conocido como los "Rough Riders". Pasó seis semanas en Cuba, lo que literalmente hizo su carrera política. Más tarde este año, se convirtió en - más tarde en 1898, regresó al estado de Nueva York y se convirtió en gobernador del estado. Dos años más tarde, se convirtió en vicepresidente de los Estados Unidos, y un año después, más o menos, con la prematura muerte de William McKinley, se convirtió en el presidente más joven de la historia de los Estados Unidos.
En la parte inferior izquierda se ve una imagen icónica de Roosevelt, aquí en el centro, en la cima del Cerro San Juan después de la batalla terrestre decisiva que puso fin a la resistencia española alrededor de la ciudad, y la portada en la parte superior derecha es la única letra que Los he visto en muchos años enviados por Roosevelt mientras estaba en Cuba. Se envió sin pagar. Usted ve el cancelador español capturado parcialmente golpeado a la derecha y fue respaldado por él mismo "Carta del soldado, T. Roosevelt, Coronel 1ra Caballería de Voluntarios de EE. UU.".
Poco después de la guerra, allí, el ejército estadounidense estableció 39 estaciones postales numeradas a lo largo de la isla. El Santiago de Cuba se muestra aquí en púrpura. En diciembre se muestran en rojo las estaciones establecidas en diciembre. Varias estaciones adicionales establecidas en enero se muestran en naranja. Y el resto de las estaciones en amarillo se establecieron en febrero. Pero a fines de febrero se decidió transferir el control de estas estaciones a la administración civil porque ya estaban manejando correspondencia tanto militar como civil.
Este es quizás, en mi opinión, el aspecto más fascinante de la guerra hispanoamericana enviada desde las estaciones postales militares. Solo en mi libro, yo, yo, el, el capítulo, este capítulo tiene más de 90 páginas. Había literalmente cientos de marcas, una correspondencia muy diversa y fascinante. Fueron utilizados no solo durante el período de control militar de estas estaciones, sino durante el control civil. Y se usaron a veces durante muchos años, algunos de ellos fueron modificados, la portada en la parte inferior derecha muestra uno de estos matasellos modificados, se eliminaron las palabras "Estación militar número 11" y la oficina de correos de Nueva York en la parte inferior. Nueva York - La oficina de correos de Nueva York era responsable de las estaciones postales militares en Cuba. Y un área que es de particular interés para mí son los aspectos militares de este conflicto que fueron muy importantes porque condujeron a mejoras significativas que permitieron los principales logros como el Canal de Panamá gracias a los descubrimientos realizados durante esta guerra.
La portada en la parte superior derecha muestra una caricatura de un soldado estadounidense que dice: "¿Los españoles, nuestro enemigo? ¡No!" y muestra un león con la palabra "fiebre amarilla" atacando a las tropas. Y esa era realmente la mayor amenaza. Los números lo dicen todo. El número de muertos que tuvieron las tropas estadounidenses fue el siguiente: por enfermedad más de 5500, en combate solo 496, y por heridas solo 202 personas. Así que casi el 90% de las muertes fueron por enfermedad. Esta portada de la izquierda muestra algo que era muy común. Las tropas estaban en constante movimiento. Esta carta estaba dirigida a una enfermera de Siboney. Cuando llegó la carta, la enfermera había sido trasladada a otro lugar. Entonces, terminó siendo devuelto. La portada de la parte inferior fue enviada por un miembro de la Cruz Roja Nacional en La Habana, obviamente una portada filatélica que muestra la emisión completa de 1899.
¿Cómo trató el ejército de los EE. UU. con estas tropas enfermas? Bueno, el primer movimiento fueron los barcos hospitales militares. Estaban muy bien equipados con instalaciones quirúrgicas de última generación, camas limpias, muy bien atendido. La portada en la parte superior izquierda fue enviada por un capellán a bordo del barco hospital Relief envió sin pagar. La imagen de arriba a la derecha muestra el barco hospital Socorro junto a uno de los transportes fuera del pueblo de Siboney. Siboney fue el epicentro de la epidemia de fiebre amarilla en Cuba. De hecho, las cosas estaban tan mal que se tomó la medida drástica de incendiar la ciudad y se puede ver la ciudad en llamas. Obviamente, esta fue una medida inútil porque no era una buena comprensión de la forma en que se transmitía la fiebre amarilla.
En la parte inferior izquierda muestro la foto del buque hospital Missouri que estuvo muy activo en La Habana. Está volando la Cruz de Ginebra. Y estaba pintado de blanco con una franja roja, identificándolo como un buque hospital no combatiente y por tanto no susceptible de acción militar. Y en la parte inferior derecha muestro una portada - muy orgulloso de estar en Massachusetts, que ha sido líder en atención médica desde principios de 1800 - Massachusetts tomó la iniciativa de tener una suscripción. Los periódicos habían publicado esto, y los ciudadanos del estado recaudaron fondos suficientes para comprar un barco equipado como barco hospital y comprar los suministros. Y luego lo donaron al ejército de los EE. UU. Fue el Hospital Ship Bay State del Ejército de EE. UU. el que desempeñó un papel destacado en el tratamiento de los enfermos y heridos durante este conflicto.
Mientras tanto, en tierra, había una gran variedad de hospitales desde hospitales primitivos como la carta que se muestra a la derecha, fue enviada desde un hospital de fiebre a unas pocas millas al este de Siboney en julio. El remitente de esta carta murió eventualmente de fiebre amarilla. La de arriba a la izquierda es una carta de un hospital de campaña en Camp Columbia. Esta fue la instalación militar más grande de Cuba. Albergó a más de 10.000 efectivos estadounidenses que fueron necesarios para mantener el orden en la isla tras el fin del conflicto. A principios de agosto, casi una cuarta parte de las tropas estadounidenses en Cuba estaban enfermas de fiebre, en su mayoría malaria, pero algunas de fiebre amarilla, que era mucho más letal. Así que, apresuradamente, más de 21 000 de estos soldados fueron rápidamente evacuados de Cuba a Camp Wyckoff en el extremo este de Long Island, Nueva York. Se eligió este campamento porque estaba lejos de las ciudades y tenía una línea de ferrocarril que conducía a él. Estuvo en funcionamiento hasta finales de 1898. Utilizaba este matasellos de la oficina de correos de Nueva York, un dúplex que marcaba la estación de Montauk, Nueva York. Este es el único sobre de entrega especial que he visto enviado desde la estación. La portada en la parte inferior derecha era, tiene la tarjeta de la esquina del Brooklyn Daily Eagle. Este periódico fue muy activo, y tuvo presencia en los campamentos estatales, los campamentos federales, algunos barcos de la Marina en Cuba y por último, en el campamento de cuarentena en Long Island. Muestro una foto de Teddy Roosevelt montando su caballo, Chestnut, en Montauk Point. Aquí ya era una celebridad. Conoció a mucha gente, incluido el famoso ilustrador y autor, Frederic Remington, un escultor, lo siento, Frederic Remington, quien le regaló una de sus esculturas más famosas: una estatua de bronce fundido del Cazador de broncos. Y esta es otra copia que se encuentra, mientras hablamos, en la Oficina Oval de la Casa Blanca del famoso Bronco Buster.
YAMIL KOURI: Como mencioné anteriormente, era necesario mantener las tropas estadounidenses en Cuba para mantener el orden. El campamento más grande fue Camp Columbia, en las afueras de La Habana. Inicialmente utilizó las instalaciones postales de las estaciones postales militares cercanas. Este en La Habana, este uno en uno en Buena Vista, un suburbio de La Habana. Y más tarde, el nombre del campamento se cambió a Columbia Barracks y en 1901 tuvo su propio cancelador dúplex.
Mientras tanto, en los EE. UU. hubo que mantener algunas tropas a mano para la ocupación de las nuevas posesiones. Inicialmente, fueron alojados en campamentos de invierno, principalmente en el Sur. Lo que, como muestra esta portada, no siempre fue muy cálido, incluso en el Sur. Pero cuando se determinó que la mayoría de las tropas no serían necesarias, se las reunió en varios campos de desmovilización. También se establecieron cerca de 40 de estos campamentos, la mayoría en el sur. Esta es otra portada ilustrada enviada desde uno de estos campamentos en Georgia.
Y, por último, aunque fue un éxito, hubo algunas consecuencias imprevistas como o como yo lo llamo, el "costo del imperio". Coincidentemente, EE. UU. adquirió Hawái, anexó Hawái en agosto de 1898. Obtuvo Puerto Rico, que sigue siendo una posesión de EE. UU., pero también tenía Filipinas. Filipinas: al igual que los cubanos, los filipinos habían estado luchando contra España para tratar de obtener su independencia. Y cuando EE. UU. se hizo cargo, los filipinos comenzaron a luchar contra los estadounidenses, también por la independencia. La guerra de Filipinas no fue muy publicitada ni conocida, pero fue un conflicto terrible con atrocidades cometidas por ambos bandos. Duró hasta 1901. Más de 4000 soldados estadounidenses murieron durante este conflicto; al menos 10 veces más filipinos, tanto civiles como militares, murieron durante este conflicto. Además, la presencia de - la presencia estadounidense en Asia fue probablemente un factor irritante para los japoneses que probablemente influyó en las acciones de la Segunda Guerra Mundial.
Cuba obtuvo su independencia de los Estados Unidos el 20 de mayo de 1902, pero no con alguna polémica, sin alguna polémica. El poderoso senador republicano de Connecticut, Orville Platt, no permitió la ratificación de la constitución cubana hasta que insertó una enmienda llamada Enmienda Platt que esencialmente permitía a los EE. UU. intervenir en los asuntos cubanos prácticamente sin ningún motivo. Quiero decir, de hecho, Estados Unidos intervino en Cuba en 1906. Tuvo un gobierno militar hasta 1909. Y aunque la Enmienda Platt finalmente se eliminó de la constitución cubana en la década de 1940, hubo mucho resentimiento y eso ha influido Relaciones Estados Unidos-Cuba hasta el día de hoy. Y este es un tema muy extenso. Solo quería dar una visión general de lo rica y diversa que es. Me gustaría agradecer a las siguientes personas por su ayuda durante la preparación de esta charla. Y ahora estoy feliz de recibir preguntas. Muchas gracias.
SUSAN SMITH: Muchas gracias Yamil. Es maravilloso. ¿Cuándo empezaste a coleccionar estos materiales?
YAMIL KOURI: Es en la década de 1980, principios de la década de 1980.
SMITH: ¿Todavía hay materiales particulares que no ha encontrado y que cree que existen?
KOURI: Es, es fascinante. Después de la publicación del libro, se siguen descubriendo nuevos elementos. Acabo de escribir un artículo en el Cuban Philatelist que enumeró un par de marcas para correspondencia interrumpida que no habían sido descritas. Entonces esta es la parte fascinante de esto, a pesar de que ha sido ampliamente estudiado durante más de un siglo - los primeros coleccionistas de este material hasta donde sabemos, el primer artículo sobre estos artículos apareció en la literatura cubana en 1902 - así que la gente Lo hemos estado recopilando y estudiando durante un tiempo y todavía encontramos cosas nuevas, nuevas. Entonces, esto es fascinante.
SMITH: Cuando los estadounidenses llegaron a Santiago de Cuba, ¿alguna de las tropas españolas cambió de bando y se unió a los estadounidenses?
KOURI: No, porque los españoles estaban agotados y desmoralizados. No es que no opusieran resistencia en Cuba, pero era una conclusión inevitable. Todo el mundo sabía que España no era rival para Estados Unidos. Y de hecho, hubo una negociación muy rápida en agosto que permitió que el ejército español regresara a España. Así, a fines de 1898, casi todas las tropas españolas habían abandonado Cuba. Eso no quiere decir que muchos no se quedaron como civiles, probablemente entre 30.000 y 50.000 españoles se quedaron en Cuba. Se habían casado o establecido y no volvieron a España.
SMITH: Y en términos de los diferentes tipos de portadas que discutió hoy y que aborda en su libro, ¿siguen siendo relativamente fáciles de encontrar en todos los ámbitos o hay ciertos tipos de portadas, mencionó un par, que son más difíciles de encontrar? ¿localizar?
KORI: Sí. Quiero decir, hay algunas portadas que son comunes. Algunas de las fundas de Chickamauga, de Camp Thomas, todavía se pueden encontrar a precios muy económicos. Quiero decir, fueron enviados por millones. Algunas cubiertas para estaciones militares son, quiero decir, hay docenas de cubiertas que son, son marcas que son únicas. Entonces, hay una amplia gama de dificultades para encontrar este tipo de materiales.
SMITH: ¿Y tienes alguna correspondencia del San Cristóbal, el destructor español que intentó escapar de Santiago?
KOURI: Hay, sí, hay una conversación completamente diferente sobre el correo naval español y el correo militar español. Quiero decir, hay, hay diferencias, literalmente miles de marcas diferentes de las unidades militares españolas en Cuba. Y sí, hay múltiples portadas de, portadas navales de, de los españoles en Cuba.
SMITH: Entonces, cuando encuentras una portada de esta guerra, ¿cuáles son las primeras preguntas que intentas responder sobre esa portada?
KOURI: Bueno, quiero decir, yo, traté de ponerme en la posición. Traté de viajar en el tiempo a la época. Es decir, me parece fascinante esta y esta correspondencia civil describiendo las circunstancias difíciles que estaban pasando con el desabastecimiento, con el bloqueo, con la falta de alimentos, con el hambre. Los soldados también la tenían, la tenían muy dura. La fiebre amarilla diezmó a las tropas estadounidenses en los alrededores de Santiago de Cuba. De hecho, el primer agente postal para Cuba, Evan Brewer, que manejó la primera estación postal militar de los EE. UU. inicialmente en Daiquiri y luego en Siboney, murió de fiebre amarilla. Así que encuentro que el aspecto humano, la historia humana siempre es tan fascinante durante este conflicto.
SMITH: ¿Y qué herramientas son las más importantes para determinar las biografías de los remitentes de los destinatarios? ¿Cómo obtienes esa información?
KOURI: Bueno, ahora es mucho más fácil con tantos sitios genealógicos, periódicos, libros. De hecho, hubo decenas de tapaderas, casi todos los oficiales estadounidenses o que participaron en el conflicto cubano escribieron un libro al respecto. Entonces, hay, colecciono libros viejos. Quiero decir, probablemente tengo cien libros diferentes de los participantes en la guerra.
HERRERO. Bueno. ¿Y alguno de los campamentos de esa guerra sigue funcionando hoy?
KOURI: No los campamentos, pero los sitios aún se conservan. Quiero decir, Chickamauga Battlefield es, principalmente, un homenaje a la Guerra Civil. Fue mucho más significativo durante la Guerra Civil, pero hay algunos restos de los sitios durante la - que se utilizaron en la Guerra Hispanoamericana y que se pueden visitar fácilmente allí.
SMITH: Está bien. Y usted había dicho que la oficina de correos de Nueva York era responsable de las estaciones de correos en Cuba. ¿Qué significa eso exactamente?
KOURI: Sí, hubo responsables de proporcionar los matasellos y el personal militar. Washington, D.C. estaba a cargo de Puerto Rico y San Francisco estaba a cargo de las Islas Filipinas.
SMITH: ¿Eso también quiere decir que el correo transitó por allí como si saliera de Cuba, pero fue enviado a Nueva York?
KOURI: No, no necesariamente. La mayor parte del correo iba al puerto más cercano que manejaba el correo militar. Inicialmente fue Cayo Hueso, y luego algunos de los puertos de Nueva York, en Brooklyn y en otros lugares manejaron parte de ese correo. En el caso de Filipinas, Hawai, después de su anexión, y San Francisco manejaban la mayor parte del correo.
SMITH: Está bien. Mostraste bastantes portadas patrióticas: las preimpresas, las ilustradas. ¿Qué tipos de información están disponibles en el lateral de las impresoras? O los editores de esas portadas. ¿Los archivos contienen mucha información para el material que has estudiado?
KOURI: No es que lo haya encontrado, pero sí anuncios de papelerías, libros, impresores o encuadernadores de libros que venden cubiertas patrióticas no solo a las tropas sino al público en general. Quiero decir, hay literalmente muchos miles de diseños patrióticos diferentes que se usaron durante este conflicto. Fue una guerra tan popular. Esta es una generación que creció escuchando historias de la Guerra Civil que nunca tuvieron la oportunidad de demostrar su valía. Por eso, ya sabes, más de un millón de hombres se ofrecieron como voluntarios, pero también hubo una ola de patriotismo como nunca antes. Es decir, había un enemigo común y, y la, la, la prensa amarilla, o sea, no me metí en esto, pero la prensa amarilla avivó las llamas de la guerra e influyó en la decisión de ir a la guerra. no sólo los fracasos diplomáticos, sino la influencia de la opinión pública en esta decisión.
SMITH: Está bien. ¿Y qué personal militar estadounidense tuvo privilegios de franqueo gratuito durante la guerra?
KORI: Ninguno.
SMITH: Está bien.
KOURI: Solo el jefe de correos, solo las oficinas de correos, los jefes de correos que se ocupan de los negocios de las oficinas de correos. Pero por lo demás, todos tenían que pagar desde el nivel más alto hasta, nuevamente, los miembros del Congreso y la Casa Blanca y el Gabinete, pero desde el punto de vista militar, todos tenían que pagar.
SMITH: Y, con respecto al libro, ¿qué parte de la historia fue la más difícil de escribir?
KOURI: Bueno, esa es una buena pregunta. Probablemente el material cubano, el escaso, el más escaso, es el lado cubano del conflicto. Quiero decir, tan pocos artículos, así que eso es lo más difícil de encontrar. El más difícil de encontrar, porque los españoles son tan extensos, quiero decir mucho más extensos que los EE. UU. Nuevamente, los españoles lucharon en Cuba durante, ya sabes, casi cuatro años. Estados Unidos, el conflicto duró tres meses y medio. Entonces, es, es una escala muy diferente de correspondencia.
SMITH: ¿Usted notó en el libro que los cubanos que luchan por la independencia publicaron sellos, en gran parte, al parecer, para que los filatelistas los compraran como un mecanismo de recaudación de fondos? ¿Por sus esfuerzos?
KORI: Cierto…
SMITH: Estaban allí... Lo siento, adelante.
KORI: Lo siento. Avanzar.
SMITH: ¿Había una comunidad establecida de filatelistas en Cuba que podría haber estado reteniendo algunos de estos materiales de la guerra, por lo que aún podría haber bolsas de material que aún no se han visto, o...?
KOURI: No, no, yo, yo, no lo creo. Nuevamente, estos, los sellos, quiero decir, los, los números son, se sabe cuántos se imprimieron. Se imprimieron en Nueva York y fueron muy populares. Hay muchos, muchos coleccionistas en los EE. UU. y Europa que pidieron estos sellos. Se vendieron a granel a comerciantes con un ligero descuento, pero después de que terminó la guerra en octubre de 1898, el tesoro cubano tomó posesión de estos sellos, decenas de miles de ellos. Y en 1932, fueron oficialmente desmonetizados y vendidos para recaudar fondos para los hospitales de veteranos cubanos. Entonces, creo que todo lo que ha estado ahí ya está.
SMITH: Está bien. ¿Y también había mencionado en su libro que pudo hacer algunas investigaciones con la ayuda del museo cubano de filatelia?
KORI: Sí. El Museo Postal de Cuba en La Habana tiene una colección maravillosa. He tenido la suerte de poder ir allí dos veces. Han sido muy cooperativos. Me abrieron sus puertas y me proporcionaron todo el material que necesitaba para mi investigación.
SMITH: Está bien. Sólo para repasar las preguntas aquí de nuevo. Así sellos conmemorativos, en relación a esta guerra.
KOURI: Sí... lo siento, adelante.
SMITH: Oh, no, eso fue... ¿hay alguno?
KOURI: Sí, quiero decir, hay, por los EE. UU. y por España y por Cuba hay muchos. El más reciente fue en 1998 "Remember the Maine", un sello autoadhesivo. Pero antes de eso, ha habido sellos en honor a los Rough Riders, uno de los Rough Riders, los famosos Rough Riders, Bucky O'Neill, pero también Teddy Roosevelt ha sido honrado. Y eso es, eso es lo que recuerdo.
SMITH: Está bien. Bueno, muchas gracias por esta maravillosa charla. Es muy apreciado. Y de nuevo, para aquellos de ustedes que deseen volver a visitar la charla, estará disponible en el sitio web del Museo Postal con las otras conferencias de Sundman y esos videos ya se han publicado, para los anteriores. Supongo que una gran y silenciosa ronda de aplausos. Gracias, Yamil. Muchas gracias por hacer esto. Es muy apreciado.
KOURI: Espero verte en persona pronto.
SMITH: Sí. Gracias a todos.
KORI: Buenas noches.
Cuba's War of Independence against Spain started in 1895. After more than three years of fighting neither side had a clear advantage. The United States' involvement in this conflict in April 1898 against Spain had a decisive impact. After a few land and naval engagements, Spain capitulated in August 1898. Although brief, this conflict produced a rich and varied postal history legacy. The presentation described some of the fascinating aspects of this conflict that resulted in major global consequences for the United States.
About Yamil Kouri Jr.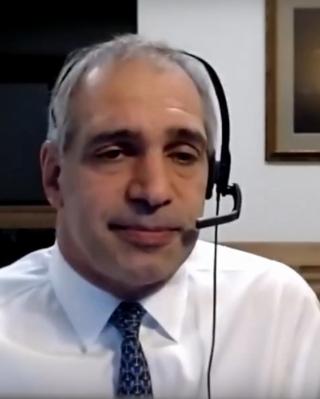 A stamp collector since the age of 8, Yamil Kouri has been active in multiple aspects of philately at the local, national and international level, including exhibiting, judging, writing articles and books, organizing an annual postal history symposium, serving in leadership positions in organized philately and representing the United States as commissioner at multiple international exhibitions and as vice president of the Inter American Federation of Philately.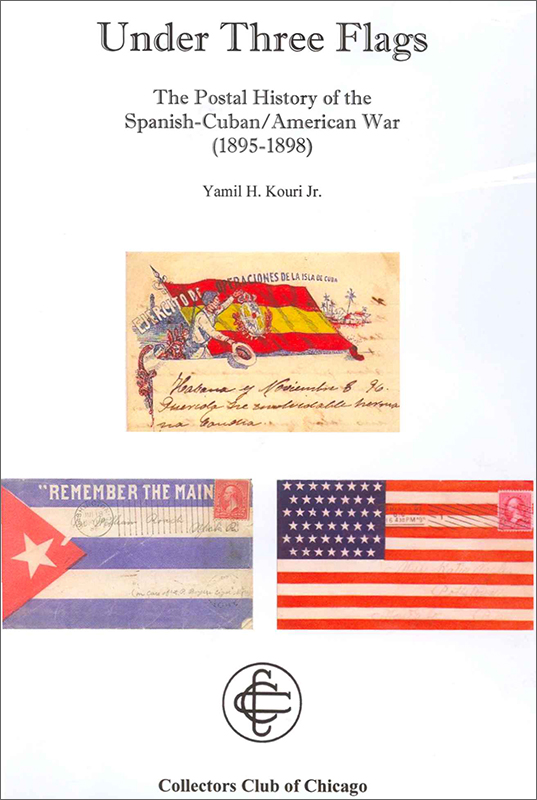 He is a Fellow of the Royal Philatelic Society of London and a member of the European Academy of Philately and the Spanish Academy of Philately. He was named distinguished philatelist by the U.S. Philatelic Classic Society in 2019 and was invited to sign the Roll of Distinguished Philatelists in the U.K. in 2020.
One of his exhibits won the American Philatelic Society (APS) Champion of Champions competition in 2019, and his most recent book Under Three Flags, the Postal History of the Spanish-Cuban/American War won the APS philatelic literature Grand Award in 2019. He also received the APS Luff Award in 2020 for exceptional contributions to philately.
He is Chairman of the Spellman Museum of Stamps & Postal History board of trustees and vice president of Boston 2026 World Expo. When not involved with stamps or family events, he works as a hematologist/oncologist in the Boston area.