The 19th Maynard Sundman Lecture
Hal Vogel: Polar Philately and the Wilkes Antarctic Expedition
Elliot Gruber: Good afternoon. Good evening, or good morning, depending on what part of the world you are joining us from.
Welcome to the Smithsonian National Postal Museum's Nineteenth Maynard Sundman Lecture. Our mission at the National Postal Museum is to educate, challenge, and inspire our audiences on the breadth of American experiences and the Sundman Lecture Series does just that.
At the Postal Museum we continue to find new ways to engage audiences both current and new. We continue to focus on extending our reach and impact, especially through digital engagement.
If you haven't been to our website in a while, please go to postalmuseum.si.edu or type in "Baseball America's Home Run," our currently, our new exhibit that we've opened recently. There you will see dozens of new videos, blog posts, interviews, content not found in the exhibition, as well as the behind the scenes. Look at the exhibition; this is how we will approach future experiences from here on out.
I would especially like to thank the museum's Council of Philatelists for their leadership and financial support in making this digital transformation possible. We've also recently added more than 50,000 images from our philatelic collection, and that is just the start.
Before we introduce our guest speaker, Hal Vogel, for his very interesting and informative presentation, it is my distinct honor to introduce David Sundman, an emeritus member of the Museum's Council of Philatelists, and the Chairman of the Board of the Littleton Coin Company. But let me digress for a moment. The Littleton Coin Company, one lesser known fact is that, for well more than a decade, David and I had a regular correspondence. He may not have known it because it wasn't really with David, but with his company. I collected, and still collect, currency and bills from other countries. The Littleton Coin Company was my window into those countries that no longer existed or that I had not yet visited. So, David, thank you for opening up the world to me through the Littleton Coin Company.
David and his brother Don established the Maynard Sundman Lecture Series in 2002 to honor their father, Maynard. Maynard Sundman began collecting stamps in 1927. At the age of nineteen, he started his first philatelic business, selling stamps through the mail. His passion for stamps continued throughout his lifetime. The lecture series allows the Sundman family and the National Postal Museum to share this passion with a broader audience by featuring talks by authors and expert philatelists.
So, thank you all very much for joining us here this afternoon.
David.
David Sundman: Okay. Well, it's nice to see everybody if it's only through the Internet. It's still wonderful to be here.
I'm going to show you a photo of my dad, Maynard Sundman, when he was twelve years old. And this is when he discovered stamp collecting. He was actually visiting a friend, Billy Potter, in Bristol, Connecticut, and it had started to rain, and Billy said "Maynard, do you want to go inside and see my grandfather's stamp collection?" And that was magic to my father. I mean in the 1927 we, we, you know things were relatively primitive for entertainment and so stamp collecting really was an exciting world.
My brother and I had been gifting rare stamps to the collection in the late nineteen eighties, and Jim Bruns suggested that we might start a lecture in honor of my dad, who was still alive and that way he could enjoy the start of it. Dad lived to be ninety-two, and he was coming to work every day for most of the day, and up until two weeks before he died. So, he really enjoyed the hobby and business and the customers. And he especially loved stamp collecting, his first love.
When he was looking at that album, he kept asking Billy, where'd you get them? Where'd you get them? Where'd he get them? And often the answer was Mystic Stamp Company, or H. E. Harris, or Frasek, that was a dealer in Switzerland at the time. When my dad got home, he told his father that he wanted to be a stamp collector, and that didn't go over too well, but he came up with a good strategy. He said, I only want to collect one stamp from every country, and that was it.
In 1935 when this first day cover was issued honoring the tercentenary of Connecticut, my dad started his business. He had sent away to H. E. Harris for a stamp dealing kit, and he got this kit with a book on how to be a stamp dealer, and he wrote right away and ordered some stamps at wholesale prices from H. E. Harris.
His first order was one hundred and fifty dollars. The war came along, and he had to close down his business. In the meantime, he had met my mom and gotten married, and he was inducted in the army again for a second time after Pearl Harbor. Went to Morocco and then North Africa, and General Mark Clark's forward command post, and that probably saved them because, I don't think he would have been great in the infantry.
At any rate, as he was in the army, my mom, who was searching all over New England for a place to restart the stamp business. And in October of '45 when my father got out, he hopped on a train, and they went up to Littleton, New Hampshire, which my mother had picked out. And my dad had such confidence in her that he didn't need to see it in advance. That was it. And it was a town of five thousand at the time. Now it's grown to six thousand. But it's a great place to build up a business and grow a family, and my brother Don and I, and my brother Rick, we all grew up in the business, and we're just very pleased to be, be here listening to this nineteenth talk by Hal Vogel. So, with that, I'll let you go and say, thank you very much.
Susan Smith: Let's try this again. I am Dr. Susan Smith, the Winton M. Blount Research Chair, and I'm very glad you've been able to join us. I want to join my welcome to that of Director Gruber and David Sundman.
I'd like to let you know a little bit about today's setup. This is a webinar, so audience members will not have use of their cameras or their microphones. Our presenter will speak for roughly thirty to thirty-five minutes, and then will have a question-and-answer period. If you have questions you'd like to ask, please put them in the Q&A box. Those questions will go to one of my colleagues, Dan Piazza, who will go through as many of the questions and group them, after Hal has finished his talk. If you would like close captioning, that is also available. You'll see a CC mark, probably at the bottom of your screen. You can click on that and get closed captioning for this lecture.
It is now my distinct pleasure to welcome today's speaker, Dr. Hal Vogel. Dr. Vogel is a leading polar philatelist and the winner of this year's American Philatelic Society Luff Award for Distinguished Philatelic Research. He began collecting polar materials and studying polar history in the 1950s, when he was able to communicate with some of the remaining pre-World War II polar explorers. He continued this work while pursuing his doctorate in polar studies in the Department of History and Geography at Antioch University. And while completing his degree, he began writing a research column for Ice Cap News, which is the publication for the American Society of Polar Philately, and he's written a column for every issue, since 1974.
Including the articles for this column, he has published more than 300 polar history, aerophilatelic, military postal history, and polar philatelic articles in philatelic journals around the world.
His most prominent publications are the books, Essence of Polar Philately, edited by Alan Warren, and published by the American Society of Polar Philatelists in 2008, and Ahead of the Pack: Postal History Sampling of Heroic Age Polar Expeditions, written with Serge Kahn and published in 2015 by the Museum of Stamps and Coins in Monaco. The latter publication won the Academy of European Philately's award for the best published philatelic work in Europe that same year. Vogel and Kahn are now working on the second edition.
Dr. Vogel is a former president of the American Society of Polar Philatelists and a member of many national and international philatelic organizations. He has held elected and appointed positions with several, including having served on the boards of the Universal Ship Cancellation Society, the Military Postal History Society, and the Alaska Collectors Club.
He's a nationally accredited philatelic and literature judge - he's been doing that since 1978 - and his own polar military and aerophilatelic exhibits have won numerous awards, including the first grand award ever presented to a polar exhibit at a major competition. This past exhibition season, four of his exhibits received large gold medals, three grands, and other specialty awards from six different shows. Without further ado, Hal.
Hal Vogel: Thank you.
Friends, colleagues, guests, it is my great honor today to be the Sundman lecturer for 2022 and to share with you some of the posted and related material and history of the 1838-1842 Wilkes Antarctic Expedition. This will be preceded by briefly discussing the realm in which this material exists, polar philately.
The shown maps indicate the geography covered by polar philately, although some polar philatelists tend to use easily identify or easily identify, easily understandable geographical delineations, such as the polar circles. The actual distinctions of what is or is not polar is more complicated than that.
The shown maps help. So does a chapter about this in the bible of polar philately, The Essence of Polar Philately, that more clearly and definitively identifies which areas are polar for philatelic purposes. Some of what is, or is not included, is more historical than geographical.
Essence of Polar Philately now is out of print, but can be accessed at many philatelic libraries.
Polar philately has been a formal aspect of organized philately since the early 1950s. Philatelists, though, have been collecting polar material since at least the late nineteenth century; they just didn't know they were polar philatelists.
Polar philately is the study, collecting, exhibiting, and discussing posted and related material from, to, or associated with activities and individuals at either or both of the Earth's polar regions and their peripheral rims. The specialization has five main spheres. Those five areas begin with expeditions, all types of expeditions, from scientific and geographic exploratory, to social, adventure, tourism, and commercial.
The second area is polar aerophilately. Any actual, proposed, interrupted, or aborted aero event is polar, if any of its legs involved a polar location or polar route flight. Some of its events and flights occurred almost entirely inside polar regions. With others, the polar connection is incidental.
The next sphere is military and conflict mail. The earliest known postal history of this type is from 1759 during the Seven Years War. Surprisingly, the US War of 1812 and the Civil War produced a few pieces of very nice mail from their little-known polar episodes. The latest polar war mail was from 1982, the Falkland Islands War.
The two remaining areas of polar philately are thematics and traditional. Among the more popular thematics in polar philately are penguins, Sir Ernest Shackleton, Richard E. Byrd, and whales and whaling. Finally, there is traditional. This is the pursuit of stamps and covers from polar entities that issue or issued stamps, and have or had post offices. This would be the same as being involved with any traditional type of philatelic pursuit, except the issuing or operational authorities are considered polar. This includes material from portions of places, such as Northern Scandinavia, as well as totally polar environs, such as Greenland, Alaska, Ross Dependency, and French Southern and Antarctic Territories.
Polar material can have been produced or pertain to activities, people, or places during one of three polar historical periods: Heroic Age, from the dawn of polar history to 1924; Mechanical Age, the next thirty years to 1954; and the current, Modern Age, from 1954 into the future.
Sometimes the first two early periods are combined with the "Pioneer Period."
There are two major types of material in philately. This also applies to polar philately, the so-called 'philatelic' type and a type called 'commercial'. Philatelic material is that which is intentionally produced to be a collectible. Think first day covers, first flights, commemorative postings, intentional postmarkings. Commercial material in philately is ordinary mail that was not primarily produced to be a collectible. Of course, if we now have commercial-type mail in our collections, it is a collectible, but it was not first intended for that purpose.
A subtype of commercial mail, very important in polar philately, is what now increasingly is being called 'archival'. Archival mail is ordinary mail that by association or its content is heightened with historical significance.
Let's take a look at an imaginary non-polar piece as an example of what is archival mail. A folded letter of a personal nature from an official in in New York City to his relative in Northern Virginia in 1789 would be a nice colonial-era commercial type item. But if that person writing from New York City was someone named George Washington, and he was writing to his wife, Martha, at Mount Vernon, telling about his just completed inauguration as the first President of the United States, it would be elevated in philately to a sub-type of commercial mail, archival mail. Think of archival mail as ordinary mail that might be seen in museums and archives along with the sender or recipient's sword, pen, formal dress, or filed in a library special collection, along with letters and other historical collateral material.
There almost is no philatelic mail from the Heroic Age. It's virtually all commercial of the archival type and can look deceptively ordinary, except for it's often hidden historical relationship. This makes identifying and collecting Heroic Age material quite challenging.
The collector often has to unmask its polar nature when it is not readily evident. We'll be seeing some of this shortly.
At the other end, in terms of category of material, is the Modern Age, our current polar philatelic period from 1954. It has mostly philatelic material to postally document its personnel and activities. There still is some archival matter. This would be ordinary or pseudo-philatelic material, emanating as correspondence from the expeditioners, scientists, and support staffs.
Most of the Modern Age polar mail, though, is sendings by philatelists to obtain postal documentation from participants and their activities.
On top of this graphic is a collector-inspired return, probably sent to an expedition scientist, who was asked to sign the envelope before it was posted at Operation Deep Freeze's Little America, Antarctic station, canceled 8 November 1957 at the station's post office. Below it, is personal, commercial (archival) mail from a Modern Age polar activity sent on the same day, 8 November 1957, from the same place as the philatelic item, except it is personal mail from the member of the Antarctic task forces staff, telling what he's doing.
The middle polar period, the 1924 - 1954 Mechanical Age, has both archival material, as well as significant philatelic material. Think, for example, of this collector-inspired hand-back mail from the 1933-35 Second Byrd Antarctic Expedition, which can be seen on the top, and one of the expedition's important archival items seen below it. The philatelic example of an uncommon postmark from the Expedition Post office was probably prepared to be a memento by an expedition member. Hand-back mail has not gone through the posts. The parcel tag, below it on the right, was attached to a package of furs to be made into their garb, sent to the expedition from an Alaskan provisioner as the expedition was forming.
Among the most dramatic material in polar philately is that scientific and exploratory expedition archival material from the Heroic Age - that's up to 1924 - and none is more exciting and important than that from what might be the most important Antarctic expedition of them all, Wilkes'.
Let's look at the 1838-42 Wilkes Antarctic Expedition to learn more about this important expedition and how its mail consists entirely of archival items. Of course, philately was yet to exist at this time, which contributes to why there is no philatelic material from this period.
The Wilkes Antarctic Expedition, formally known and conceived as the Worldwide US Exploring Expedition, then was abbreviated as Ex. Ex. Now, it is more commonly known as the Wilkes Antarctic Expedition. It is exceptional for a number of reasons. Firstly, from a philatelic viewpoint, contemporary material to postally document the expedition is virtually non-existent.
Of course, I shortly will be showing you some of this nearly nonexistent material, but, unfortunately, hardly anything else to postally document this expedition, from its formation to its return, is known to exist today outside of this one assemblage and a few pieces in some archives. This is it. Material from the expedition was unavailable to polar philatelists until the mid-1980s, when the very first publicly available pieces became known.
Wilkes was the first official US Antarctic expedition, fully funded and supported by the US Governments of Presidents Andrew Jackson and Martin Van Buren, though very reluctantly, by some, by some in those administrations. As today, there were those in government, including the first person placed in charge of Ex. Ex.'s development, Andrew Jackson's Secretary of Navy, Mahlon Dickerson, who thought the US Government should not be in the exploring business or anything else that was not strictly related to running the nation. After Wilkes, there would not be another official US Antarctic expedition for exactly one hundred years.
Ex. Ex. was one of the first attempts by the new nation to show how it could organize such a massive undertaking, especially on a shoestring. The initial and only funding amounted to just $300,000. That is but eight million in 2022 dollars, quite a bargain for a four-year multi-shift nearly five hundred personnel, worldwide exploring expedition. Ex. Ex. tasked the young US Navy in a way it had not been exerted before. More importantly, in January 1840, following its first venture into Antarctic waters a year before, the Wilkes Antarctic Expedition was the first to prove that, indeed, there was a continent to our extreme south, and named it Antarctica.
Before leaving the question as to why this expedition was significant, we, of course, must include a reason that is extremely important to the institution that hosts this lecture. The expedition's return in 1842 brought such a treasure trove of worldwide artifacts (largely from the South Pacific) - over forty tons - that it became the foundation of the national collections, when they were transferred in 1858 to the new Smithsonian Institution. The Smithsonian had a year-long traveling Wilkes exhibit in 1985-85 to honor the expedition's 150th anniversary, showing some of the artifacts that bulked up the Smithsonian in its early years.
What follows will be a presentation of archival, posted, and related material to highlight various stages of the Antarctic portion of Wilkes Expedition's history and some of the, some of the personalities that helped produce it. It only will skim the surface of the expedition and its events, which can be further penetrated in a wonderful publication authored by the Smithsonian's Dr. Herman J. Viola that was issued to accompany the traveling exhibit.
Philatelists already know the Wilkes Antarctica-confirming expedition from the 1988 United States Antarctic explorers block of four. Wilkes' stamp is in the upper left. Non-philatelists might better know its commander, Charles F. Wilkes, for his nearly disastrous exploits twenty years later during the US Civil War. He is the same Charles F. Wilkes, who was at the center of the nearly catastrophic Trent Affair. Captain Wilkes, on 8 November 1861, almost caused a war with Great Britain during the US Civil War, when, from his Union warship, he forcibly boarded a British mail packet, RMS Trent, in the Caribbean to capture two onboard Confederate diplomats. One can see his impetuous and outlandish personality earlier during his Antarctic expedition, where he was arrogant, overbearing, selfish, cruel, capricious, and scheming. But he also was brilliant, scientifically advanced, and self-confident. As was its leader, Wilkes's expedition was magnificent in its achievements, while being highly flawed in its planning, organization, and conduct.
This expedition was over 180 years ago into distant regions that were unknown and highly hazardous. It is amazing that it succeeded as well as it did. Perhaps equally remarkable is that we have a handful of postal artifacts that amazingly can document all its Antarctic portions, various marvelous, as well as unfavorable, aspects.
This is a 9 November 1836 US Treasury Department payment notice mailed from Washington, DC to the US Navy Agent at the Boston Navy Yard. Its last entry authorizes $8,336.81 for the 'exploring expedition'. This is six months after the expedition had been authorized by Congress. It had been expected to leave by then. Among its many organizational, planning, and political problems delaying its departure was its designated ships. Four brand new and one nearly new one had been designated for Ex. Ex. to be commanded by US Navy Captain Thomas Gatesby Jones. Just about every Navy officer then wanted a billet on the expedition, as did many civilians, scientists, and even politicians. Participating in the expedition, then, was the coolest activity of its time. But it's popularity soon dissipated as Ex. Ex.'s departure dragged on and on, and those who wanted the expedition "killed" almost got their wish.
The originally assigned ships were part of the problem. Its command vessel was to be the 36-gun frigate USS Macedonian. Accompanying it would be the brigs USS Consort and Pioneer, along with a schooner named Pilot and a stores ship, USS Relief. Only Relief would make the cut, and it, too, eventually would be relieved as unsuitable during the expedition. They all were found to be inadequate for the rigors of a long worldwide expedition cruise.
Acting First Lieutenant M. G. L. Claiborne here wrote 23 January 1837 to a sister from Norfolk, Virginia, via her father-in-law, then in Washington, DC. He was Congressman A. P. Maury. Claiborne wrote that he was helping put USS Consort through its trials and enthusiastic about being a part of this great endeavor.
About the same time as Lieutenant Claiborne was writing to a sister from aboard Consort, the Board of Naval Commissioners was authorizing, with this letter, supply expenditures for both Consort and Pioneer. These payments will be coming out of the expeditions quickly depleting appropriation.
Eleven months later, Lieutenant Claiborne again wrote to his sister, 22 November 1837, via her father-in-law, this time at her in-laws' home in Tennessee. He was then writing from New York City, where he is aboard another soon-to-be-rejected expedition vessel, Pioneer, helping put it through its sea trials. His formally enthusiastic tone has changed. He is downbeat as he talks ill about the prospect of the expedition leaving, the ability of its vessels, as well as the expedition's Commander Captain Jones.
Both of these letters went free, because the Postal Code then stated mail to a sitting Congressman, in this case his sister's father-in-law, could be posted without charge.
Meanwhile, the old venerable sloop of war USS Vincennes was undergoing a two-year makeover. It would be ready just in time to be a replacement flagship of the expedition.
On 12 June 1836, just weeks after Ex. Ex. had been authorized, US Treasury Department's Fourth Auditor directs the US Navy Agent in Boston to cease paying the listed, the listed crew members of Vincennes because it was being taken out of commission for extensive refitting.
Unbeknownst to anyone then, the refit would be finished just as Vincennes was needed to be the replacement flagship of Ex. Ex.
A purser aboard Macedonian at Port New York wrote 5 April 1838 to a ship's officer on leave in upstate New York, informing him that their Ex. Ex. flagship had been replaced by Vincennes and that they probably would be reassigned for the expedition. He also noted that their commander, Jones, also had been replaced by Lieutenant Wilkes. Vincennes, the expedition's new flagship, was joined by the older, reliable USS Peacock, a sloop of war, and the brig USS Porpoise. Two city of New York pilot boats, Sea Gull and Flying Fish, also were added to accompany supply ship, USS Relief, that was retained from the original assignees. The new commander, Lieutenant Charles F. Wilkes, already had a reputation in the Navy.
His scientific credentials were admired. Little else about him was. He barely was endured by both his fellow officers and the sailors. He was an intolerant, unbearable, cruel martinet, and nobody's first choice to replace Captain Jones, who finally resigned his command of Ex. Ex. Jones could no longer abide the expedition's problems and negative politics.
Every captain and commander in the US Navy have been asked to replace Jones. Nobody now wanted to command this albatross of an enterprise. The exploring expedition had become known within the US Navy as the 'deplorable expedition'. Wilkes was the only officer below commander who really, really wanted to lead it. So many did not want him to command it that President Van Buren delayed appointing Wilkes for a whole month, until nearly the end of April 1838.
A senior US Navy Captain, Francis White Gregory, wrote from New Haven, Connecticut, 30 April 1838, to a friend and US Navy purser, James H. Clark, in Washington, DC about just having rejected command of Ex. Ex. and wondering if he had made the right career decision.
Too late; Lieutenant Wilkes's assumption of command was just being announced.
Wilkes knew that there were many conspiring to cancel the expedition by having it run out of money, so he hurriedly had it depart from the Navy Yard at Norfolk, Virginia, on 18 August 1838. It left two years behind schedule with 83 officers and 343 enlisted men, plus a host of civilian scientists, artists, and their assistants. About one hundred of these would depart during the expedition, mostly by dying. Among the scientists who would survive was Titian Peel, who also was a noted artist. Dr. Charles Pickering, of New England, headed the scientific group.
The expedition stopped at Madeira en route to South America and the Antarctic, so that unfinished construction work could be, could be completed on some of the vessels.
Lieutenant Claiborne sent a free letter, via her father-in-law, to his sister from Funchal, Madeira, inside dated 19 September 1838. It was given to a passing ship and entered the US mail on 5 December at New York. In it, Claiborne expressed his excitement at finally being underway to the 'South Pole'. Just as today, many then referred to the southern polar region as the 'South Pole'.
Lieutenant Claiborne's tune had changed in this inside-dated 28 March 1839 rerated "FREE" letter to his sister. He now has been relieved by Wilkes and is reassigned to the expedition supply ship, USS Relief. It would take him back to the States along with other personnel recently relieved by the uncompromising disciplinarian Wilkes. From off Tierra del Fuego, lower South America, Claiborne wrote that he has just seen his former ship, Peacock, that had Titian Peale aboard, returning from the first Antarctic cruise. That first of two Antarctic cruises by the expedition was from 24 February to 1 April 1839.
The first Antarctic cruise - notice the red line on the screen - was conducted in two squadrons: one from barely inside the mostly frozen, Weddell Sea, and the other sailing around the Antarctic peninsula as far south as Thurston Island. Though not quite achieving a farthest south record, it was quite an attainment for its time, despite the loss of Sea Gull, the wreckage and crew for which never were found. A crew member also was lost overboard from Peacock during the first Antarctic cruise.
Claiborne's last known letter from the expedition is written 12 May 1839 as he and the rest aboard Relief prepared to depart the squadron. As it returned to the States, its crew laid depots en route for the squadron.
Claiborne's letters from the expedition are remarkable to polar philately and polar history. They allow insight to a number of aspects of the expedition, beginning very early in its formation, and lasting until the completion of its first Antarctic cruise. This is an example of how archival-type commercial mail elevates relatively ordinary postings to an extraordinary historical status.
It further is amazing that this assemblage of mail even existed to be acquired in the late twentieth century by a polar philatelist. This was personal mail between common people that have been kept informally among family trivia. It ordinarily would have been discarded years ago without subsequent generations realizing its polar historical importance.
Although Claiborne's letters to his sister do not seem to tell us anything that we already would not have known from other sources, it does give the facts a personal flare while substantiating information presented in the historical record. Sometimes, however, it is this type of archival material that does add to our knowledge when it relates facets that may not have been otherwise known.
Chief Scientist Pickering wrote 8 July 1839 to a colleague at today's Yale University from off Callao, South America, as the squadron heads for Australia in preparation for its return to Antarctica later in 1839. Coincidentally this letter is manuscript-marked as being received by the addressee, just as the squadron headed for the other side of Antarctica.
It was during Wilkes's second Antarctic cruise from late December 1839 into March 1840 that the expedition made its most historic discovery. Vincennes traveled along east Antarctica - notice again the red line - for over 1500 miles. Several on-duty officers, including Wilkes, realized that they were seeing newly discovered land that was large enough to be a continent.
They named it Antarctica.
Expedition personnel recovered from their ordeal as they headed north up the Pacific from Antarctica after their second Antarctic cruise. As with several other cruisers to Antarctica at this time, they had been inadequately clothed for the extreme cold, and suffered additionally from a poor diet.
Ex. Ex. would spend two and a half more years exploring, mostly in the south and north Pacific.
Near the end of this time, Wilkes wrote to his wife, 20 February 1842, that he was headed home and predicted when he would arrive at New York. This prediction, amazingly, is within twenty-four hours of his actual arrival nearly four months later. Keep in mind, he was sailing under sail. He also told her a little about what they had done and spent much of the letter, staying in character, complaining about all manner of things.
This is the only known mail from Wilkes during the expedition, and oddly [it] arrived in the United States six weeks after he had returned home, after having been given to a passing ship. He had to pay forty-five- and three-quarter cents for his wife to read what he had told her six months, six weeks before. The ship conveying his letter had run into trouble that delayed its arrival in the States with Wilkes' letter. Lieutenant Wilkes arrived first at New York aboard Vincennes on 10 June 1842.
In this letter, Lieutenant Knox grumbled from aboard ship, 13 June 1842, to his father about after four years at sea, Wilkes assigned him as officer of the deck, and required that he remain aboard as the others took leave and traveled to their homes.
Only two other ships from the squadron were left to return and did so the following month to New York. Porpoise was joined by a replacement vessel for Peacock that was lost on a sand bar in the North Pacific. The other ships of the original squadron either were lost at sea or discarded as irreparable.
Porpoise's Lieutenant Reynolds received a letter from his sister as he arrived in New York, 3 July 1842. It actually missed him as he entered New York and departed the ship. The letter only caught up with him when he arrived back home from where this letter originally have been mailed.
The expedition, despite all its faults and disasters, had been a grand scientific and exploratory success. Wilkes would go on to command squadrons during the Civil War, barely avoiding bringing Great Britain in on the side of the of the Confederacy, and eventually being court martialed for misbehavior, and retired. Not only does his expedition triumph live on in its artifacts at the Smithsonian, but it also was a wonderfully postally documented in its several surviving bits of archival postal history.
Thank you for your attention.
Susan Smith: Thank you so much, Hal.
Please put any questions that you have in the Q&A box down below. Please note that the raise-hand feature is not activated for this this webinar, so questions can go on the Q&A below, and my colleague, Daniel Piazza, will be asking those.
Dan.
Daniel Piazza: All right. Thank you for that lecture, Hal.
We have some questions from the attendees. I'll try and get through all of them. And, as Susan mentioned, for the three or four people who have their hands raised, we have no way to access that in this, in this feature. So go to the Q&A button is at the bottom of the Zoom window at the bottom of the screen and put it there. And, if we have time, we'll get to all the questions.
So, Hal, the first question concerns the archival mail, which is, you know, because it's not standard, and it's not created, it's not often listed in catalogs, much of it is unique. So how do you go about finding that material and identifying what it is?
Hal Vogel: Good Question.
It is so elusive and so difficult to identify. Often it exists, misidentified, and it has to be re-identified. One has to be armed with probably what is the most important attribute in this area and that is knowledge. You have to be able to look at a piece of mail, look at the date, look at the handwriting, look at where it was serviced. Of course, if it has contents that could be helpful.
Sometimes, there are examples on the mail that say expedition or identify the expedition. Unfortunately, as we saw here, most did not. And, basically, you need a sixth sense. You need a lot of knowledge and a lot of luck and patience, because, since the material is so elusive, you have to look under every rock.
I recall once I found a very nice piece of polar expedition mail at a furniture auction. It had been in a desk, and the auctioneer simply said, anyone know what this? what anyone know, what this is? Anyone want it? I was the only one; I got it.
Daniel Piazza: Great.
Another question concerns, kind of along the same line, whether you've ever encountered, or whether you have or thoughts on where it might be, correspondence between a Congressman Maury and his brother, who was apparently scheduled to participate in the expedition, but refused to serve under Wilkes. Any thoughts on potential correspondence between those two brothers?
Hal Vogel: I have seen material related, of course; the Maurys were a very famous family from Tennessee, famous for the Navy, famous in the US Government, going from the colonial period up to and through the Civil War. I recall having seen Lieutenant Maury's name on the early expedition list of personnel, and then it was removed. He was one of those who was successfully able to get his name removed, or get himself removed from the expedition when it when it got the moniker 'deplorable expedition'. Of course, he probably regrets it now. Unfortunately, I haven't seen any mail that directly relates to that.
Daniel Piazza: Okay.
And then you've got, of course, lots of people congratulating you and thanking you on the excellent presentation. I'll pass those, I'll pass those notes and thoughts on to you privately afterwards. Another participant asks if you would briefly elaborate on the kind of intriguing little bit, morsel, that you dropped about polar connections in the Civil War. And I personally would be interested also in hearing about the Seven Years War, the French and Indian war, although I suppose if you're counting like Newfoundland and Labrador and those places as polar, I guess that's where some of that some of the expeditions against Canada might be considered polar; I don't know. So could you those kind of little known Seven Years War and Civil War episodes of with a polar connection.
Hal Vogel: How about Greenland for the Seven Years War?
There is one piece of mail known, and I hope there are more, and I find it. A piece of mail where a US sailor was taken by a privateer during the Seven Years War. Of course, that was the French and Indian War in the United States, and he was going to be impressed aboard a British warship. He was going to be forced to serve one of British warships. He was on a merchant ship sailing to France with cargo, and the only way he could get out, and this piece of mail mentions this, was to get something called a Greenland protection.
If you have a piece of paper that says that you will be serving, or that you are serving, on a Greenland whaler and under the British flag, you are exempt. So that's the one piece from the from the Seven Years War. From the War of 1812.
It was a privateer, a British privateer that took an American ship that was leaving Archangel shortly after war had been declared. It was unable to get the word, of course, in those days to Archangel that your country was now at war, but the British warships knew that they were at war, and they and they got this US warship. Incidentally the captain of that warship was the son of a Revolutionary War privateer, Nicholas Thorndyke.
The Civil War incident was very interesting. The last surface raider where the Confederacy was the CSS Shenandoah. It made a worldwide cruise to get from England, via the Caribbean, off the coast of Alaska, where it proceeded to ravage the New England whaling fleet, and they waved their arms, those aboard the fleet saying, "the war is over, the war is over." Of course, no one aboard the Shenandoah knew that, and they didn't know until they had sunk or captured all those ships, then went to San Francisco to bombard San Francisco, and a British merchant ship coming out of San Francisco Bay said, "Hey, the war is over," and they fled back to England. So, it was the CSS Shenandoah, and around April, May, June of 1865.
Daniel Piazza: Great.
Hal Vogel: Oh, I'm sorry; the mail for that would have been incoming mail, blockade-running mail that went to members of the group.
Daniel Piazza: Well, an apropos of that, someone asks about how letters got to and from these ships, and there's a there's a little clue of it in your slide. Several of your folded letters had the Naval Lyceum cache on them. But, I mean, do you want to talk a little bit about that, and how the Navy received and forwarded letters to these ships to and from.
Hal Vogel: Letters to the ships were first informally and then normally sent, as you say, by the Lyceum at what became the Brooklyn Navy Yard. Uh, of course, nobody knew where the ships were. They knew, perhaps, where they were going or where they were to be stationed, but they didn't know, in the interim, where they were, and the Lyceum had a list, and could predict, perhaps, where the ship was, and to what they might give those letters that might be nearby, or visiting, or able to get mail to those ships. It was a very imperfect system, but it tended to work. Getting back, most of the sailors couldn't afford the cost for international mail in those days; that was pre-UPU. And so, what they did, especially the officers, was to give that mail to anyone going back or to a passing ship that might hit a US port and hitting a US port meant you only had to pay the domestic rate. And, if you were important enough, you got courier mail, where the individual carrying the mail hand delivered it to the person who was the addressee.
Daniel Piazza: What happened to Lieutenant Claiborne? Someone wants to know.
Hal Vogel: I've been trying to find out; I wish I knew. He's just one of those officers who disappeared into history. He was relieved. He stayed in the navy, and Wilkes wanted to court-martial all those he relieved. It was decided not to court-martial them, but to court-martial Wilkes and Wilkes beat, Wilkes beat the court-martial.
Daniel Piazza: Another guest asks for your recommendations on what are the two or three must-read books on either polar history or polar philately. And then another guest asked specifically about your book called Ahead of the Pack. So, do you want just a general [question] about books: what are the main books in this field?
Hal Vogel: One can have a very nice selection of fields. There is a book about Americans in the Antarctic by Kurlin that was written, maybe, thirty or forty years ago. That's probably the best coverage. That individual did an excellent research job.
There is a book from Garland, the publisher, that covers a number of the Arctic expeditions up to World War I. It was written by Hedland [Holland], a very fine researcher out of England, normally at the Scott Polar Research Institute.
Ahead of the Pack which now exists in a second revised addition, is the first and only assemblage that allows one to see what might exist from a number of expeditions during the Heroic Age, from the dawn of polar history up to 1924. Unfortunately, most expeditions have nothing to document them, but most of what is shown in that book was unknown prior to about eight, prior to 1975, 1980.
Daniel Piazza: And you've been collecting this material for how long now? You said at the beginning, but…
Hal Vogel: Well, I wasn't around at the beginning of the history, but I started in the late fifties.
Well, actually, in the early 1950s, I saw Alistair Cooke interview Dr. Siple. And I said, I wonder when he goes to the South Pole, I wonder if he could send me some mail. I was a philatelist then and that got me hooked.
Daniel Piazza: Well, all right. There are, there are other questions here, but some of them are very specific, and some of them are questions about, you know, Smithsonian holdings and Postal Museum holdings and those sorts of things. So, folks who have those types of questions can reach out to the museum, and we can answer, we can answer those very specific questions about holdings uh kind of separately. I wanted to make sure we got to the more general questions that would expound on your uh on your talk.
But this has been great, Hal. Thank you very much.
Hal Vogel: Thank you.
Susan Smith: Yes, thank you so much, Hal, for this fantastic talk.
Thank you everybody for coming, and please join us on December eighth and December ninth for the Twelfth Blount Postal History Symposium, which will be on Zoom and here at the museum.
Everyone, have a good night.
In 1838, the US Exploring Expedition (1838-42) began its examination of Antarctica, in what would become this worldwide adventure's most remembered legacy leading many to remember it as the "Wilkes Antarctic Expedition". The expedition created what organized philately, including one of its specialties, polar philately, refers to as "archival mail," or ordinary mail that serves as written testimony to aspects and personalities of an historical event. Unfortunately, although discoveries of this type of mail from polar expeditions do still occur, (archival) mail still is unknown from a number of the earliest expeditions. Mail from the Wilkes Antarctic Expedition only began to surface in the 1980s. Using the postal history of this expedition as an example, the talk will introduce the field of polar philately – its geographic scope, categories, and periods – and examine how the intriguing mail of this exciting polar expedition helps document its highly historic events.
About Hal Vogel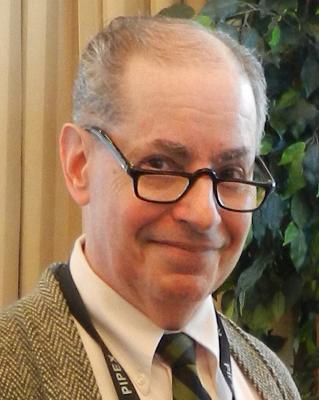 Dr. Hal Vogel is a leading polar philatelist and the winner of this year's American Philatelic Society's Luff Award for Distinguished Philatelic Research.
He began collecting polar materials and studying polar history in the 1950s, when he began communicating with some of the last pre-WWII polar explorers. He continued this work while later pursuing his doctorate in Polar Studies in the Department of History and Geography at Antioch University.
While completing his degree, he began writing a research column for Ice Cap News, the publication of the American Society of Polar Philatelists (ASPP) and has written a column for every issue since 1974. Including the articles for this column, he has published more than 300 polar history, aerophilatelic, military postal history and polar philatelic articles in philatelic journals in the United States, Norway, Great Britain, Germany, France, Australia, and New Zealand.
His most prominent publications are the books, Essence of Polar Philately, edited by Alan Warren and published by ASPP in 2008, and Ahead of the Pack: Postal History Sampling of Heroic Age Polar Expeditions, written with Serge Kahn and published in 2015 by The Museum of Stamps and Coins of Monaco. The latter won the Academy of European Philately's award for the best published philatelic work in Europe the same year. Vogel and Kahn are now working on the second edition.
Vogel is a former President of the ASPP and a member of many national and international philatelic organizations. He has held elected and appointed positions with several, including having served on the boards of the Universal Ship Cancellation Society, the Military Postal History Society, and the Alaska Collectors Club.
A nationally accredited philatelic and literature judge since 1978, his own polar, military, and aerophilatelic exhibits have won numerous awards, including the first grand award ever presented to a polar exhibit in a major competition. This past exhibition season, four of his exhibits received large gold medals, three grands, and other specialty awards from at least six different shows.
Vogel is a retired Army special operations and intelligence officer who also is a professor emeritus and former department chair at Rowan University, New Jersey.