The Museum that Never Sleeps
09.14.2009
Blog
By Rebecca Johnson, Preservation Specialist & Offsite Storage Coordinator
For two nights, once a year, a large lift cranks up and begins its slow roll into the atrium after the museum closes. The intent is to clean the large and almost unreachable objects on display. The contractors work simultaneously to place sturdy masonite under the wheels of the lift, to protect the marble floors from any damage, and maneuver the lift around displays. This is no easy task!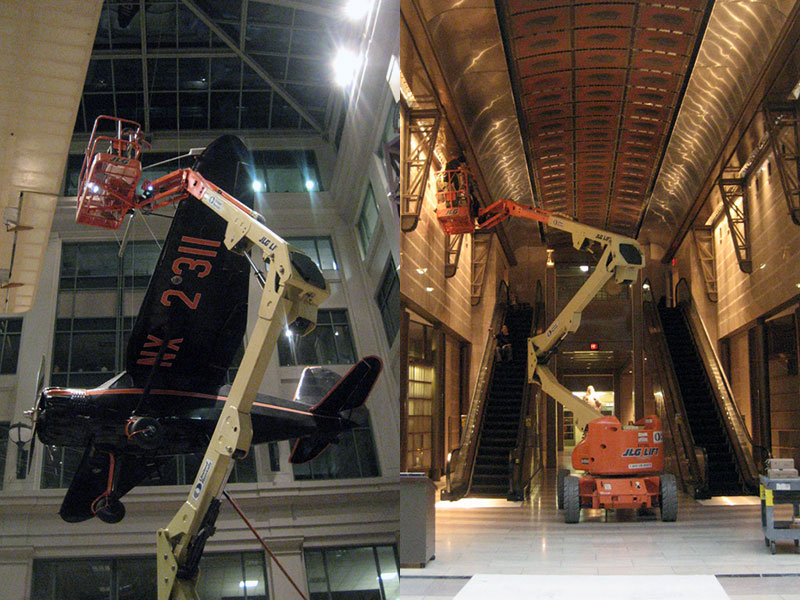 Once the lift is in position, the real work begins. From 5:30pm until 2:00am on August 25th and 26th 2009, contractors dusted and cleaned the three planes, the stage coach, a train car, and beacon displayed in the museum's atrium. The contractors removed all dirt and debris from these objects using vacuums, dusters, and rags. Besides cleaning, the contractors assisted the museum's exhibit team by changing light bulbs that are out of their reach and repairing sensors.
In the end, the contractors did a fabulous job! Everything ran smoothly. This important process will be repeated again next year to help maintain these objects; therefore, visitors to the museum can admire them for years to come. Please visit Preservation Projects to learn more about how the National Postal Museum cares for its collection.

Note: The three aircraft shown above are on loan from the Smithsonian National Air and Space Museum.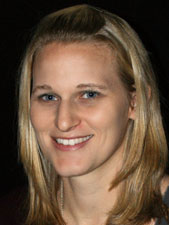 About the Author
Rebecca Johnson: "Trying to explain to people what I do day-to-day at the museum is almost impossible since everyday is different for me. Being a "jack-of-all-trades", I oversee the museum's offsite storage facilities, re-house the collection, monitor the environment, assist the collections department, and many other tasks. Working on so many different projects keeps me on my feet most of the day, but it allows me to interact with every department, including USPS employees, which I really enjoy. I received a M.A. in Museum Studies from George Washington University and have been fortunate to work in several other institutions, including the British Museum."