The National Postal Museum at "The Big Draw"
04.03.2012
Blog
By Debbie Bartels, Museum Educator, National Postal Museum
"We love to draw!" was the cry that rang out at North Chevy Chase Elementary School (NCCES) earlier this month. It came from the more than 300 students at the Chevy Chase, Maryland school that got to participate in the 5th annual "Big Draw" program.
The Big Draw is a wonderful program where, for a day, the school transforms the 3rd to 6th grade classes to be arts based. Armed with their sketch pads and colored pencils the kids get to draw about every subject they learn that day and they love it!
Usually I work onsite at the museum giving tours to students, but for this event I got to visit some students at their place of work! I was a first timer at this Big Draw but the National Postal Museum has been part of the event since the beginning.
This year, Allison Wickens, Lynn Gayno, JR Osborn and I spent the morning with the third graders at NCCES focused on supporting their social studies curriculum by looking at cool stamps. Allison talked about the parts of a stamp and then I introduced the rules for choosing stamp subjects. For the "art" part of the lesson, Lynn talked to the kids about the elements of design that are used when artists create a new stamp.
And then, the best part of the day--the kids got to design their own stamps! We saw them design stamps about everything from the Olympics to the Grand Canyon. Sports were a popular subject as were dogs, characters from popular movies and places the kids had visited with their families.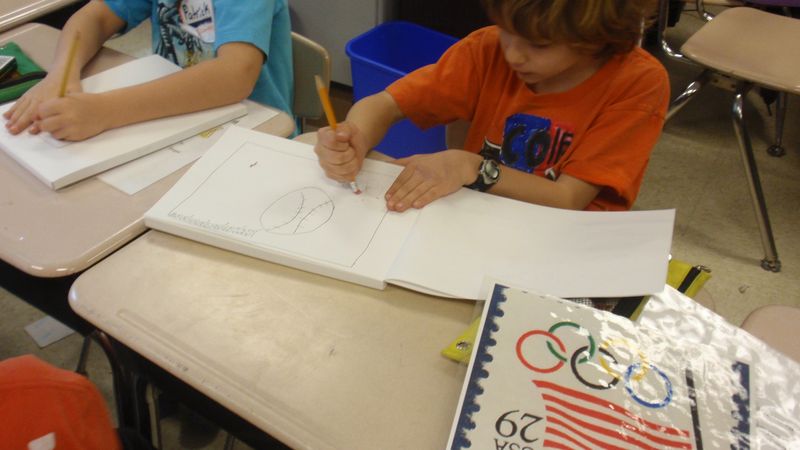 The kids were all smiles as they packed up their supplies and headed off to lunch. The volunteers were all smiles too as we headed off to the Media Center to partake in a fabulous chili and cornbread feast provided by the kind and supportive parents and staff at the school. The parent volunteers I talked to all agreed that the "Big Draw" is a highlight of the school year and that the little kids can't wait until they get to 3rd grade so they can participate.
And, being a newcomer, I chatted with the other professionals that came to NCCES that day to find out what keeps them coming back each year. Almost everyone I spoke with had been coming to the event for years and considered it to be an extremely rewarding experience-they loved seeing the kids realize they really are all artists and can be as creative as they want to be. The team from the Postal Museum agrees and can't wait for next year!
For a more in depth look at what our team shared with the kids during the Big Draw, you can visit this link to see the entire curriculum: Design It!