The White Wagons
10.01.2017
Blog
By Nancy Pope, Historian and Curator
October 1, 1896 was a banner day in America's postal history. In West Virginia, wagons set out for the first time to pick up and delivery mail in rural America, heralding what would become the popular and still operating Rural Free Delivery service. In New York City and Washington, D.C., the somewhat less successful Collection and Distribution wagon service began with fanfare. Stories about the Rural Free Delivery service abound on the museum's website. It is the less known tale that gets attention today.
Postmaster General William Wilson's (March 1895-March 1897) administration was behind both services. Collection and Distribution wagons were the last in a series of non-motorized urban transportation systems used to keep mail moving in the nation's cities. Cities were growing more rapidly in population than in area. Ever taller office and apartment buildings held populations whose mail volume kept climbing as well. City postmasters tried sorting mail on trolley cars as they moved through the city streets and in pneumatic tubes flying through underground tubes between post offices and train stations.
Collection and Distribution wagons operated like mail trolleys. Tables were set up in the wagons so clerks on board could process and cancel city mail as the wagon passed through city streets. The wagons stopped at post office stations and designated collection boxes to add mail. At the end of the run, mail was readied for heading out of town on awaiting railway post office cars. The wagons were originally planned to operate in cities, or areas of cities, where mail trolleys did not operate.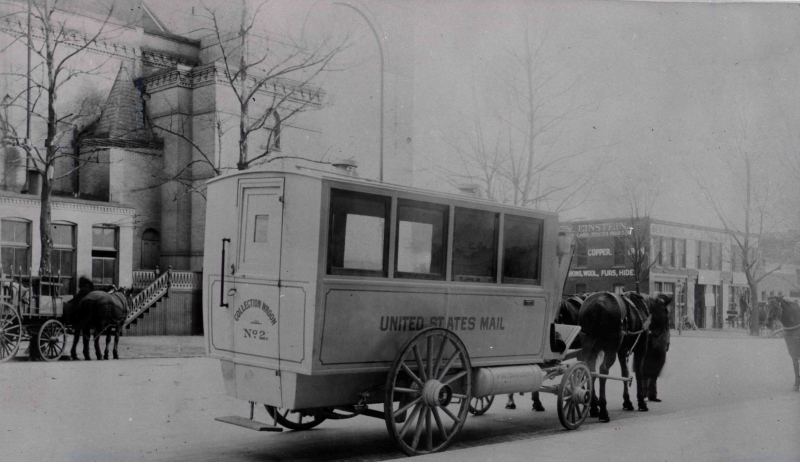 A company called Van Tassell & Kearney won the contract for providing the wagons. Henry Hooker & Co., of New Haven, CT., actually built the wagons. There were only two wagons built, costing $600 each and painted white (just like mail trolleys), leading to the service's nickname "White Wagon." Beginning in 1896, one wagon operated in New York City, the other in Washington, D.C. George G. Travis & James H. Alward won the contract to furnish drivers and horses for the wagon in New York while J.L. Coon & Co. got that contract in Washington.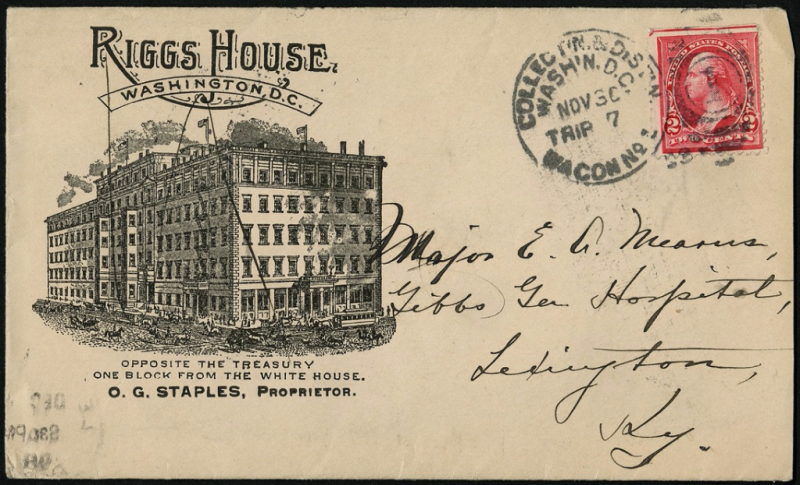 While Postmaster General Wilson may have had hopes for the service to grow over the years, it was not to be. In March 1897, William McKinley replaced Grover Cleveland as president and named James A. Gary as his postmaster general. Gary did not have the same appreciation for the wagons as Wilson and no interest in building more of them.
By 1898, New York's Charles Dayton had been replaced by Cornelius Van Cott, who had as little appreciation for the wagons as Gary. That year New York's White Wagon was sent up to Buffalo, NY, where it operated for two years before being transferred to St. Louis, MO. Washington's postmaster John Merritt also had had enough of his city's wagon and in 1900 the second White Wagon joined the first in St. Louis where both operated until 1904. That year, with the Postmaster General's permission, the wagons were sold for $15 each. Neither is thought to have survived. A hint that the wagons would not have survived long, regardless of administration, can be found in the 1898 "Annual Report of the Postmaster General." While several paragraphs are devoted to the White Wagons' potential, the following paragraph's headline predicts the cause of their ultimate failure: Horseless Carriages.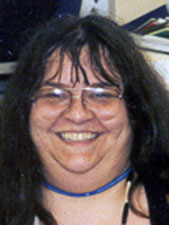 About the Author
The late Nancy A. Pope, a Smithsonian Institution curator and founding historian of the National Postal Museum, worked with the items in this collection since joining the Smithsonian Institution in 1984. In 1993 she curated the opening exhibitions for the National Postal Museum. Since then, she curated several additional exhibitions. Nancy led the project team that built the National Postal Museum's first website in 2002. She also created the museum's earliest social media presence in 2007.