Tracking Owney
11.10.2009
Blog
Around the middle of August, I received the most exciting news of my summer: I had been hired as a curatorial intern at the National Postal Museum for the fall 2009 semester. My research project this semester is, in the words of curator/historian Nancy Pope, to research a "rather odd" part of postal history. That "rather odd" part of history is Owney, the late 19th century canine mascot of the Railway Mail Service.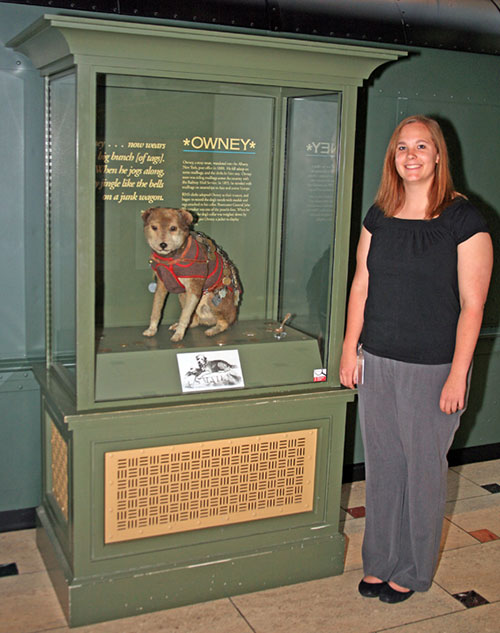 Owney's story begins in 1888 in Albany, New York, when the young pup wandered into the Post Office and fell asleep on the piles of mailbags. The clerks soon adopted the little dog, and dubbed him "Owney", although the origin of his name is unclear.
From his home in Albany, Owney began following his beloved mail bags—we think he liked the smell of them above all else—onto railway mail cars as they left Albany to carry the mail around the country. The clerks at the Albany post office placed a collar on Owney that explained who he was and from where he came, and Owney was soon traveling all over the United States via the Railway Mail Service. Owney enchanted people from New York City to Omaha, San Francisco to Boston, and Juneau to Atlanta, as well as countless small towns across the entire country just as he had the postal clerks in Albany, and people he met began to give him items to memorialize his visit to their city. Because of this, Owney collected at least two hundred tags and other mementos from the places he visited. Many of these tags are in the museum's collection; however, a comprehensive chronology of Owney's travels did not exist.
Over the course of my internship, it has been my job to comb through archives of newspapers across the United States as well as railroad maps from the years 1888-1897 to decipher exactly where Owney went and to construct a chronological timeline of his travels. Along with the tags and mementos with which Owney was presented at the places he visited, newspaper articles were often written about his travels. His story appears in the smallest of local papers to newspaper giants such as the New York Times on a regular basis—these stories have been the basis upon which I have begun to construct a chronological timeline of his travels. One of the biggest challenges of this task is confirming the international travels Owney took on behalf of the postal clerks. His biggest trip was in 1895—he departed from Tacoma, Washington and from there went to Japan, China, Hong Kong, and made stops in Europe before returning to Tacoma about 138 days after he had left. Additionally, he went to Canada at least twice, and sources allude to a trip to Mexico City; however, my research findings thus far have yet to confirm that trip.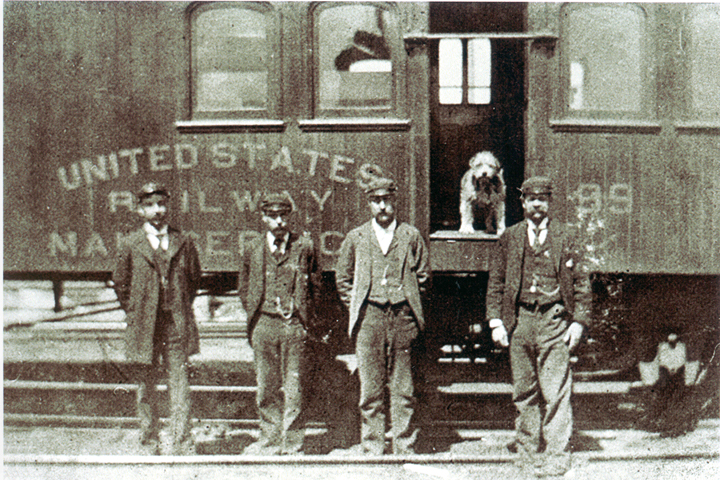 Owney's travels came to an end in June of 1897, when he died in Toledo, Ohio. After his death, the postal clerks gathered the funds to have Owney preserved, and he now resides in the atrium of the National Postal Museum. Through his life and travels, Owney had the incredible ability to connect people throughout the world, and it is my hope that my work this semester will add authority to Owney's fascinating story as well as help museum visitors relate to this "odd" part of postal history.
I have spent many hours searching through the online and microfilm archives of historical newspapers and railroad maps, as well as contacting historical societies from around the United States asking them if they have any information to add to Owney's story. From the information I have compiled thus far, I have compiled a chronology of Owney's travels as best I can determine from those sources, and am continuing more focused research at the Library of Congress to try to confirm other dates and locations in Owney's story. Sorting through all of this information has been fun so far; I really like seeing the different interpretations of Owney's story by different newspapers, and piecing together the different parts of Owney's story feels like a giant puzzle that I get to solve, so I look forward to coming to work each day and hopefully adding another piece to that puzzle!
During my time at the National Postal Museum, I have also gotten the opportunity to witness some of the behind-the-scenes workings of the Smithsonian Institution. I love the opportunities with which I have been presented over the course of this internship—from attending Smithsonian-wide meetings to eating lunch every day with the staff. I am looking forward to the remainder of my time with the National Postal Museum!